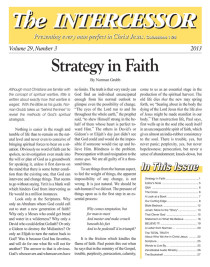 The Total Truth About Who We Are in Christ Jesus

This segment concludes the five tenets of our Total Truth with the biblical truth about how we function as humans in a spirit-union with Christ.
Part Four
NOW, AS A BELIEVER, CHRIST LIVES HIS LIFE THROUGH YOU.
A. Galatians 2:20
I am crucified with Christ nevertheless I live; yet not I, but Christ liveth in me: and the life which I now live in the flesh I live by the faith of the Son of God who loved me, and gave himself for me.
The Life you think is you is actually Christ living His Life through you. Thus, as believers, this verse teaches us to say that we are the perfect expression of Christ who is living His life out through us, in our individual forms.
B. 2 Peter 1:4
Whereby are given unto us exceeding great and precious promises: that by these ye might be partakers of the divine nature, having escaped the corruption that is in the world through lust.
The reason we know that it is Christ's life being manifested through us is because we now have His divine nature (though of course we do not become God!). He has joined Himself  to us and tells us to believe that "he that is joined to the Lord…is one Spirit" (1 Corinthians 6:17).
C. Philippians 2:13
For it is God which worketh in you both to will and to do of his good pleasure. 
Therefore, since the Bible says it, we agree that God works in us to produce the will (the want or desire to do a thing) and God produces the way (or the doing of the thing which he has us want to do). In fact, He is the One who is actually doing it through us.
D. Galatians 5:22-23
But the fruit of the Spirit is love, joy, peace, longsuffering, gentleness, goodness, faith, meekness, temperance; against such there is no law. 
The "good" that we do is produced by the Spirit and is called the "fruit of the Spirit." Jesus taught that He is the Vine (or as we would say, the Sap or Life) and He produces the fruit (John 15:4). Thus, we see that since He lives in us as us, He produces good fruit through us.
E. John 17:20-21
Neither pray I for these alone, but for them also which shall believe on me through their word; That they may be one; as thou, Father, art in me, and I in thee, that they may also be one in us: that the world may believe that thou hath sent me. 
The prayer of Jesus that He be "one in us" as He was one with the Father, is being answered. 
Part Five
OPERATING AS CHRIST IN MY FORM
A. 2 Corinthians 12:9-10
And he said into me, My grace is sufficient for thee: for my strength is made perfect in weakness. Most gladly therefore, will I rather glory in my infirmities, that the power of Christ may rest upon me. Therefore, I take pleasure in infirmities, in reproaches, necessities, in persecutions, in distresses for Christ's sake: for when I am weak, than am I strong. 
Now, we live and operate in the world trusting that it is He living and operating as us. When things get hard and frightening, we no longer need to sit back and wait until we feel good about what is hard or what is frightening us. We step out believing that we are joined to the Lord as one spirit (1 Cor. 6:17) and therefore, Christ is reproducing Himself through us, as us. Now, we can do the hard, frightening things, knowing that it is He through and as us.
God operates His strength through our "weakness." Therefore, agree with God and not with our feelings of inability.  We know that in spite of how we feel, His strength is being shown in us to the world for redemptive purposes.
B. God's nature is now manifest by us as we walk in love and rightesouness without the dividing walls of fear. God is willing to bear fruit and by us is bearing fruit. Through faith that God is all, He is All in all in us. 
1. 1 John 4:8
He that loveth not knoweth not God; for God is love.
2. Ephesians 2:14
For He is our peace, who hath made both one and hath broken down the middle wall of partition between us. …He is our "peace."
3. 1 John 4:15
Whosoever shall confess that Jesus is the Son of God, God dwelleth in him, and he in God.
…"perfect love casteth out fear."
4. Philippians 2:13
For it is God which worketh in you both to will and to do of his good pleasure.
He's the One that makes us want to and empowers us to do so (we know from Galatians 2 that "we" doing the doing is really Him).
The prayer of Jesus Christ in John 17 to His Father that we be as He is with His Father, has been answered and we see it being answered as He lives His life out through us.
More Articles from The Intercessor, Vol 29 No 3