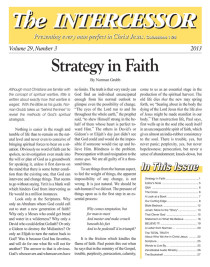 Editor's Note

"Life is a constant series of glorious opportunities not seized because not recognized," states Norman Grubb, and this issue's collection of features, letters, and articles offers practical insight into the spiritual forces available to those who recognize God in their circumstances and choose to respond accordingly. Two features by Norman Grubb in this issue are particularly outstanding:
In our lead article, Norman draws back the veil for a piercing look into the spirit dimension to reveal how to discover the necessary strategies to successfully wage spiritual warfare. Reminding us that "no battle is won right up on the front line," we see how men of faith first went apart to meet with the Commander in Chief and obtain His outlook and His battle plan. This is the hidden key to the victory on today's battlefields. Similarly, "A Letter from Norman" and the "Q & A" letter by Page Prewitt show how the Spirit in the body of Christ provides needed insight and guidance in the sharing of specific temptations and trials.
We are privileged to publish for the first time a precious and passionate letter written by Norman in 1988 to the "well-battered group" who have made the climb all the way to the summit–who have "come to see and find this solid and hopefully immoveable truth." Remarkably, Norman speaks almost prophetically about things experienced then and now: the Zerubbabel headquarters in the Blue Ridge Mountains ("our permanent fire-center"); the "necessary persecutions" suffered from those nearest us; our calling in Zerubbabel then and now "to boldly, incessantly call on, shout out to our climbing brethren, 'Come up. Join us! We're here!'" 
Two excellent studies on the Total Truth wrap up in this issue: In part 2 of  "Statement on What We Believe" the author expands on the fact that we are vessels operated by Christ or Satan and provides answers to several specific criticisms and misunderstandings about the Total Truth. The second study, "The Total Truth About Who We Are in Christ Jesus," culminates in this issue with the biblical underpinnings to our understanding that "not I, but Christ" is living His life in and as me.
Finally, not to be missed are several intriguing and original features. "Jonah: More to the 'Story'" offers a fresh perspective on one of the most familiar Old Testament stories. Drawing on the historical context and her personal experiences, Allison Prewitt enables us to identify with Jonah and offers insight into the root sin behind his reticence to be God's agent of salvation to the Ninevites. 
The "Look at A Book" review of Norman Grubb's classic booklet "Continuous Revival," goes beyond a commentary of the contents of the pamphlet; it gives a fascinating account of the writer's encounter with personal revival. In a lighter vein, "Believe it!" Is a reprint of song lyrics that appeared in Norman's
Yes, I Am
that affirm "If the Lord Says I Am, Yes, I Am." Whether sung or simply read over, these verses are filled with the biblical truths on which our Total Truth is grounded.
We share this issue with you, our co-climbers, reminding each other that, in Norman's words, "our high, high calling is to be with Paul in the final word of his greatest Romans Eight triumph chapter, "more than conquerors" amidst deadly areas of tribulation and destructions–conquerors having reached the inner summit ourselves."
More Articles from The Intercessor, Vol 29 No 3