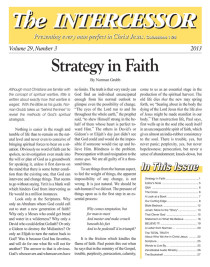 Bible Bedrock: If We Walk in the Light…

 "If we say that we have fellowship with him, and walk in darkness, we lie, and do not the truth: But if we walk in the light, as he is in the light, we have fellowship one with another, and the blood of Jesus Christ his Son cleanseth us from all sin. If we say that we have no sin, we deceive ourselves, and the truth is not in us. If we confess our sins, he is faithful and just to forgive us our sins, and to cleanse us from all unrighteousness."
–1  John 1:6-9
(New American Standard)
God is light. What does that mean Eph. 5:13 tells us, "Whatsoever doth make manifest is light." When light shines into a darkened room, its one function is to make plain what is in that room, and its one demand of us is that we respond honestly to it. In a darkened room we can call anything anything. When the light is turned on, we can by no means call a table a piano! We must call it what it is. In other words, all that God has ever required of a human being, whether saved or unsaved, is honesty. It is all we can contribute to our own salvation. We cannot remove our guilt or change a habit. But we can discern good from evil, and we can admit the truth about ourselves, as we are brought to see it. 
So when Jesus talks of the new birth with Nicodemus and shows him how it can be obtained, he adds one warning. There is a condemnation, he says, that condemnation is not the fact of sin, because full atonement has been made, not for our sins only, "but for the sins of the whole world." But the condemnation is (John 3:19) "that light is come into the world, and men loved darkness rather than light…and hate the light, neither come to the light."
Dishonesty, not sin, damns a soul. Unwillingness to part with sin and therefore refusal to admit ourselves to be what God shows us we are by His word, by preaching, by the Spirit is what sends us to hell. This is true for the power and horror of sin is that we love it and hate that which would turn us from it. 
But just as the sinner can refuse to come to the light, so we who have come may refuse to walk in the light (1 John 1:6, 7). We may easily try to deceive ourselves and others. We may say we have fellowship with Him, but really walk in darkness, and refuse to admit what light is showing us to be sin. We may say we have no sin or have not sinned (1:8, 10). But one thing we shall certainly learn, the blood of Jesus does not cleanse excuses. It cleanses, but only sin admitted to be sin, for it was shed for that purpose alone. 
Note, however, that conviction of sin does not come from the inward, but the upward look. Sin is not seen to be sin by self-examination, but by the light of God. Conviction and repentance are gifts of God as much as salvation is (Acts 5:31). There is a world of difference between the nagging, corroding condemnations of the devil, and the clear convictions of the Spirit. The devil speaks in generalities, seeking to smear us by a general sense of failure, uncleanness, confusion, heaviness of spirit. The answer to that is there is now no condemnation to them which are in Christ Jesus. The Spirit speaks specifically, and His voice, although rebuking us, is sweet and clean and true and acceptable. He points out some exact and immediate action by which we have given temporary entrance to sin. Satan points downward to despair, but the Spirit points upwards to cleansing. 
So the detection of sin in our daily lives is no difficulty. If the cups do not run over, the red light is on. There is sin somewhere. But the One with whom we walk is light. Look honestly and frankly to Him, and it won't take Him long to clarify for us the point where we have sinned. 
More Articles from The Intercessor, Vol 29 No 3