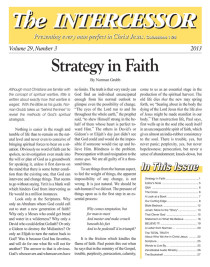 Our Cutting Edge

"Our Cutting Edge" is an amazing and prophetic letter to the "well battered group who go under the name of intercessors (with our Intercessor Mag) or as Zerubbabel…." To read it is to hear the echo of God's calling to us today.  
There is a final three hundred feet in the reaching of the summit of that highest mountain in the world at 28,000 ft–Mt. Everest. And we haven't reached it until we climb that last three hundred feet, apparently through fierce winds, and stand on the top as first did Edmund Hilary with his Nepalese co-climber, and cabled the message back to Britain at the very moment of the coronation of the present Queen Elizabeth. There is this final three hundred feet, and we are not there and can't truly tell others how to get there until we have done it ourselves. A number of brave ones nearly did, but didn't–that famous British Malloy & Irving, last seen going for the top, but never seen again. Apparently this recent Japanese team with their TV gear have had great difficulties and were constantly "nearly there," but down had come some fierce blast of wind and held them up. (I've been in hospital so missed whether they did finally get there!) But the point is there is a getting there and there is a not-getting there which is all that matters to us. 
And it is the sole reason for our existence, and sole reason for breaks with other loved-co-pioneers right up to that last 300 ft, but who turned back there and then tried to excuse themselves by saying we others turned back and had not got there, when we had!
And this is the sole reason for our existence as a well-battered group who go under the name of intercessors (with our Intercessor Mag) or Zerubbabel pointing to the center the Lord is giving us as our permanent fire-center in the Blue Ridge Mountains. 
But this is all background to what I really want to say and it is to make our reaching and standing upon our spiritual Mt. Everest totally plain to us as responsible God-operated agents, to see that we stand fearlessly, despite all raging winds, on our achieved Mt. Everest, and now boldly incessantly call on, shout out, to our climbing brethren, "Come up. Join us! We're here!" Certainly as Jesus said, it is still few there be that find it (He was speaking of the Sermon on the Mount and the human impossibility but by Spirit-achieved standing on the top of that Mt. Everest). Yes there are those "few that find it," and praise God that day is coming as Paul said in his marvelous 1 Cor. 15 final total chapter, when the end comes and all last enemies (that one real enemy of unbelief) is under His feet and the Kingdom rendered eternally to His Father, to be then proclaimed and eternally operate (marvelously with us) as all in all. As Isaiah saw and Jeremiah too, "the earth (the whole of it at last) shall be full of the knowledge of the Lord as the waters cover the sea"; and "all shall know Him from the least to the greatest." We are not in that day yet, not by any means, and our high, high calling is to be with Paul in the final word of his greatest Romans eight triumph chapter–"more than conquerors," amidst deadly areas of tribulation and destruction–conquerors as having reached the inner summit ourselves (Paul when bound in jail just calling himself "the Prisoner of the Lord"). And then the outpouring in the last verse of our secret–not following along with all human bells ringing, but totally torn apart as in those Rom 8:35-39 verses, and it's total contrast to our modern evangelical teaching of some smooth victorious experiences. Conquerors means being confronted with devastating conditions to conquer, and yet having conquered them at last by having learned and taken our position in that Hebrews 11 "faith" series. And we have!
And this is what we in our Zerubbabel fellowship possess, to which all believers are not only welcome but are there already if they know it, but they must know it! And this alone is the continued reason for our existence. We have had severe disruptions en route. Indeed the whole life has its healthy evidence of having got there and calling on others to join us, in the fierceness and continuance of radical opposition. I have personally known that in all the 74 years of my "Spirit-captivity," since a young man just finishing school before attending college (and World War I) in 1914. Our batterings are not physical these days (unless we are in special countries like Russia), but are very much the total ripping up of our inner human selves, or what we might call our "reputation." I have written that in my brochure on my five series of "intercession" through my years, in which the true evidence has been some "death" form of personal humiliation or expulsion; and then as we watch, "look at God in action," in ways He would not have been in action if there had not first been these blasts of negative wind-storms. 
This Totalness, which we declare with no strings attached, belongs to the whole church of Christ, but in our present era is not known by the vast majority of them. We are not calling them to a "superiority" or to become something they are not, but to be who they are when they know it…but, but there is a knowing. Aye there's the rub as Hamlet said! And that rub is the final "death of self" in these false concepts of self which we have picked up and lived by from the Fall. Even Paul when already a born again believer has to say "I was alive without the law once," meaning that dreadful condition in which all of us believers go through to reach the finalities of Rom 7, 8, when we just don't see, (and have to put there our shares of those Hebrews sufferings to condition us first to "see" those subtle negatives about ourselves).
And this is why Jesus said "few there be (in our era) that find it," not now speaking of the unsaved and "blind," but the saved with supposed open eyes. Yes, I well know it among my own dedicated "see-ers" in the Lord; truly abandoned to Christ in sacrifice and service and yet don't know, the vast majority of them, that they don't know! One of our brightest, about 10 years ago, just after I had begun to "destroy" myself by sharing my final self-shatterings in print, came pityingly to me and said "Norman, why give us again all this baby Galatians 2:20 stuff that all we in our total dedication know?!!" Because they just don't know–and one of the best and brightest and most used who said that and who I love doesn't yet know. 
What didn't he know, and the big big majority of my precious fellow workers in our missionary crusade don't know? We don't know that you can't fully know, or teach others about the victorious life in the positive, unless first you have known and experienced this reality in it's negative! Why? Because a positive is only a totally operating positive by knowing it's negative and the one replacing the other. But you see we boldly, and it would appear conceitedly, say most of the victorious life teachers don't know it; it is just because of this one fact: you must have your negative in focus if you want to know and share your positive. 
You see this enrages–this subtle well hidden secret–(really the background of Paul's great Col. 1 revelation of the "mystery" of what our wonderful God-given and God-operating self) unless first we have had that negative aspect of that self exposed once for all, and I tell you the exposure is so marvelous, radical, devastating that indeed few find it. But when you have found it, there's no stopping you, (which is the real evidence that you have found it). Your inner artesian well of living, born-again water in you becomes an unstoppable outflowing river of John 7:38, including the "belly travail" of that saying! Then you know and thousands of others will know. No damning that one up!
But what is it? It is the tremendous fact that there never had been an operating human self, never had been (and that is Paul's great revelation which I am now bringing out in my Romans six to eight brochure). But we have all, all of us believers, thought that there is and has been a human self of our own which surely has to be replaced, as in John 15 as abiding branch but it's fruit bearing vine. Yes, yet right up to that point all the victorious life teachers have it right and hammer it home but where they have missed out, and I missed out, was the exact fact about what that "replaced self" was. You see, I thought I saw that. I had my year's trauma when I had to go back even to questioning the existence of God, and coming to the point that as I had loved and served this (non existent?) God all these years, well then, if He doesn't exist, I prefer to belong to the non existers and die in my phony love-faith!! I had to go that far, and so do you in your own special way, before you can get that focus. But even then, the focus had it's fault, because by then I knew that the truth was God absorption of self by Himself, and since that traumatic year (about 50 years ago) I have lived in the permanent stream of inner God realization. The pressures of the external which our great Kierkegaard called living by the false objective had begun to be replaced by the true subjectivity ("subjectivity is truth"): in other words our real living is never our apparent response and concentration of what is happening around us–or indeed in our own most personal lives. Real living ("subjective living") is when we turn inwards to say "What's inwardly up in my present situation?" And back we come to truth ("subjectivity is truth"). What is really happening is my own personal reactions to every situation. That "own personal" is the only real reality!! That's what all these necessary "sufferings" of Hebrews and indeed of course all Scripture points to ("through much tribulation we enter the kingdom," and read Rom 5:3-5 and of course James 1:1-3 etc). Then with subjectivity as truth, we find our solutions from within as to who we are, what our inner God relationship is and how we are reacting and thus expressing and operating…that is truth. 
But you see, it means that we have our human selves and our reactions in focus, and my great point, and I boldly say the only great point never to be slipped from (and our sole focus in our Intercessor and Zerubbabel existence) is when we have got ourselves into focus and know that there never has been a just human self operating self. (There is a horror and a glory in that discovery.) Never was such a thing–but only self as vessel that contains, branch that bears fruit, temple that manifests it's deity, slave doing solely it's owners stuff etc. etc. That is the discovery. Yes, thank God we in Zerubbabel have come to see and find this solid and hopefully immoveable truth, including the necessary waves of persecution. Precisely as it was not the distant pagans who crucified Christ (Pilate would have saved Him); it was those closest to him who killed him! So near, so far. And it is precisely the same today. Our keenest opponents are those nearest to us, our own evangelical peers. Just because they have come so close but missed (and in their inner "subjective" never known it) they will fight those "goads" of further total truth as Paul fought the early Christians. They will be our chief "persecutors" (our glory–Matt. 5:11-12) and that will be the evidence in our day anyhow, that we have truly "arrived." If we suffer with Him we reign–almost Paul's last Timothy word. And the suffering is that yes, we get as far as recognizing (and not many have gotten as near as this) that self has been our problem and we have our half truth to meet it. And that is just where the danger lies which we have to avoid at all cost. That final cutting edge, which is that it is not a case of having an unreliable self which we now see to be an abiding branch on the vine, but–and this is where the snag and opposition comes–there is something about our branch self which must keep it's abiding. That lie! Because that means that first great deceit that we have always been self-operating selves, but now need to be sure we keep operating as branches! I fell just for that. So my earlier books have depth and life in them because they do open up what is unknown to the vast majority of believers–that there is a fused experience when we go on in permanent knowing that we are he as us.
More Articles from The Intercessor, Vol 29 No 3