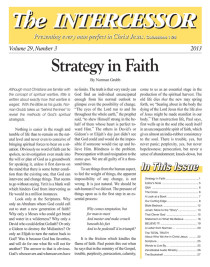 Statement On What We Believe

In the last issue, the author shared his personal Romans 7 struggle and Satan's core lie that had deceived him. In Part II, the author discusses commonly held misconceptions about the nature of sin and the human-deity relationship and presents the radical, biblical truths that lead him–and many others who dared to believe–into the liberated Christ-life of Romans 8.
Part Two
As a result of Adam's fall, the human race entered the world in sin and as sinners! I've known this since I received Christ. What I have discovered since is that in addition to Adam as my physical father, I have always had a spirit father, too! As an unbeliever my spirit father was Satan (Romans 8:44; Eph. 2:2-4). Hence the origin of my deity nature.
Passages teaching this are: 1 John 3:8,10, 4:4-6, Eph. 2:1-3; John 8:44; 2 Tim. 2:6; Col. 1:13; 2 Cor. 6:14-17, and Romans 5:12-21.
Now, I realize that the Cross changed my original Satan nature eternally, since when I died with Christ, the sin nature went out and the Holy Spirit came in with His nature. As Peter wrote: "…by these ye might be partakers of the divine nature… " (2 Peter 1:4).
I began to understand the truth of Galatians 2:20; 1 Cor. 6:17 and John 17. Yes, I and those who agree with me, boldly say now that the problem has always been that Satan deceived me and the rest of the world into believing that there was a "just me" which not only needed improving but was capable of being improved. Actually, there was nothing wrong with me, the container; the Cross cleansed and threw all that out. The sin producer, who lived his life out through me prior to my rebirth experience, was no longer present within me. I was "dead to sin" (Romans 6:2) and "dead to sins" (1 Peter 2:24). Thus, I came to learn that I had no "independent human" nature. I had always been a container of one deity or the other.
I realize that the problem of frustration and defeat I had experienced after my salvation came from the original Satan lie: that I had a nature that was bad. In fact, my sin was in believing, and then Mr. Sin did his deeds through me. Once I received Christ's gift of eternal cleansing from the just reward of my sin believing, I could then see that my container was all right and always had been.
I do not say that now, having received Christ, that I cannot and do not sin. I can and regretfully do. I agree with the Apostle John on this (1 John 1:8-10). What I do say is that by faith I agree with Paul to "walk in the Spirit, and ye shall not fulfill the lust of the flesh" (Gal. 5:16).
I was told to "walk in the Spirit" early in my new re-born life and how to do it: more prayer, Bible study, surrender, getting "self" out of the way, etc. Now I see that these efforts at correcting and improving my container were fruitless and doomed to failure (Romans 7:11). Now I have learned that I "walk in the Spirit" by simply recognizing by faith that Christ's great prayer in John 17 has been fulfilled! I recognize and receive by faith that Paul was right in Galatians 2:20:
I am crucified with Christ: nevertheless I live; yet not I, but Christ liveth in me: and the life which I now live in the flesh I live by the faith of the Son of God, who loved me, and gave himself for me.
I say by faith that 1 Cor. 6:17 is true! There is a "me" (a container) joined to the Lord, and the result is one Spirit! One Spirit! Unbelievable, yet true! God manifests Himself to His world, for which He is eternally giving Himself through the Word; and the Word (as the expresser of God, for that is what a word does) expresses Himself through me, as I "walk in the Spirit."
I, therefore, accept as true Christ's prayer in John 17: that we would be as He was with the Father. And further, by faith I accept John's repeated assertions in the "as" verses in 1 John that I am as He is because in actuality it's Him as me!
I do not say that I am Jesus Christ. That is absurd and a blasphemy. I simply believe 1 Corinthians 6:17 that I am joined unto the Lord as one spirit and Galatians 2:20 that it is Christ's life that is lived out through me, as me.
When I do not receive in faith that I "am complete in Him" (Col. 2:10) and that in Him I live and move and have my being, (Acts 17:28), I am not believing what God says about me. That unbelief is sin (Romans 14:23). By that deliberate yet deceived choice not to believe God, sin then operates me from the outside through my members (Romans 7). I have fallen for Satan's lie that I am a needy, lacking, etc. person and thereby have agreed with Satan's deception that I am somehow "independent" of Christ who lives His life out, through and as me. As I believe that lie, Satan's way for me is to be for myself (as he is) and not for others (as Christ is) and therefore I grasp, I envy, I take, I lie, etc. By confession (1 John 1:8-10) I am again cleansed and I take His forgiveness.
I have learned that temptation is not evil and to experience temptation is NOT to experience sin and there is a difference between temptation and sin. Christ, the most tempted self in the world, spent 40 days and 40 nights answering Satan's question that if He was who He said He was, then He would perform some miracle (Matthew 4). Each time the temptation came, Christ answered back to the effect, "I am who I say I am."
The big question was and is, "Who do you say that you are?" I answer, "I am the form of Jesus Christ, who lives His life out through and as me" (Galatians 2:20).
I know the temptation is to believe that I am not who He says I am — joined to Him as One Spirit, full and complete and needing nothing.
Tension seems to exist because I and several others do not pay what is considered to be proper respect for the "church," a charge I consider absolutely absurd. We see the true church as the body of believers–a living organism–not an organization and certainly not a building. And of course each of you would immediately agree with that statement.
Consequently, although accused often of ignoring the church and the assembly of believers, I plead "guilty" only to the charge that my locale of fellowship with believers normally takes place in homes and in retreat areas all over the United States and Canada and even in England rather than in this particular building. I do not believe God puts a premium on where I worship.
I, and the rest of us, have accepted Paul's commission and go along with him in that Colossians 1:24,25 commission to the "church."
It is also said that I don't accept responsibility for my actions. From the "age of accountability" forward, human responsbility is based on choice. Freedom of choice is not some thing with which God chose to endow the human race–freedom finds its source and root not just "of" God but "in" God. Man's freedom is part and parcel of him from the act of creation: i.e. made in image of his creator.
So–responsible? Of course every human, including me, is responsible for, not his acts per se, but his choice of Operator.
The unbeliever after the age of accountability lives from his choice to have Satan as his Operator.
Conversely, I made the eternal choice to have Christ as my operator. All lesser choices are willed and done through me (Phil. 2:13) by my operator. The Lawgiver in me is also the Lawkeeper in and through me.
If man was not responsible for his choice, only Satan would experience hell, not the unbelievers who are his tools. But Jesus Himself warned of persons who would end in hell if they chose to reject the Light. (John 3:18).
I know therefore that I am responsible for my choice of operator and the consequences of that choice.
In answer to the statement that I don't pray, I say, "absurd." I do pray. In fact, I know what it means now to "pray without ceasing," as we are told we must! (1 Thess. 5:17). I say by faith that He is doing it; and as my Christ consciousness expands, I begin to see God everywhere in action. I pray in recognition of Him being "all, and in all."
I know what it means to "be ye therefore perfect," as we are instructed by Christ Himself to be! (Matthew 7). I simply take it by faith that the real me–my spirit self joined to the Lord, resulting in One Spirit–is in fact Him "being perfect."
Thus, unless I choose to believe Satan's lie and reject what God says about me, and by that very act sin, I boldly say that the things I do that are not sin are His being perfect and manifesting Himself to the world. I do not say that I, apart from Christ doing it through and as me, am perfect. I say that I am the perfect container through which God will show Himself to the world.
What I have so briefly capsuled is life changing and total. I know there are those who, like me, have found living under "oughts" and "shoulds" impossible. The law is not of faith Gal. 3:12.
How do you "honor your father and your mother"? What appears to be honor to some is not honor to others. How do you rear a child in the nurture and the admonition of the Lord? Does anyone really think that they, in their own power, do that? If you think you do, you lie and the Truth is not in you (Gal. 6:3). If you think that Christ does the honoring and the rearing, so do I and I say so. I seek to ease the tension within the Church where so many labor under the burden of repeated instruction that really amounts to an admonition to try harder to be better.
Do any of the elders who read this actually believe that they, on their own, satisfy the Biblical standards? Certainly not. Surely, all glory is given to God. Thus, why is it surprising that I also do that by simply saying it is His life being lived out through me, as me? There never was nor ever will be a me, just myself, independent from and operating on my own and not being operated from within by Satan initially and by Christ subsequently.
Thank you for this opportunity to present this thumbnail sketch of what I know. What I know works! I no longer live in the defeat and delusion of Romans 7 but instead live in the day to day reality of Romans 8.
But God forbid that I should glory, save in the cross of our Lord Jesus Christ, by whom the world is crucified unto me, and I unto me, and I unto the world. For in Christ Jesus neither circumcision availeth any thing, nor uncircumcision, but a new creature. And as many as walk according to this rule, peace be on them, and mercy, and upon the Israel of God. From henceforth let no man trouble me: for I bear in my body the marks of the Lord Jesus. Brethren, the grace of our Lord Jesus Christ be with your Spirit. Amen.
Galations 6:14-18.
What I believe works and has produced radical changes in my life and the lives of numerous others.
More Articles from The Intercessor, Vol 29 No 3