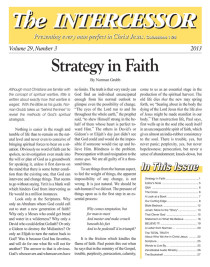 That Clever God

Before anything, which is not mine already, can become mine in experience, it is obvious that I must come to want it, and then in my freedom, appropriate it. My stomach needs food, it is available and I eat it. My lungs need air and I breathe it. My body needs a chair and I sit on it. But note that the effect of this response of my demand to the supply is that what I take takes me. I take the food and it takes me over for good or ill. I sit in the chair, and the chair holds me, not I it. 
So faith, as freedom in action, is only faith when it produces the reflex action. The taker is taken, the grabber grabbed. Faith is not taking, but being taken, not grabbing but being grabbed. And the one and the same principle operates on all levels. There is no secular and spiritual with God. All is basically spiritual for the one Spirit, that One Person, is manifesting Himself through all, and this is the principle of His self-manifestation. 
But when it comes to our need of a right relationship to God, we meet a special problem. There is no automatic demand which will appropriate the supply. We humans by no means desire this revolutionary change. We are satisfied with ourselves, or make out to ourselves that we are; we find at least enough attraction in our normal self-interested way of life to be repelled at the thought of any violent change. In fact, we are, as the Bible says, "deceived," "blinded," having been born in the delusion–the product of the Fall–that life is just we living it the way we think best. At most, a little religion, a few good works, satisfy any inner demand for some place in our lives for God and the service of others. 
There has to come an awakening, a disillusionment, a sense of need and lack, to bring us to see that we are off the track. The first approach, therefore, that the God of our being has to make to us, to get us within hearing distance of Him, is exposure before remedy. 
More Articles from The Intercessor, Vol 29 No 3