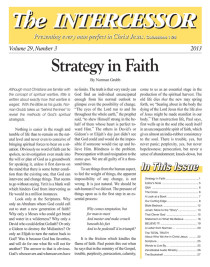 A Look at a Book

BOOK REVIEW:
Continuous Revival 
By Norman Grubb
"Roof off, walls down"….Confession before God and man….A two-way relationship–vertical with God and horizontal with man. According to Norman's book, "
Continuous Revival
," these are some of the makings of revival, which means simply the reviving of dead areas in our lives.  
Have you ever hidden something in your heart–something that you have done or thought, having a certain dread that you will be "found out," and yet not willing to expose that deed or thought to the light? I have too. 
Have you ever experienced the healing and release that comes with confessing sin to a brother/sister/the body of Christ–experienced the cool refreshment that confession affords to a parched soul when the blood is applied to that sin? I have too.  
Norman tells us in "
Continuous Revival
" that our Christian WALK (present tense) is based on brokenness, which makes that first scenario melt into the second, as we see and acknowledge that the proud, self-justifying, self-reliant self is really a "lost, undone sinner whose only hope is a justifying Savior." It is the prideful and self-justifying self that seeks to hide the honest truth about his sin, for the sake of preserving self-image and self-respect…oh yes, and of course, the praise of men! 
I can tell you from my own experience that the first scenario produced in me anguish and an inner torment like no other–I believe it was the push of the Holy Spirit within me, met with the resistance and unwillingness to bend my knee in obedience that brought that torment–a spiritual battle that raged on the inside of me –and did that produce revival? How could it? NO–it produced dishonesty, and a wall between me and my brethren. All for the sake of preserving an image of myself–to others, but most of all to my own self.  
Norman quotes David the Psalmist as he speaks of "cups running over"–a life full of the joy of the Lord that flows out of us–"the abiding presence of Jesus in the heart, His peace, joy, and presence filling us to overflowing, with no shadow in between." So when there was hidden sin not exposed by the light of Christ to my spirit family, there was a shadow–SIN–which stopped the flow of the Spirit, and prevented the cup from overflowing.  
So how did I move from point A to B…how did I loose myself from the Satan stronghold of pride which kept the walls up and the cup stopped up? The answer for me was simple…but not easy, and it is echoed in the pages of Norman's small but piercing book–CONFESSION. To say about my sin what God says about it. Confession of sin and praise for the blood, as it is the blood which glorifies God and delivers us. Without confession, we cannot apply the blood, and all that remains is a hellish internal inferno. The blood and it's cleansing power provided the release–the relief–and praise for it! It also provided a testimony of God's deliverance from my sin, not a continual confession of the sin, but a spoken testimony of His fresh deliverance, pointing ultimately not to the sin, but to Christ. 
And how does one become willing to confess, if one is simply not willing? If the pull of pride is so strong that I simply don't WANT to give up my image of self respectability, what is left to do?!! I will tell you what I did: I admitted that I was not willing. I admitted that I did not WANT to go the right way after all (after years of deluding myself that I did)…the path of exposure to the light. I admitted the ugly truth that I could not even muster up the WANTING to do the right thing. And I asked God, who I knew had the power to give or take my next breath, to provide for me what I found utterly lacking in myself–willingness. And I found scripture to be true, and God to be faithful to His word. "It is His kindness that leads to repentance." Repentance came, and with it a small crack of light that gave way to bigger and bigger light, and finally confession. I could not even take credit for the repentance…it was God's gift to me. And what did that leave for me? Praise.  
And that is the beginning of revival. Norman says "our hearts are fashioned alike. The way the devil tempts you is the way he tempts me. When I hear you tell of the Lord's dealings down where you really live…it surely reaches me on some spot where I need the same light and deliverance." That is the beginning of revival. But the title of this little book is CONTINUOUS Revival…and in his last chapter, Norman goes on to explain how our mutual daily exhortation to each other provides the key to preventing our hearts from becoming "hardened thru the deceitfulness of sin." In his experience in Africa, Norman found that the obedience of the believers there to the instruction in James 5:16 to daily exhortation was the one thing that contributed more than any other to the spread of revival.  
Godly concern for my brethren, and theirs for me, mixed with brokenness in all, and resulting in bold challenge where we see Satan's deception at work, is the fuel that continues the fire of revival–in my life, home and fellowship.  
There is so much packed into this short book. I have only touched on parts of it, and in my opinion, nobody says it quite like Norman does! As I described previously, this is a small but piercing book…it won't take long to read, but its words will echo in your heart for as long as you let them. I challenge you to get yourself a copy and begin to put the precepts into practice in your own life, home and fellowship.
More Articles from The Intercessor, Vol 29 No 3