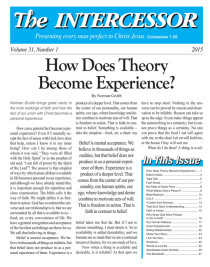 What Makes God A Person?

Have you ever stopped to think what the Bible means when it says that we are created in God's image? I used to think that meant we all somehow looked like God or wore the same clothes as God; my idea was that God had the same appearance that I did. Actually, being created in God's image has nothing to do with what you or I look like. God is a spirit, so He has no looks that you or I can understand. What He does have (that He also gave to us) is the ability to choose! This capacity to choose is what makes a person a person, so God must be a person similar to you and me.
We were given the capacity to choose from the beginning. Adam and Eve were told by God from which trees to eat, and God made it clear that they were not to eat from the Tree of Knowledge of Good and Evil. God did not guard the tree or make it unpleasant in any way. By putting it in the middle of the garden and making it appealing, He gave Adam and Eve the freedom to choose His will (not to eat of the tree) or their own will (to eat of the tree). Unfortunately, upon the first known temptation of man, Adam and Eve chose to go independent of God's desires. God created a beautiful garden for Adam and Eve to live in with Him, but because of their choice, they lost this privilege. Today, we all still have the same choice as Adam and Eve; do we live out God's life and will, or do we go against Him?
Since we have this ability to choose, then so must God, for we are made in His image. God had to choose what kind of supreme being He was going to be. God decided that He would always be honest. Titus 1:2 says that God cannot lie. If He can never lie, then He fixed His choice to be honest and unchanging through all of time. This concept of a choice through eternity is something that we cannot understand, but we do know that it makes the universe safe forever. God's choice never to lie means that He will never be selfish or greedy. Everything He does is the life He lives out through us if we choose to let Him.
When we choose to ask Jesus Christ into our hearts, we are asking Him to live out His life through us. From then on, we are tempted by Satan to believe that we can act as if Christ were not living inside of us. I have only one choice to make when I am tempted by Satan. Do I believe that Jesus lives in me as a self-for-others person, or am I separate from Christ? If I believe that I am separated from Christ, then I can act selfishly any time I feel like it. To be separate from Christ is a choice that really does not exist, though. As Christians, we are never separated from Christ; therefore, to be selfish means that something really drastic happens to keep Christ from being self-for-others through us. The person who goes against Christ is being operated by Satan. Although no one thinks they are choosing Satan, they really are!
We all make choices every day. What will I eat for dinner? Which shirt will I wear to school? What movie will I go see? Really, these are the kind of choices Jesus Christ makes in living His life through us. All we have to do is believe He's the one living the Life. God makes it easy for us; just BELIEVE!
More Articles from The Intercessor, Vol 31 No 1