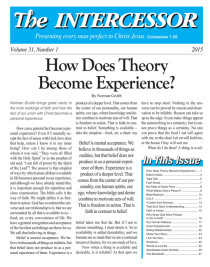 Bible Bedrock: Faith Not Sight"

Bible Bedrock
"Faith not sight"
"Now faith is the substance of things hoped for, the evidence of things not seen."
                                 –Hebrews 11:1
                                 (King James Version)
Now then again we ask the question, What will make meaningful to me these tremendous truths of Christ living His life in me, and I united to Him in place of the old union? The answer, of course, is faith. But that doesn't seem to act. I do believe, and yet it seems to make little difference. Well, there is still no other answer. But it is possible that you are not really believing in God's impossible word. You think you are, but you are really believing in what you think about that word. I told you that it costs everything to believe. "Let us labour therefore…lest any man fall after the same example of unbelief." Faith crosses an unbridgeable gulf into the invisible, unknowable, impossible. It crosses just by believing it has crossed, because He says so, and He is the bridge. To everything on the human side of the gulf it looks as unbridgeable as ever, and that there is no other side! If therefore, without realizing it, you are basing your faith on a single personal reaction to your faith, then you are still on the human side of the gulf. You are really believing in yourself, not in Him who takes you to the Other Side.
On the human side of the gulf we humans want all our human proofs of feelings, evidences, results and so forth. On the other side of the gulf, and the bridge over the gulf, is the One who is forever unknowable and invisible to the human; and faith has staked all on Him, indeed the faith itself is really only He in us believing in Himself–there's nothing human left to it.
More Articles from The Intercessor, Vol 31 No 1