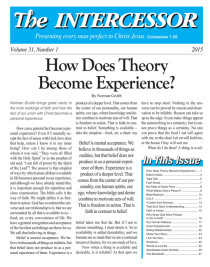 The Editor's Note

Discernment. Did you know that out of the thirty-one Proverbs in the Bible, discernment is mentioned in the 1st, 3rd, 8th, 10th, 14th, 15th, 16th, 17th, 18th, 19th, and 28th chapters? Whoa! Leaves you thinking it may be important, right?! So, what does discernment mean? When speaking of discernment in a Christian, it basically means the ability to decide between what is truth or not truth. It is the process of examining something and determining if it is true and right. Without it we are open to be duped by all manner of lies from Satan, the Great Deceiver. This issue of The Intercessor will be extremely helpful in clarifying how to be discerning, as it is packed with article after article on the subject!
One of our featured excerpts from Norman Grubb's Yes I Am, titled "That Soul Spirit Understanding" illuminates the "key" of discerning between soul and Spirit. Then, in this edition's Tape Talk, Joanna Coatney gives a compelling and personal review of Page Prewitt's talk on "Faith Creates Reality." In it, she describes Page's clear and applicable explanation of deciphering soul-feelings from Spirit-Truth.
And, in "My Pearl of Great Price," Shay Trethewey gives a personal testimony on how recognizing her negative thoughts and feelings about herself, and then replacing them with the truth of Christ-in-her, changed her life!
Next, "A Letter From Norman" to a struggling believer, drives home the point of getting to Spirit Truth despite feelings of guilt, failure, and self-condemnation. And for an illustrated emphasis, Page Prewitt provides a simple diagram of "Our Human Makeup."  It is a great resource for anyone wanting to introduce someone new to the concept of our three human parts: body, soul, and spirit.
Another differentiation that is made repeatedly in this issue of The Intercessor is that of belief vs. faith. There are many people who "believe" or have head-knowledge of a Christ-led life, who haven't taken the leap (action) of faith to apply it and continue to affirm it. In several of our main featured articles, "How Does Theory Become Experience?," "Union Experienced," and our "Bible Bedrock," Norman Grubb writes at length about distinguishing belief and faith, and what it takes for a person to take the faith action into really knowing/experiencing something. These articles are FABULOUS, insightful writings–chock full of "nuggets" you'll want to remember! Keep your pen and/or highlighter handy to mark all the "gems" in this treasure!
You'll find more riches in this issue from articles such as our "Q & A," which answers your questions about sufferings. Also, an article on "Dating Relationships," addressed to a young adult audience, but beneficial for all ages. It outlines God's standards for dating relationships and includes a comprehensive chart that breaks down a Godly view of dating, contrasted to a sinful view. This chart is a wonderful resource on the serious topic of male/female attraction–one that proves to hold some of Satan's strongest temptations for people to overcome in daily life. in daily life.
Finally, don't miss these couple of articles that highlight both God's and man's freedom to Choose. "What Makes God a Person?" examines how man is made in God's image–with the freedom to choose to be selfish or selfless. And, "Why Does God Allow People to go to Hell?" tackles this question head-on with a simple and direct answer that you will benefit from reading.
So now, we'll leave you with one final thought on discernment–a command, actually: "But examine everything carefully; hold fast to that which is good; abstain from every form of evil" (1 Thessalonians 5:21-22).
Thank you for reading The Intercessor!
More Articles from The Intercessor, Vol 31 No 1