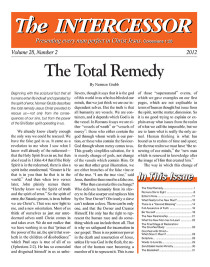 What the New Man has to Learn

The real problem of Christian living is not the old man, but the new man! The wrong use of the new man is the chief sin of the believer, the right use turns life into a magnificent adventure of faith; for the new man then becomes God's battle axe, God's lighthouse, God's intercessor, God's love-channel. 
All the training God had to give His chosen vessels in Bible history was not how to eliminate the old man, but how to use the new man. Moses had gone as far as any man in what we would call regeneration, dedication and divine commission when "it came into his heart to visit his brethren"; for the Bible explained what that involved in the most magnificent description of the glory of discipleship ever written (Heb. 11:24-26). Moses' trouble was not a struggle against the pull of the world or the lusts of the flesh, but a misunderstanding and therefore misuse of his renewed self. That was revealed to him by the burning bush. What he saw and learned as a life's lesson at that interview with God was no new thing in Moses; it was only that by "the thousand natural shocks that flesh is heir to," he was at last conditioned to see what had been a fact since he first came into a living relationship with God, whenever that had been–that, not Moses, but God in Moses, was the true new Moses. 
Jacob is plenty maligned by us Bible teachers; indeed I think that we have far too condescending an attitude in general towards what we deem to be the weak sides of these key figures in Bible history (which is the world's history in its true perspective). How easily we point fingers at the stumblings of the disciples before Pentecost, rather than marvel at the magnificence of their loyalty to their unpredictable Master; and I suggest that a negative attitude towards these men of earlier history, so often making more of their shortcomings than of their dedication, goes hand in hand with the constant belittling of God's present-day church, as if it was ineffective, falling down on its world responsibilities, hopelessly weaker than the devil's counterfeit claimants for world allegiance, such as Communism. Yet the truth is that the church is merely the earthly garment of the Holy Spirit: to belittle it is to belittle Him, as Paul was careful to say when speaking of unbelieving Israel: "not as though the word of God had taken none effect"; and it is far healthier to observe and emphasize the onward march of God's army "terrible with banners," its indestructibility, its persistent penetration, its resilience under the blows aimed for its destruction. 
But back to Jacob, the most outstanding example of all, for not one in a thousand has much good to say of his early years. Yet God is "the God of Jacob," and God in Jacob is seen from his earliest years. As Abraham's grandson, who lived his teenage years in those tents of pilgrimage with his grandfather, which symbolized the old man's wavering pursuit of his heavenly heritage, no doubt the lad absorbed the old man's testimony, caught the glow of his living faith, gazed out with him on the long vistas of God's promises, and determined in his own young heart that Abraham's God was his God also. That was God in Jacob! It was God who constrained him to grab at the birthright so callously spurned by his brother, and we may be sure that that was no isolated incident, but the culmination on Esau's part of a whole attitude of contempt for this other-worldly nonsense. It was God who moved in to rescue Isaac from his one recorded weakness of the flesh, and compel him to give the blessing to Jacob. By a trick? Yes, Jacob had lots to learn about scheming self, and he had to learn it the hard way; but it was Jacob the new man, not Esau the old man, in unwavering pursuit of God. To none other could or would God have revealed Himself, and kept at it until He cornered him at the Brook Jabbok, and Jacob at last learned what Moses learned at the burning bush–that the real new self is God in the self, not self in the self. God is the God of Jacob, not because He has constant mercy on such a failure, that is a libel on the God who lived in Jacob from early youth; but because God had in Jacob the chosen vessel in whom the holy fires could not get quenched.
And so through all the list of these men "great in the sight of the Lord." Their problem was the right understanding of the new man–to use New Testament language. Both the wrong and right use has to be learned. Have we got it clear? We are no longer talking about the "old man," corrupt according to the deceitful lusts. But the "new man" has to be understood, for it is either the seat of all our troubles, or the zestful warrior of faith. The famous "new man" chapter, where its mistaken uses are exposed, is Romans 7. Here it is not the old man trying to do evil, but the new man trying to do good: "when I would do good" (7:21): and we have to learn that trying to do good is the worst sin of the believer. The old man went out in Rom. 6; the real new man (Christ in us) is in action in Rom. 8; the pseudo-new man is active in Rom. 7. It is the three categories of natural, carnal, and spiritual which Paul speaks of in 1 Cor. 2:14 and 3:1. Only natural and spiritual are possible permanencies for a human being; they only are the two natures available to humanity, the natural man having the satanic nature (Eph. 2:2, 3), and the spiritual man the divine nature (2 Pet. 1:4). Carnality is a temporary lapse of the spiritual man: a visit out of Rom. 8 into Rom. 7, whether long or short. Somehow or other the midday sun of revelation has to come out of the clouds and shine in us–that we really are only containers. I am convinced that there are thousands of God's people, redeemed, knowing Christ in them, often having the terminology and something of the experience of the victorious life; but this last bridge has not been crossed, when it dawns on them that Christ is really living His life in them, and that's the end of everything for them. For time and eternity He will express Himself exactly as He pleases by them, and live where and how He pleases in them. Christ has become their true self. 
In contrast to this, prayer in pulpit and pew, ordinary conversation, attitudes in crises, betray the normal outlook– that they are living their lives with God's assistance, and what happens to them, happens to them, not to Him. Just here and there eyes have been opened, that's all. Glimpses of Christ in us are seen by all certainly, for that is new birth revelation; but the completeness of the fact, and its implications, no. 
It is when this midday sun is shining in us that we see clearly the difference between life in Rom. 8, but visits to Rom. 7; for we differentiate between the human self tempted to act by itself as if separate from Christ, and the Other Self, Christ, acting in us. The moment the human self acts by itself it is in the illusion of separation from Christ, and acts as merely flesh; for flesh is the scriptural word for humanity separated from God through the fall: and flesh not controlled by the Spirit is immediately the dwelling place of sinful lusts (7:18-21). Then here we are, "wretched men," knowing the temporary dominion of Satan in our outer man.
That is the Rom. 7 life. It is the misuse of the new man through the misunderstanding of what he really is. It takes us right back to our fundamental revelation: that the human self never was and never can be independent self. It only imagined it was so in its unregenerate days, not knowing its inner satanic lord and master. But because of this false imagination, we carry over into our redeemed life, into the new man, the instinctive idea that we can be self-active for God now: and we go to it. We try to pray, we try to love, we try to witness, we try to keep God's commands, we try to study the Bible, and the wheels of our trying run pretty heavily. And as we try, the very opposite to what we aim at gets hold of us ("for in positing one thing, we also indirectly posit the other which we exclude"), and we seem to ourselves more sinful than before we were saved! For we cannot be a vacuum. If it is not Christ in us, then it is Satan; and when we do not abide in Christ according to Rom. 8, and foolishly or ignorantly think that we can live the Christian life under our own steam, then in our soul and body (our flesh when apart from the Spirit) is there the uprising of sin (the self-loving spirit), and our helpless response to it. Satan invades the self that is enticed away from Christ. He does not take over the inner citadel of the human spirit which is in union with God's Spirit; but he sends his soldiers over the walls and diverts attention to himself and claims some temporary footing. Repentance, confession and cleansing in the Blood are the weapons which send him flying again.
Maybe by repeated failures, by the strain and stress of a life we can't cope with, at last God opens our eyes, and we see our mistake. The new man (the human part of it) is as helpless as the old man! Neither was made to function by itself, and never has, and never will. The old man was Satan in us: the new man Christ in us: in both cases the human self is the container, the recipient, the agent. At last we see it; and Romans 7 was as necessary to our spiritual education as the backside of the desert to Moses, and the years with Laban to Jacob. Now we know how to avoid the pitfalls of that subtle chapter. We still pay calls there, but we know where we are when we do, and we know how to get out quickly. Our normal life by grace is now in chapter 8, with the occasional visit to chapter 7; only we must admit that for most of us, and I include myself, the visits are too frequent. We surely never get beyond the daily cleansing of 1 John 1. 
Now we are conditioned to understand the right use of the new man. But just at this point we have to be alive to one pitfall. Battered about by our failures through self-effort, we are in danger of pointing an accusing finger even at the helplessness of self. We are ashamed of our weakness. We condemn ourselves for our fears, our shrinkings, our questionings. It is the commonest thing to hear Christians commiserating their feeble and foolish humanity before God. We bemoan the limitations of our flesh, as if flesh was inherently an evil thing. No, indeed. Our weakness is our glory. It is that which necessitates the indwelling of God. That is our claim on Him, as new men in Christ. If He makes weak and ignorant humans, then He must be their strength and wisdom, for He only makes empty vessels to fill them. 
It is, therefore, a great release when we realize that we are meant to feel our inability. Indeed, it should be our constant reaction in every situation. When it isn't, we are on dangerous ground. It is the wisdom of God which keeps us progressing from problem to problem, from one tight corner to another. The most illuminating autobiographical account of a man who had learned this lesson is Paul's in his second letter to the Corinthians. It scintillates with this truth. It is Paul the human, thoroughly human, radiating Christ. The human sticks right out of chapter after chapter; but, mark you, it is not Paul condemning himself because he was human, and feeling that he needs cleansing from it. It is Paul who has a redeemed humanity through the cross, and is now occupied with Christ coming through His humanity in risen and saving power. It is the Paul of Galatians 2:20, who has finished once for all with his self-centred humanity ("I have been crucified with Christ"): the Paul who is now a cleansed and renewed human ("nevertheless I live"): the Paul whose attention is centred on the Other Self operating through him ("Christ liveth in me"). And he speaks boldly of the flesh, not as an evil thing, but as man's normal human condition: only evil, if given a control it has no right to. "Though we have known Christ after the flesh": "my flesh had no rest…without were fightings, within were fears": "there was given to me a thorn in the flesh": "though we walk in the flesh, we do not war after the flesh": and in that flesh, "pressed out of measure," despairing of life, troubled, perplexed, cast down, sorrowful, poor, but "though weak in Him, we shall live with Him by the power of God toward you."
Spontaneous Living
Why is the realization of union with God essential for daily living? And why must we also know that we redeemed humans are wholly and solely His, spirit, soul and body, and not a half old and half new man? Because we are to live freely, boldly, zestfully, gaily, wholeheartedly. Life is to be to us a great adventure. We are not to be ashamed of calling it a thrill.The commonplace is always to be the fresh to us. The most insignificant, the most obscure is life with a purpose. It is spontaneous living. And it can only be that when two facts are facts to which we need make no further reference, except by way of continuous thanksgiving. The one is that God and we are so one'd that we just live, and yet it is God, and in a sense the relationship is automatic–we just live. And the other is that we are free selves, with no internal enemies lurking within, with no civil war or rival claimants within, free to think, free to serve, free to act, free to believe, free to give ourselves for the world. 
For normal living is free-hearted, freeminded concentration on the job in hand. We are not made capable of thinking of two things at once. When we are doing something, we put all we have into it. We cannot, therefore, be thinking directly of Christ at the same time, or consciously communing with Him. We have a subconscious realization of His presence, like the flow of an underground stream, and we refer to Him momentarily at any time; but the great percentage of our daily lives is spent, not directly in touch with Him, but immersed in our own affairs. Now if the union, by grace, is an automatic fact, then we do not suddenly come under condemnation that we have thought little directly of Him through the day; but just because He and we are one person, so what we were thinking about and doing was what He was thinking and doing. We never were apart, not for one second; such apartness is a ridiculous impossibility. Wherever we are, He is. He has joined Himself to us–by infinite grace–and that's the end of it. 
More Articles from The Intercessor, Vol 28 No 2