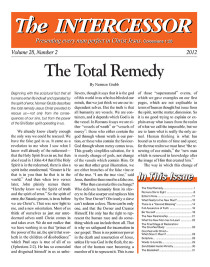 Crucified with Christ–What Does It Mean?

I think it would be helpful to explain what the Bible means when it talks about our being put to death (crucified) with Christ on the cross and, in turn, our being dead with him. There are a lot of explanations for what our being dead with Christ means but most of them are not only confusing, but inaccurate. We must get it clear that death does not mean our termination. It is, instead, the process by which spirit is separated from body. 
The Bible says that Christ became sin–or in other words, He took the spirit of Satan's/sin on Himself (Corinthians 5:21) and was crucified (put to death), the purpose of which was to eternally separate Himself from the sin spirit. This sacrifice of His life made possible this freedom for all mankind. We were crucified with him. And by His miraculous sacrificial death we, too, were freed from the Satan/sin spirit. However, this work does not take place in our life until we accept Christ and this work He did for us on the cross. At that moment, we are raised to newness of life by the Holy Spirit and from that moment on our life is the life of Christ in us. 
Knowing this, that our old man is crucified with Him, that the body of sin might be destroyed, that henceforth we should not serve sin. For he that is dead is free from sin. Now if we be dead with Christ, we believe that we shall also live with him (Romans 6:6-8).
But if the Spirit of Him who raised Jesus from the dead dwells in you, He who raised Christ from the dead will also give life to your mortal bodies through His Spirit who dwells in you (Rom. 8:11). 
Thus, in actual fact, we become new creatures, or what the Bible calls the "new man." When this exchange of spirits takes place in us, the old man who is made up of our human spirit joined to Satan no longer exists. In spite of what we are universally taught, there is no longer an old man waiting around to re-invent himself as us. Our new life is now the life of Christ who joins Himself to us in an eternal union. 
Therefore we were buried with Him through baptism into death, that just as Christ was raised from the dead by the glory of the Father, even so we also should walk in newness of life (Rom. 6:4). 
I am crucified with Christ: nevertheless I live; yet not I, but Christ lives in me: and the life which I now live in the flesh I live by the faith of the Son of God, who loved me, and gave himself for me (Gal. 2:20). 
It is very important for you to understand that I am not in any way saying that we reach a state of perfection where it is impossible for us to sin (see entire booklet for an explanation of sin in the life of the Christian). 
I hope this short account lets you see that when we say that through Jesus' body death on the cross we become new creatures in Christ, we are stating a literal fact and not some high-sounding spiritual ideal. We are actually changed from having Satan joined to us (Satan/I) to Christ joining Himself to us (Christ/I). 
More Articles from The Intercessor, Vol 28 No 2