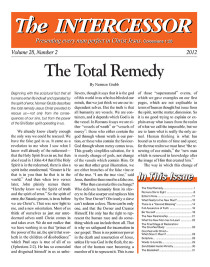 The Total Remedy

Beginning with the scriptural fact that all humans enter life indwelt and operated by the spirit of error, Norman Grubb describes the total remedy Jesus Christ provided to rescue us–not only from the consequences of our sins, but from the power of the Sin/Satan spirit operating in us.
We already know clearly enough the only way we could be rescued. We have the false god in us. It came as a revelation to me when I saw what I knew well already of the redeemed–that the Holy Spirit lives in us; but then also I read in 1 John 4:4 that if the Holy Spirit is in the redeemed, there is also a spirit in the unredeemed. "Greater is He that is in you than he that is in the world." And then when two verses later, John plainly names them: "Hereby know we the Spirit of truth and the spirit of error." So the spirit of error, the Satanic person, is in us before we are Christ's. That was new light to me, and a new orientation. Most of us think of ourselves as just our unredeemed selves until Christ comes in and takes over. We do not realize that we have working in us that "prince of the power of the air, the spirit that worketh in the children of disobedience" which Paul says is true of all of us (Ephesians 2:2). He has so concealed and disguised himself in us as unbelievers, though it says that it is the god of this world in us who has blinded our minds, that we just think we are our independent selves. But the truth is that all humanity are vessels. We are containers, and it depends which God is in the vessel. In Romans it says we are either "vessels of wrath" or "vessels of mercy": those who either contain the god through whom wrath is our portion, or those who contain the Saviour- God through whom mercy comes to us. This greatly simplifies salvation, for it is merely change of gods, not change of the vessels which contain Him. Or to use that other great illustration, we are either branches of the false vine or of the true. "I am the true vine," said Jesus, therefore there must be a false one.
Who then can make this exchange? Who delivers humanity from its slavery to its false usurper and replaces him by the True Owner? Obviously a slave can't redeem a slave. There can be only one, and that the Owner and Creator Himself. He only has the right to represent the human race and do something which can include them all. That is why we safeguard the incarnation in our gospel. There is no point nor power in the death and resurrection of Jesus, unless He was God in the flesh, the author of the human race becoming a member of it to represent it. This is one of those "supernatural" events, of which we gave examples on our first pages, which are not explicable in terms of human thought but issue from the spirit, not the matter, dimension. So it is no good trying to explain or explain away what issues from the realm of what we call the impossible, but we are to learn what is really the only actual. Human thinking is what has bound us to realms of time and space; for the true realm we must have "the renewing of our minds," the "new man which is renewed in knowledge after the image of Him that created him." 
The way in which this change of gods has become a fact has of course held our fascinated and almost microscopic attention and investigation through the centuries. And no wonder. "Upon Another's life, Another's death I stake my whole eternity." "God forbid that I should glory save in the cross of our Lord Jesus Christ." "I was determined not to know anything among you, save Jesus Christ, and Him crucified." We will put it in simplest terms to relate to what we have already said. Why Christ's death? We humans have got so physically minded that death to us always means the physical. But we who are believers know better. We know physical death is only the gateway to life after death. Where? Ah, that is the crux! The Bible makes plain that if we die a child of the devil, we continue on into the devil's destiny which is described in the terms of its supreme loss as "everlasting destruction from the presence of the Lord and the glory of His power." Therefore death for Jesus did not just mean the physical dying. If as the One who never was made captive by the devil and thus not under death's dominion, He accepted death on our behalf, then He would go after physical death where we would go, into what Paul called "the lower parts of the earth," the realm of "the spirits in prison." And that is where He did go. Maybe that is why there was such reality in the cry, "My God, My God, why hast Thou forsaken Me?" Supposing He didn't rise? He had to go this way by nothing but faith, as the rest of us. 
But He did rise. There was nothing that could hold Him, because, though our sinbearer, He was not Himself a sinner under the law of sin and death. Therefore, "quickened by the Spirit," He could be "raised from the dead by the glory of the Father." And what did He leave behind on our behalf? That is what is important to us. He left both the cause and effects of sin. The effects are our destiny in outer darkness, the consequence of the curse of the law, the guilt, the condemnation, the weeping and gnashing of teeth, the worm that dies not and the fire not quenched. All disappeared from sight forever, because He took them on Himself on our behalf, and then left them behind on our behalf when He arose. Therefore Paul said that in His resurrection we are justified; in other words, not merely forgiven, which might still leave a memory behind of the things for which we needed the forgiveness; but justified, meaning that we are as spotless, sinless, as the Saviour Himself; and all the past in memories of fact or dread of destiny are out of sight and out of mind forever. That is the overcoming in the blood of the Lamb. Nothing can be held against us. "Who shall lay anything to the charge of God's elect?" "It is God that justifieth." The shedding of the blood was the physical evidence of a life totally poured out to death, and therefore taking all with it that would come to us if we died. 
But that alone, tremendous as it is, would not solve our problem or give humanity its release. The cause is our problem, the sin, not the sins. And we have seen sin to be the term used for the nature of the spirit of error who lived his sin-quality of life in his vessels and by the law of an indwelling spirit, he expresses himself through the human spirit which he indwells. Sins are the products, but the producer is the problem. And what salvation would it be for a human race indwelt by the spirit of sin and thus compulsively expressing his self-loving nature, to be released from the consequences of a sinful life, but not from the compulsive cause? We should just go on living as before. Therefore the Bible presents us with Christ's death in a twofold form–in His blood and in His body, of which we are continually reminded in the memorial Supper. And that is why in Paul's 1 Corinthians 10:16-17 reference to the Supper he speaks of our communion in the blood and body of Christ. But then he says we are one with Him and His body, symbolized by the bread; but he does not say in the same sense that we are one with him in His blood. The reason is that a person's blood is his very self. When that is shed, his life is gone. But a person's body is more external, more we may say his clothing. His blood, therefore was uniquely Him going that way of death for us, and in that respect we were not dying on that cross with Him. Rather we come to the foot of that cross and see the burdens of our sins rolled away into His tomb, as Bunyan so beautifully puts it. But we are His body. "We being many are one bread, one body"; and in that aspect of Him on the cross, we are there with Him, crucified with Him, buried with Him, risen with Him. And what's the import of that? Because the body is the container of the spirit, and we humans have become containers of that false spirit of error, whose nature is sin, therefore Paul says that Jesus did more on Calvary than "bear our sins in His own body on the tree"; he said, "God made Him to be sin for us." And that meant that in God's sight we were He, crucified with Him, and His body representing us had that spirit of sin in it. And then the glorious fact that when a body dies, it is separated from the spirit in it; and so when He died, Paul said He "died to sin" (quite different from dying for our sins). His body, representing us who were "buried with Him," lay in the tomb with no spirit in it–a human race delivered from that old false indwelling spirit of error. And when He rose, it was by the entry of another Spirit, His Holy Spirit. So when we are joined by faith to Him in His death and resurrection, we are no longer vessels containing the spirit of error, but vessels containing the Spirit of God! That is a full salvation– from effects and cause, from products and producer. That is why only the incarnate, crucified and risen Christ can be the world's Saviour. 
What You Take Takes You 
And now we are back on what it is to be a person. My royalty is my freedom of choice. All is mine as I make it my own. Nothing is mine till I do. The whole world is reconciled to God in Christ. He came "that the world through Him might be saved," "not willing that any should perish, but all come to repentance." But it is to "as many as receive Him" that He gives the right to become the sons of God. So we come back to the exercise of our one fundamental faculty, the right use of which is the main purpose of our life on earth. Call it freedom of choice, or call it faith, it is the same thing. 
We have already seen that the capacity and necessity of making choices is the basis of our selfhood, and how our choices take us over. So faith starts by conscious choice, conscious involvement, but goes on as spontaneous being in that choice. I sit on a chair by choice. It is a "leap of faith," just as much in such a mundane detail, as in the great choices of life. A chair is available to me, it is desirable, and it looks reliable. That is as far as sight or human reasoning can take me. I have to commit myself, before I can prove it is a reliable chair for me. But then, having sat, the chair is now holding me, not I it, and I forget about it and just remain sitting. Faith has become spontaneous being, I just am in a faith-relationship with that chair. 
So we have been in a spontaneous faith-relationship with the spirit of error all our unredeemed years. Whether consciously or unconsciously we have been living our self-centred lives, under his dominion. But now we come awake. Through one means or another, the inner disturbances of guilt, the realization of the judgement of God, the sense of emptiness and purposelessness, the sins that have a grip on us, the impact of the preached word or background Christian teaching, or maybe some sudden crisis in our lives, has brought us to our senses. We call it conviction of sin. Its effect is disillusionment and disgust with our philosophy of life. The misuse of self has done its work. We have had enough of it. Now in our fundamental freedom, we would transfer our choice of faith elsewhere if there is an alternative. We would move from the wrong to the right, if there is a right. And that is the gospel. And that is why the gospel must be preached to those who have never heard it. Who can deliver and save us, when we can't save ourselves? There is no concrete answer in our human history except the One who came and did it for us. 
But we can't prove a thing. We have the Scriptures, we have the witness of changed lives, but they are no final proof. They are only pointers. It is only when desperation drives us beyond reason that we will make such a leap as this–into the invisible. But we do. From our inner spirit-centre we make our faith-choice. We will take the risk and take Him at His proffered word–that God did send His Son, that He did die for us, did rise, is alive, and does fulfil the promises He gives. 
And now what happens? The law of faith operates–that what we take takes us. And in this case it is a supreme event, because for the first time we have transferred our believing from matter to spirit. We have believed on Him who is invisible; and back comes the inner witness. "The Spirit bears witness with our spirit that we are the children of God!" We know. We can't say how, we can't prove it, but inwardly we know. We have taken the first giant step from matter into Spiritreality. Somehow He is my Saviour. He has loved me and accepted me. I have become a child of God. In the eyes of the world I am a fool. Who is this Jesus and this God? Where are they? What right have you to say they have become real to you? Get back to sane earth living. But we have moved from matter to Spirit, from unreality to reality, and nothing can change us. 
The first inner evidences we have are for our personal benefit. We have peace: "Being justified by faith, we have peace with, God." And as we have just said, we are conscious of being loved and accepted and receiving the gift of eternal life. They are the only first way in which the Spirit of truth could communicate the reality of Jesus and the Father to us. We have lived all our lives in self-interest, and therefore only what would meet our own selfish needs could reach our consciousness. Love always meets people on the level of their need. So God gives us His Son apparently just to meet our selfish needs.
But tucked away in that package of grace was something far more revolutionary. We are continually saying that God's sole nature is other-love, and the true evidence that any are His sons is that they are expressions of the Father. If He is love and now lives in them, then they are love. And so this tremendous fact becomes real. It isn't just that we rejoice in finding ourselves loved, but we love. In Bible terms, "The love of God"–not love for God, but God's own love–"is shed abroad in our hearts by the Holy Spirit who is given unto us" (Romans 5:5). We just find ourselves, not by self-effort but by spontaneous inner compulsion, not just loved, but lovers. We can't help ourselves. We find we are loving Him who first loved us like that and gave Himself for us, and the Father who sent Him. And we are not only saved, but saviours. Having found at last what true life is, we can't but pass it on to others. And we are not just healed, but healers, as others share their hurt and we can give them Jesus. 
This is why the Bible gives first place to the new birth. Jesus, Paul, John, Peter, all talk plenty about it. It is the moment of the settlement of our eternal destiny. It is the central transference of our capacity of free choice from attachment to the false god of self-centredness to the Living God of the universe, the God of love. Satan had no right to us. He was a thief and a usurper. God has the right to us because we were always His from the beginning, but had become lost sheep. So when He gets us back, it is for keeps. We are fixed through our union with Jesus in His death and resurrection. And again we say, the supreme evidence is that we have spontaneously begun to be, not just loved-sons, but lover-sons. We are the God of love in our human forms–true sons. 
And the other important fact is that we have begun real living as spirit people, not matter people. Spirit, His Holy Spirit, has become real to us, making the Father and the Son in the realm of the invisible living persons to us. Now we have begun to recognize matter as shadow and spirit as substance. We have begun what is going to be the main progress of our lives, learning how to function as sons of the fourth dimension in the environment of the third dimension: how to settle in to reality not being of time and sense, and not according to "normal" thinking; and how, as we have already seen in the lives of all the men of God in the Bible, this substance is manifested in this shadow realm. 
The Self Can't Be Improved 
Our great error is in thinking that our human selves can be improved. And we think that because we have this false concept of being separated self-developing selves, this is false deception from the spirit of error. But in Christ we are not separated. We are in an eternal union. That is what, we were crucified with Him, buried with Him, risen with Him, means. That is the symbol of the Lord's Supper, eating His flesh and drinking His blood. From the moment we received Him, we were restored through Him to the eternal union, which I prefer to call unity, because union keeps the attention on the two, whereas unity settles us in the realisation of something eternally indivisible– which is the fact by grace. 
The relationship in this unity is positive and negative, so that all the illustrations given in the Bible point to that. We are branches in the Vine. The branch is the negative means by which the Vine can bear its fruit. But it is a unity, and when we see a vine we really only see its straggling branches and we call that the vine. The branches are the vine in their branch forms, and we are Christ in our human forms. 
We are called the body of Christ. The body is the negative to the head, by which the head goes into action. But head and body are a unity. So Paul called the body Christ in 1 Corinthians 12:12. 
We are called the temples of the living God, the buildings in which God may be seen; and we are the earthen vessels whose treasure is the Christ within. Temple and vessel don't illustrate the unity, but do make it plain that they are merely negative containers, and we don't look for change or improvement in them. 
So then how does this all work out? First, by a recognition, which is a revelation, that the human self by itself can only be motivated by its own self-interests; for its only true place in creation is in its unity with God, as the means by which He manifests Himself in other love through our human selves. Apart from our destined place in the unity, we can only be self-loving selves. Therefore it is useless and a waste of time for us to ask God to make us loving, or patient or pure, or free us from human reactions of hate or fear or worry or depression. It is asking an absurdity and an impossibility. The human self can never change. The vessel can never be the living water it contains. The branch cannot be the vine. 
When that recognition is a reality to us, then we can start by accepting ourselves in our weakness and all normal human reactions. In this distorted world we are besieged all day long by fear and doubt and hate and worry and all the rest of them. To feel them is normal, not wrong. We shall always be responding to them. We hate or dislike this person. We are jealous of that one. We are afraid of what we are called on to do. We are worried by daily problems. We have fits of deep depression. Our minds are assaulted by all kinds of wrong thinking. If we struggle against them, what help is that? If we condemn ourselves for such reactions, we remain still bound and full of guilt. If we call on God to help or change us, we don't get changed, or maybe just a momentary relief. 
Then on what grounds can we accept ourselves? Because of this great revelation: we are merely the negative joined to the Positive. We are no longer we, but Christ in us. Christ the real we! Listen to Paul. He starts by saying Christ died for us, then speaks of the Lord with us, and goes on to his special revelation of Christ in us; but he ends up, when he gives his personal witness, by Christ is the real I. "I live," he says in Galatians 2:20. "No," he corrects himself. "It is not I, but Christ living in me." Christ not with, not in, but replacing Paul, Christ in Paul's form. And Christ in your and my form. Put your name there. You are Christ in Jack's form, Christ in Elizabeth's form, I, Christ in Norman's form, and so on. 
Now, in the light of this revelation, when we in our humanity are moved in this direction or that by our negative reactions, we don't struggle, we don't condemn, we above all don't try to change ourselves (trying to be good is the worst sin); no, we replace. We transfer our inner believing from what has its hold on us because we are believing in it, fear, lust, hate, etc., and attach our believing to who we really are, not our human selves, but Christ in ourselves. And as we affirm and recognize Him, He who is the peace, love, courage, purity, manifests Himself in and by us. 
There is the secret–discovering who we really are. We have come back home at last as the branch in the Vine and the Vine in the branch. "Abiding" in that John 15 chapter is, in the Greek, just "remaining"; and we remain by simple faith-recognition. The negative to God the Positive, and necessary as a negative, for only when we are consciously weak, as Paul said, then His strength is perfectly manifested. When we are fearing, He is the courage. When we dislike, He is the love. And Paul goes as far as to say he personally takes pleasure in negative situations of weakness, hurts, needs, problems, for when he is weak, then he is strong. 
There is no doubt that this is the biggest tie-up in thousands of God's people; in fact all of us have to start tangled to get the knots untied. We are just so bogged down in taking ourselves for granted as normal functioning people, and we are so used to preserving an image, that it is a second spiritual breakthrough for us to grasp the fact of helplessness. We had come to acknowledge that we had not kept God's law and were guilty sinners. But it is another thing, when we are the Lord's, to discover and admit that we are also helpless saints. We can't do it, and not only can't but are not meant to. We call that the second collapse. 
That is the whole meaning of Paul saying we can have dominion over sin, because we are not under the law. This is why there is that important chapter of Romans 7, which has been such a ground of puzzlement and controversy. There it is sandwiched in between the two victory chapters: in Romans 6, in Christ's death we are cut off from the former control of the spirit of self-centredness, "dead to sin"; in Romans 8 we are joined to Christ in resurrection life, by His Spirit replacing that former spirit in us. Then in between comes Romans 7, saying we are not only dead to sin, but dead to the law. Why? Because if we are to function as living sons, we must know once for all in what sense our human selves can be manifestors of Christ. So Romans 7 is the human self which now has God's Spirit and delights in His law in the inward man, and wills to do it, and serves the law of God with the renewed mind. But self, when regarded as just by itself, has the virus of independence and self-reliance which Paul calls "the sin that dwelleth in us." That is the Satanic spirit of self-sufficiency which he calls sin. So the moment we humans, not yet recognizing Christ in us as the only keeper of His own law, want ourselves to keep it, and slip into this old habit of thinking we can do it, then down we fall. We can't do what we would, and do what we should not. Oh wretched man! And the law of God stands there to demand of us that we keep it, if we think we can! Then at last it dawns. Our human self is now a container of Another Self, Christ, the Spirit of Christ. We never were meant as humans to keep God's laws of self-giving love. Left to our human selves, we can only be ourselves and love ourselves. But this is just why Christ has come into us–to replace that evil spirit of self-centredness by which we had lived. By ourselves, we would still remain self-loving selves, but we are not ourselves any more. By inner union, Christ is our real self. So what do we now do? We tell the law it is no good its shouting at us, because we can't fulfil it, were never meant to; but we contain the One who can and does. So the law has not a thing more to say to us or demand of us. We are "dead to the law" in Christ. And now we are free by simple recognition that Christ in us, Christ as us, keeps His own law in us, so that "the righteousness of the law is fulfilled in us" who are now walking by inner recognition of the Spirit, and not recognition of that old self-effort. 
How thankful I was when, as a young missionary, longing to be "improved"– to love more, have more faith, the Spirit said to me, "Drop that. You can never be improved. You are just a vessel." And then He showed me that simple fact that God is love, not has love, and I saw for the first time that love is a person, God Himself; and that it was not a matter of my being made loving, but of me being the vessel which contained Him who is the love. I learned then to change from the false idea of becoming something to containing Someone. 
More Articles from The Intercessor, Vol 28 No 2