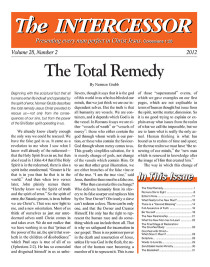 From Desperation to Restoration

The effect of the inner and outer law on us is twofold. On our response hangs our eternal destiny. We can either respond by hypocrisy or honesty. As a fact, we all start by being hypocrites. That is, we pretend to ourselves and others that we keep the law reasonably well, enough to salve our consciences. We have enough religion or a philosophy of some kind to cover our tracks, for a self must always have a foothold for its selfhood–a righteousness (rightness) of some sort. What we really do is to try to keep the eleventh commandment, to hide the truth from ourselves as from others–"Thou shalt not be found out!" 
Honesty is when by some means or other (God has a thousand original ways), we are brought up sharp enough in our lives, suddenly or gradually, to be faced with the plain recognition that we are not what we should be. We are law breakers. The moment of truth is when in our freedom we admit that fact. That is honesty, and that is also a total self-humiliation. The supposed foundations to our selfhood have given way. That is why there is a cost in it. The false front of our self-justifying religion or philosophy collapses. 
But this admission of merely being a law-breaker in the sense of not living up to the standards of God's law is not sufficient by itself. The point is that it is the law of God, and, therefore, the law on which our being is founded, so that we are at variance with the Source, the Originator, the Upholder of our being. Therefore, we are at variance with life itself. We are wrong, we are lost, we are in the dimension of what Jesus called "outer darkness." 
Now when that is an admitted reality to me, I am conditioned for the truth. I have a need and I must have it met. I can no longer consciously continue at variance with the God of my being and under His justifiable condemnation, with its necessary ultimate ending in "everlasting destruction from the presence of the Lord." What then shall I do to make amends? But that is exactly what I cannot do as a self–confessed law–breaker with the usual consequences of lawbreaking. 
This is the moment, the first moment when He who is love, the ground of my being, can get over to me what love is and what He is, and what I am to be. Jesus Christ, God in the flesh, is the answer. What He did for me and as me was what I could not do for myself. This is the eternal love. Now in my total need I am conditioned simply to see with thankfulness that what I could not do to remove guilt, condemnation, ever-lasting separation, He did for me; and they are no more. Seeing is recognizing and receiving and release. 
In my freedom of choice, which hardly was conscious choice, when my need was so desperate and the supply so complete, I suddenly realize that God is now my God and Father, and Jesus Christ my Savior and Lord; and not only have I a conscious peace and release, but I have a love for Him. What I probably do not realize is that this is the beginning of my living the eternal quality of life for which I was originally created. The restoration to God of His stolen property has taken place. A revolutionary change has taken place. For the first time in my human history, I love someone else more than myself. A new love, greater than my love for myself, has taken possession of me: love for God and Jesus. 
I do not yet realize that this is not my human affections. I probably think this is my love for Him, but what has really happened is that in receiving Christ I have received into myself the One who is love, and what I regard as my love for Him is really the first expression of God's self-giving love in me, loving another more than myself: "The love of God (not love for God) shed abroad in our hearts by the Holy Spirit." This new love, greater than love for myself, has taken possession of me, causing me to start being an other-lover: for I very soon find that if I have love for Jesus, I also have love for all men, for He and His world are identified. I find in myself, not only the love for Him, but also the desire that my friends, my neighbors, and all men should share the secret of life that I have found and that they equally need, and that I should take my share in the ministry to mankind in all ways available to me. 
This is eternal life which is eternal self-giving love begun in me. I have "come home," and begun to be the light and the love I was destined to be. What we call Christianity, therefore, is not belief in a doctrine, not membership in a church, not allegiance to a Bible or a Jesus of history, but a new love; for again we say, we live where we love, and this new love is for the first time in my human history the love of someone more than myself: and this is and means a new quality of life of which the potential and implications are way out of sight beyond space and time, just as an Amazon river starts by a trickle at its source, or a prairie fire begins with a spark. 
More Articles from The Intercessor, Vol 28 No 2