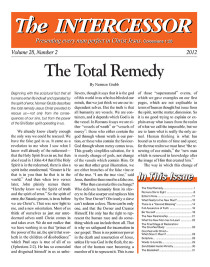 Be Yourself

In this excerpt from Who Am I?, Norman explains how our renewed understanding of Gal. 2:20 is applied in our everyday situations.
How does this new awareness that it is "Not I, but Christ" living out by me work out in daily life? That is the common question; and the person who asks that usually means,"Not Well." And that goes to the core of what we have been talking about. When this change-over has become fact–from the life which we were seeking to live with the help of God, to a life which we inwardly know it is He living it– then we simply don't ask that question. Why? Because something has happened. Previously, though we were Christ's, our self-reactions in daily living were what was most real to us. We were accustomed to assessing life by how we had behaved and we were usually unhappy with our failures and sins. We definitely saw it as starting from where we are and what we are doing, and proceeding from there to where Christ is or is not in it all. 
But now turn it round the other way, as it is turned in our new consciousness. There is an underground river flowing in us. It is that the real I is not this human I at all! It is He, of whom my I is an outer form. There is a unity, fixed, eternal, inwardly realized, in which He, the Positive, is the Real One living, and I, the negative, am also real, but really the expression of Him. Now the curious effect is that it is very much I living a human life in all the hurly-burly of human living, yet that is no longer my primary consciousness. Here I am with my ups and downs, my ins and outs; I deal with them as they arise, yet they don't upset me or occupy my thinking and usual self-condemning as they used to. I have moved over from a self-consciousness in the centre to a God-consciousness in and through my daily living self. I have begun to live positively, overflowing the fact of my negative human self. 
This is the new spontaneous living. Not one iota new in my environment. I am precisely who I was and where I have been all these years. But I am inwardly new in my consciousness, and, as we have been continually saying, we live by our inner consciousness because we are spirits, inner people. And in my consciousness I have moved over from my negative self with its negative reactions being my chief concern, to Him, not as some separate Self sometimes in charge of me and sometimes not, but as my Permanent Identity. 
So normal Christian living, as Watchman Nee so well names it, is this "mysterious" combination of the duality in the unity, the Positive and negative which alone makes manifestation of the Positive possible. It forever remains a duality in the unity, the Positive remains the Positive, the negative the negative; the one never becomes the other, the creature never becomes the Creator, or the son the Father, or the human the Deity. But the Positive-negative at last settle back into their right proportions. It is Satan who got them out of proportion (though God determined it for good purposes) by making us, the created negatives, as if in our self-activity we were positives. It is Christ who has restored the balance in which both God and we are real selves; but it has taken the full restoration into the conscious unity for us to function in the healthy recognition that we are negatives, yet necessary to Him the Positive.
So this means at last that we accept ourselves. We have been busy enough being ashamed of ourselves, even hating ourselves, afraid to expose ourselves because we so falsely thought we ought to be and wished we were different. Miserable living! But now we laugh at ourselves, accept ourselves, love ourselves, because we have made the great discovery that we are meant to be precisely what we are. And watch that! What I now am, physically, materially, in my human make-up, in my present situation however much I have often wished it was different: equally in my relationships with others, family, business, workmates, neighbours: and, very important, including what I have been in the past which I may regret and which I may feel accounts for what I am in the present: in all this I totally accept myself as being God's precious person and He meaning me to be what I now am. And I praise Him for myself? I love myself! If I am a strange one, then I am His strange one, and He has taken me all the way, including my "lost"years. 
Paul got that right when he said that it was God who separated him from his mother's womb and then called him by His grace: and brother Paul had certainly been a deviationist, with his obsessive self-righteousness, and his violent opposition to the Christ of God to the point of murdering the Christians; yet he is here saying that God was in all that. He surely accepted himself, past and all! It does not mean that he justified himself in his past, no, that is the very thing he did not do, "sinners of whom I am chief" was what he wrote of himself; but he so gloried in being the sinner justified in Christ, that he could look back and see that his very sins give him the background for his glorying in the grace of God and being able to meet fellow-sinners on their own level. His past was his compost-heap, as my friend Louise Mohr puts it, in which all the rubbishest rubbish becomes the richest fertilizer! So beware of this compulsive non-acceptance of ourselves which always means non-acceptance of others, for we love our neighbour if we love ourselves! 
And now I live my daily life. Free. I have accepted myself because He has not only accepted me, but put me back where I belong as being really a form of Him. Now I am no longer busy, certainly not trying to find the One who has found me, but not even fussing around trying to hold on to Him; because He has got hold of me, joined Himself to me, and what He holds, He keeps. So why busy myself with anxiously clinging to Him? What a waste of time! No, no. I'll be myself, and it's up to Him to do the keeping. There is a curious sense in which we forget Him and just live. Why? Because life is forgetting ourselves, or rather transcending our self-consciousness by immersion in our interests or duties. That's what normal living is. We busy ourselves in our daily occupation. We certainly are not spending our time thinking about ourselves. That is why people turn to alcohol or anything which takes us out of ourselves. 
So now, where Christ is our Inner Self, we are to forget Him! We are no more to spend our time looking in to find if He is still there or why we do not "feel His presence" more, than we are to stop every half-hour to be sure that we are here! And that even includes special spiritual exercises such as "the morning watch," or Sunday morning "church" or Bible study. If we love a person, we surely want to know all we can about Him; therefore, we use all the resources available. The main resource is the Bible. 
Personally I am thankful I felt in early years the need to study my Bible. I gratefully came to the conclusion that the Bible only came alive to me when I concentrated on a passage long enough for something in it to light up to me. That came most easily when I began to use a pen and to put in my own words, in a wide-margined Bible what that passage was saying to me; also when I was compelled to get into it by having to teach others. However, having said that, it still remains a fact that our permanent union-relationship with Christ is not dependent on reading the Bible. Abraham was the father of us all, yet he had no Scripture to sustain his believing; and the early church only had the Old Testament and that not for daily reading! 
And the same with prayer times. They are the general title we use for communion with God. I was accustomed through many years to special morning times, often battling with sleep and wandering thoughts, and it was good discipline. But of course I have learned that prayer means fellowship times with God out of love of being consciously with Him, at any hour of the day and anywhere; and having faith transactions with Him over special needs (for which some use prayer lists); but I must safeguard myself from thinking that my relationship is more living with Him because I have had such times. There are those who say their day is never so good unless they have "met with Him" in the morning. If so, it is the effect of things on our believing, not of His unchanging presence, which makes the difference. 
What do we do, then, in our daily living with all the variety of experiences which stream in on us–children, house management, business and work conditions, difficult workmates, injustices, things that go wrong, worries about security for the future, health, social activities, church duties, Christian witness? First there are whole periods of our daily living when things just run normally and we get on with them, or we are in normal contacts and conversation with others. Those are the spontaneous areas when we are Christ, without our knowing or thinking about it. We just are the light of our world. It is hard for us to get used to thinking of God in normal human situations. We have built up, through our guilt complex, this awesome idea of a God afar off who may be reverently approached on a Sunday morning, or some such. But God must be a common person if He lives in common you!! Hardly anyone saw the living God in Jesus. They just saw a man who did unusual things. Yet it was God manifest in the flesh. "If you have seen Me, you have seen the Father," said Jesus. Yet He ate, slept, carpentered in his early years. Jesus, God? Why isn't He that carpenter's son we knew for years with his family? So we have daringly to get used to being ourselves, quite forgetful of Him as we are busied here and there. And yet it is He! 
It Remains Tough 
But then daily life is by no means just easy smooth-running times. It is constantly disturbed by small things or big. Something lost, something gone wrong, responsibilities to fulfill, demanding children, finances, sickness, clashes of personalities, differences of viewpoint, decisions to be made. And at these many moments, self doesn't remain spontaneous! It comes very much alive and we have our human reactions. It is at this spot that we find it hard to grasp that this is precisely God's purpose that His sons should be involved in disturbing human situations. The positive must have its negative to manifest through, so we must learn to the full what it is to be a negative. It was said of Jesus Himself that though He was a Son, He yet learned obedience through the things which He suffered, and thus knew that the Son could do nothing of Himself. We ask a useless question and mistake the meaning of life if we say, "Will there be no let-up from continual pressures?" No. Let me face this in the full depth of its implications. If I am to function in my proper place as a son and inheritor of God's universe in my eternal destiny, I need to learn first how a son functions in adverse circumstances. A swimmer grows strong against the tide, not with it. So my privilege is to feel the impacts on my negative humanity of all that can disturb me. It is tribulation, Paul said, which works in me finding and experiencing the God of deliverances. It is the trial of my faith which works maturity in me, says James. There is a fundamental principle here, and when we see that, we can expect and welcome what the world calls problems and frustrations. If in our future destiny we are to be at ease in letting God through in friendly areas of responsibility, it can only be because we gradually became experienced in letting Him through in the enemy's territory. So these years in the world against the tide are no mistake. They are not something which need not have been. They have to be. If we suffer with Him, we shall reign with Him. We must first learn therefore, and accept with praise as the adventure of adversity, the reality of life's pressures and our constant negative human reactions to them. By this means only, first finding how earthen our vessels are, shall we then by stages be ever quicker, as Jesus so wonderfully was, in knowing how to replace our negative with His positive. That way we become at home in the eternal fact that His strength can only be made perfect in our weakness; and find Paul's secret that "when I am weak, then am I strong." This is of vast importance because we so mistakenly have got used to thinking that we are wrong when we have these negative reactions. No, they must be. 
So we shall always start by feeling human hurts, fears, dislikes, unwillingness, coldness, powerlessness, lusts, angers, jealousies, and all the list of them. Start, we say, because the start of such reactions is not sin. A human must be human, and Jesus himself had to feel temptation to be tempted in all points. Sin is not in the start, but in the continuance. Negative reactions are not sin. They are the negative stirrings which are the jumping off point for faith. Sins are when, instead of taking those jumps of faith, we continue in the reaction. "When lust hath conceived, it bringeth forth sin." When we "marry" the self-reaction, accept and continue in it, then the child is sin. We have already quoted how Paul went as far as to "take pleasure" in those experiences which hurt us humans: what he named as feeling his weakness, being hurt or insulted by others, having personal needs, being persecuted, having insoluble problems: "for," he said, "when I am weak, then am I strong." Note, not "then I shall be made strong or become strong or seek for strength." No, "then am I strong," because all he had to do was to recognize who he really was, Christ in him. So to have negative human reactions is not sin, but our opportunities for faith. Sin is when we continue in the reaction, "as we all do at times, and then act out some form of the works of the flesh."
It is this balanced understanding of our daily living which will save us from false condemnation. We shall not say we were all wrong because we felt so and so–a very ordinary day, no great victories or guidances, no particular elevated feelings, the pressures of daily events, the children's problems and the work conditions, attacks of depression, no answers to situations. "Surely I should have been brighter or more effective or a better witness. Haven't I missed opportunities and not been courageous enough?" And so the self-searching tears us down. Cut it out! Praise the Lord. Recognize that if you have a sin, it is the sin of unbelief in doubting or questioning whether He was being Himself in you despite feelings or appearances. Believe and praise!
And where these have been conscious sins, or we feel they may have been sins, it is here John tells us that there is daily cleansing in our daily walk. The Epistles constantly use the word "walk," and that points us to step by step, because that is the only way a person can walk. So when in our walk, we feel we have missed the mark, even if we are not sure whether it is over the line into a committed sin, or just one of these attitudes, the way out is simple: admission to ourselves and that is of course inwardly to God; bold recognition that all the sins of all the world ceased to exist in God's sight (and therefore in ours) by the shedding of the Blood of Christ two thousand years ago: the word of faith which we say within ourselves that therefore that sin exists no more: praise in having the cleansed conscience: then walking on as if the thing never happened. Quick sinning. Quick cleansing. 
More Articles from The Intercessor, Vol 28 No 2