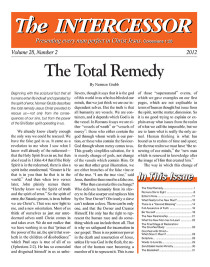 The New Relationship

Who will rescue me…? Thanks be to God–through Jesus Christ our Lord!"
–Romans 7:24-25 
What is the deliverance I expect? Just this: I have a puny, poisoned, localized self, shut up to its mean "my" and "mine," lusting and having not, desiring to have and unable to obtain. It is alive in me in place of a God-expanded, God-indwelt self which can know all things, have all things, do all things. 
It is the flesh of which Paul so often speaks, the old man, the carnal nature. Yet it is the very same self that came from the hands of my Creator–the same self, but seduced from its proper function as the hidden and willing servant of the Spirit in the kingdom of light, and taken captive by sin and Satan to be his agent in the kingdom of darkness. It is not something which was created evil and for which the only remedy is destruction or eradication. Such is an impossibility. The God-made self, a ray from His own self, is no more capable of dissolution or extinction than is God's own self. Rather, it is man's ego which has become enslaved, defiled, bedeviled, and must be released, cleansed and restored to its rightful Owner. It may be likened to the man who "had devils a long time and wore no clothes," who was later seen, "the devils departed out of him, sitting at the feet of Jesus, clothed and in his right mind." The same man in two totally different relationships, first to devils, then to Jesus. 
More Articles from The Intercessor, Vol 28 No 2