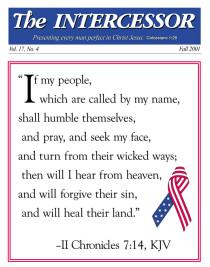 Zerubbabel Focus: British/Irish Fellowship

Our fellowship is with the Father and with His Son, Jesus Christ. –1 John 1:3
Both British and Irish groups meet separately for weekly Bible Study and fellowship. In Britain we gather together for Sunday lunch at the 'Langleys.' The afternoons are then spent reading, discussing, helping with projects etc. For example, recently Kim Rogers had the task of mailing 400 letters in connection with her employment—a daunting prospect for one individual. She brought all the papers, stationery and postage stamps over to Jackson Close. In no time many hands had made light work—the job was done. On occasions, if someone needs help with painting, repair jobs, etc., then fellowship 'moves' to that home.
Two weeks ago saw the departure of Mary Walsh, who was part of the British Fellowship for many years. She has returned to Ireland, her homeland, and is now part of the fellowship there. Mary's testimony is an important part of the inter-connection of the British and Irish fellowships. In 1987 Mary—living in Ireland—responded to an invitation to attend the 1st British Conference, held in Capel, Surrey. She brought news of the Total Truth back to Ireland, but by 1990, Mary emigrated to London, seeking fellowship with others who had embraced the truth of their union with Christ. Amazingly, however, the very prospect of Mary's departure was the stimulus God used to lead Irene Gilsenan to find out more about what Mary had discovered. In that lay the seeds of the present Irish fellowship; and how interesting it is that after a decade Mary has returned full circle to Ireland.
In Britain, we hold monthly fellowship weekends. They run from Friday evening to Sunday afternoon. Christina Duncan from Scotland joins us, with perhaps one or two folks from Ireland and Brett Burrowes from the States, when he is in England. Our regular readers will know that Brett attends Durham University on a part-time basis and, when possible, plans his trips to England to coincide with our weekends.
Then we have our annual Easter Conference which runs from Easter Monday to the following Friday. These are usually held in Leicestershire, but next year (2002) it will be held in Northampton, just 5 minutes away from our fellowship home. Usually these are attended by our Irish and American friends and always prove invaluable. Each fall we have a weekend conference where, again, our Irish and American friends join us.
Without our realising it, it appears to have become a tradition that after Christmas each year, we travel to Ireland and spend 4 or 5 days with our folks there. These have always been very special times. I love to spend time with brothers and sisters on a day to day  basis—seeing where they shop, visiting their work places, brushing shoulders with the folks they regularly meet, and generally being involved in their everyday lives.
Last year was the first year in many that we were unable to hold the June Irish Conference. This was because of the hoof and mouth outbreak in England and we felt it was far too risky to travel to Ireland, particularly since Richard Gilsenan manages a pig farm!
Then, of course, both the Brits and the Irish travel to the States for Summer Camp in Boone. 1993 was the first time a few of our folks made the trip. Since then, this has become the highlight of our calendar. I can think of nothing to equal the 7 to 10 days that we, as an extended family, spend together.
So short a time ago who would believe that fellowship life as we have known it for so many years could potentially change so dramatically. In February last the first intimation we had that meeting together is a privilege and blessing not to be taken for granted was when the already mentioned outbreak of hoof and mouth disease prevented us from meeting at Easter and June. On an even bigger scale the events in Washington and New York of September 11th last, while throwing the safety of travelling to meet each other into question, focus us more keenly than ever on the spiritual battle that rages.
A major and increasingly important aspect of our fellowship is keeping in touch by telephone. We may not see each other on a weekly basis, but daily we talk to each other on the telephone, encouraging each other and holding ourselves accountable to "walk in the Light, as He is in the Light" (1 John 1:7). As we have speaker phones now we can all take part in conference calls which span the Irish Sea and sometimes, indeed, the Atlantic Ocean. Tremendous!
So, dear friends, I trust this gives you a flavour of the fellowship that takes place, this side of the Atlantic. If there is anyone out there who would like to be a part of our meetings, whether in England, Ireland or Scotland, just pick up the phone (see contact details in this issue). We would really love to hear from you. A warm welcome awaits you. Maybe you would prefer to just write or e-mail someone; make that first move. You will be so glad you did.
Meryl is a Zerrubbabel contact from Northampton, England and lives with her husband, Jim. She is secretary to the Director of the Centre for Healthcare Education at University College Northampton.