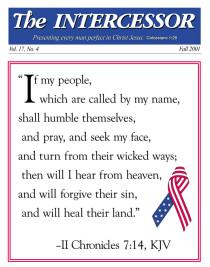 Revival,

The spark that kindles revival is open confession of sin. That is logical when we think about it, although it is also the reason why we resent and resist it. Revival starts with conviction of sin, specific, surprising, and intense enough to make us determined to be rid of it. How can we do that? By repentance and confession, of course, leading to the cleansing blood. But that is not all. I belong to a company of God's people, and in most instances my conviction of sin comes to a head when I am hearing God's word among them. Can I then possibly be honest in my repentance if I conceal it from them, when I lived among them with sin in my life, yet professing a righteousness which was not the real fact? Of course I cannot. "The sacrifices of God are a broken spirit," and that cannot mean broken before God, but stiff-necked before man.
Let us face it. Heart conviction is the smouldering embers of revival, but open confession and the cry for mercy is the lighted flame. And is not that where the hold-up comes? Confession before men does not leave me with a rag of self-righteousness, it is the capitulation of the final and most jealously guarded citadel of self. Are there not many occasions when the Spirit of God is manifestly at work through the word preached with power, we come to the edge—and stop short? Not for lack of conviction, but lack of obedience in open confession. We stop sometimes in a meeting and ask, Who wants revival? A number of the godly respond. "Let those who want revival step forward." Out they come. Then what? How does revival come? The answer is always the same—"Begin it in me." But its beginnings are painful and costly. They are honest confession, not general prayer. "If my people humble themselves…then will I hear." "I dwell…with him also that is of a contrite and humble spirit, to revive the spirit of the humble." Revival starts when we wait on God long enough to face our individual sins, not sin in its grosser forms which most of us may not be committing, but in the subtle, finer forms of which we have spoken earlier; and when we are humbled and hungry and desperate enough to make open confession. A thousand instances prove the truth of this.
God's word specifically tells us that vital spiritual experience is bound up with open confession before men in conjunction with the private transac-tion with Himself (Rom. 10:9), and it is a plain fact of revival history. Something happens to me personally when I break down in public, which does not happen to me in secret. It is the burning of my boats behind me; it is the cutting of the shore lines, which launches me clean out on my new voyage of cleansing and faith. Something is released within me which gives new tone and power, combined with new boldness to my witness. But its effect on others is both contagious and dynamic. One sets another going. Confession and testimony are bound to move my neighbour. I don't do it for that purpose. I do it because God tells me not to be a hypocrite, and to confess both my faults and the grace of my God in me. But all revivals in history have consisted of a cry from the heart which has leaped from one to another, till the whole atmosphere is charged with the power of God.
Are we to hold back from such scenes through fear? Are we to sit back and say, "Yes, but embarrassing and unwise exposures might be made. We must be very cautious." Caution will never unloose the heartstrings or open closed mouths. Risks must be taken. Far, far better to let a burdened soul get into the clear, even if sometimes something out of place may be said. A word in season may adjust that: and if not, is it not a thousand times better that a soul in the mire should get his feet on the rock, even if he splatters us a bit in doing so, than that he should remain in his filth? The danger is not the occasional person who might say too much, but the mass of people who say too little, and never get free themselves to transmit to others what could flow from their open and cleansed personalities.
So if we ask the question, How can revival come, the answer is here. Through honesty. We must come to the light and walk in the light with each other as much as with God. We must start with ourselves, in this as in all else the preacher leading the people, confessing with Isaiah that "I am a man of unclean lips," as well as that "I dwell in the midst of a people of unclean lips."
Confession must be specific, just as true conviction is. In all revivals it has been first the pinpointing of sin by the Spirit, and then the pin-pointing of ourselves as the sinners. Keep to that when we seek revival, not to the emotional circumference, but to the moral centre. Aim for brokenness and openness, we ourselves leading the way. We shall meet bitter opposition, there will be many critics, there can rarely be a revival without a revolution, but we know we are on safe ground when sin is exposed, the precious blood magnified, and the people of the Lord real with one another: and those scenes of ancient times will be repeated, as indeed they are, when "the people could not discern the noise of the shout of joy from the noise of the weeping of the people."
–from The Liberating Secret