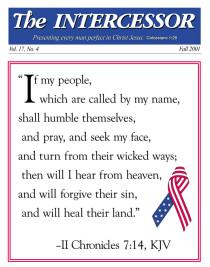 A Look at a Book

BOOK REVIEW:
The Whole World for Jesus Now
by C. T. Studd
"The startling message of events today is 'War.' The message of God running throughout the Bible is 'War' also."
So reads this treasure by C.T. Studd written during the first World War. In it, that passionate soldier for Christ, Studd, pointedly proclaims the true reality of the war in which we are all called to fight— "Your God and Saviour need you…The Gospel must be preached to every creature…unto the uttermost parts of the earth." Studd joins Paul in the battle cry, "Be a good soldier of Christ…War the good warfare. Fight the good fight of faith."
In "The Whole World for Jesus Now" Studd explains how the true definition of a Christian is that of a soldier. The Christian soldier is "sworn to carry the message of peace and war to every soul that knows not the peace of God." In this present day war of the 21st century, we see the American and allied forces attacking and capturing every post of the enemy. Equally, we soldiers of Christ must not delay to attack and capture every post and stronghold of the Devil. As President George W. Bush resolutely declared, "We will not waiver. We will not falter. We will not fail. Peace and Freedom will prevail."
Indeed, Peace and Freedom for the soul is the battle we Christians are engaged in. The real War is with the spirit of Evil, Satan, who holds nonbelievers captive in the chains of sin and unbelief. It is God's war we fight and His Kingdom we defend. Studd demonstrates how our world wars teach us how to wage the War of God. He lists startling facts about the command of Christ to Christian soldiers. He asks some solemn questions that every soldier of Christ must answer before the throne of God. He convicts the heart by asking, "Shall the call of Christ among Christians produce less results than the call of country among patriots?" "There can surely be but one answer to the call of Jesus Christ to His world-wide war against the devil and his empire. Shall we serve our Savior, Who died for us, and to Whom we owe every blessing we enjoy, with less devotion than that which we gladly give to our King and country?"
In these times of overt battling with our enemies of the world, let us renew our determination to battle the supreme enemy of God. Let us embrace the words of C.T. Studd, "We must fight with fury the fight of faith."
Janie lives in Boone, North Carolina with her husband, Steven, and their daughters, Stephanie (6) and Anna (4).