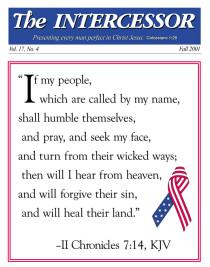 British October Conference

In the words of the Irish poet, W.B. Yeats, it seems that since we last gathered at Hothorpe Hall, Leicestershire, just a year ago, that "all is changed, changed utterly."
From the outset, those of us who attended the 2001 October conference registered just how radically different circumstances are. The impact and consequences of the September 11th attacks on the U.S. were felt deeply. The gravity of the current global situation, precipitated by the September 11th atrocities, lead us to think often of our brothers and sisters in the American fellowship. The following quotation from C.T. Studd, writing of World War 1, and published in the Summer Intercessor is remarkably apt: "The terrible war in which the Allies are engaged is a righteous cause. The War of Christ is trebly so." Our singing on Sunday opened with "America the Beautiful," dedicated to absent friends. Also, the continuing effects of the hoof-and-mouth crisis were evident, with the Gilsenans unable to travel—Richard is a farmer in Ireland. So, though few in number, those who gathered at Hothorpe were keenly aware of the urgent global situation and the importance of being clean, clear vessels available for God to "will and do of His good pleasure" (Phil. 2:13).
The fact that ours is a "total living" ministry was abundantly clear. As we updated each other on Friday night, a list of situations to discuss, tasks to do and decisions to make over the weekend emerged. For instance, someone mentioned a letter that she'd received, and the ensuing discussion about how best to reply so that the recipient might hear and respond positively to Christ lead us back to study Scripture. Scripture is very clear that "a man reaps what he sows" (Gal. 6:7) and that everyone "will have to give account to Him who is ready to judge the living and the dead" (1 Peter 4:5).
We shared many glorious testimonies of how faith creates reality. People described challenging and sometimes excruciatingly painful circumstances—ranging from work to familial relationships—and how Christ through them continues to live victoriously, often standing in faith for those who hurt us. We talked too about the importance of facing reality—however painful that may be. Faith for a person or situation is only possible when the facts about that person or situation have been faced squarely and any illusion or lie is exposed for what it is and turned from. There was an outpouring of support and encouragement for those among us dealing honestly with hurt. The youth programme for the weekend also looked at pain and suffering for the believer and how God uses these to build us up and strengthen us. Paul, for example, endured a multitude of sufferings for Christ's sake, never once complaining. In fact he actually boasts in such circumstances, knowing the Christ's power works best when he is weak: "For when I am weak, then I am strong" (2 Cor. 12:10).
The youth programme also continued on last year's theme of peer pressure, looking at different ways to overcome situations such as being asked to lie, being offered a cigarette, being encouraged to break school rules, or disobey parents and teachers. Everyone shared examples and took part in role-plays to practice saying "no" and standing firm in what you know to be right. Our Bible example was David who illustrates that even when we feel tempted to do what we know is wrong, we can trust God to keep us and handle the situation in and through us.
Practical help was on hand for those seeking input on a variety of work situations. Among our number are several dynamic business people who shared insights—often humorously. (I can still hear Christina from Scotland repeatedly quote Zig Ziglar's "I am so motivated I'm smoking"!) At one point you would be forgiven for thinking you had walked in on a training workshop— video role-plays…the lot. The point, however, is that we believe that Christ lives His life through us, His vessels—in every situation.
This leads us full circle to the Scripture we studied on Sunday— Mark 4; the parable of the Sower. As Christians professing the total truth of "Christ in you, the hope of glory" (Col. 1: 27) we must be "like seed sown on good soil, hear the word, accept it, and produce a crop—thirty, sixty or even a hundred times what was sown" (Mark 4:20). The need for a troop of soldiers bearing the weapons of righteousness and ready for battle couldn't be clearer than it is this fall. In the words of C.T. Studd, "The call of patriotism is loud. The call of Christ is louder still— war to destroy all the works of the devil everywhere."
Breda is vice-principal of a local second- level school in Ireland. She lives in Athy, County Kildare, with her children Maria (13) and Niall (11).