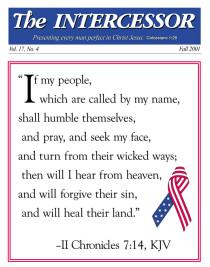 Editor's Note

This is a special and unusual issue of The Intercessor. It is late coming to you because, after September 11, we took the time to assemble a group of articles that we believe presents an appropriate faith response to an unprecedented circumstance. We have never before addressed specific current events in these pages. However, we are living through a situation and in a time that is beyond politics and opinion. We are privileged to be watching God on the move in a more dramatic and visible way than many of us have ever witnessed.
Scott Prewitt went to the Pentagon as a member of a Baptist Men's Disaster Relief team the day after it was struck and his article, aptly titled "9-11-01," is an eye-witness account of God's rescue mission there—a rescue that was spiritual as well as physical. Our British friends weigh in with their reaction to the events in America in the British Fall Conference report, which was held in October. Brett Burrowes was actually in England on September 11. In "Evil in God's Plan" he records his personal response and then asks the question we heard in all its variations over and over: "It all feels so unfair and unjust: we are all powerless and helpless before death. Where is God in all this? Why did He permit it to happen?" Brett's answer may seem difficult to accept at first, until we realize that we are ultimately only safe if our God is totally in control of what happens in His world. Our comfort and hope rest solely in His providence. Norman Grubb's classic chapter, "God Determines, Not Permits" from Who Am I?, explains this point with great clarity. The Psalms included in this issue touch on this point as well, communicating it as only the Psalms can.
The underlying cause of human evil—the very topic now being discussed by commentators of all stripes— is investigated in "The Fall of Man" by Norman Grubb. We must choose, for choice defines personhood, and we must suffer the eternal consequences of our choices. That choice, faced by Lucifer, Adam, and all of us, is clearly presented in "The Revolution," referring to the revolution in a life that changes from Satan's control to Christ's control. The revolution must be worldwide in scope, and both Norman and his father-in-law, C.T. Studd, shout the rallying cry in "The Secret" and "The Whole World for Jesus Now," reviewed by Janie Prewitt. We are in a war—a war against "spiritual wickedness in high places," and we are all commanded to fight.
Our best weapon in this war is faith. "Words to Live By" and "To Think About" encourage us to see that the seeming disasters we face are but a challenge to faith. The eyes of faith— His eyes—see only a bluff.
In the last issue of the magazine we included an article on revival, and we do so again, as we see what may be the flickers of revival in this country. Evil on a grand scale and "everyday evil" have the same source—Satan's operation through God's children. It is only through repentance and brokenness that Satan is expelled and Christ is able to live His life out in and through us. As Norman says, "We must start with ourselves." Then, who knows the power that may be unleashed?
We include an example. What happened on such a massive scale—sudden unexpected death—happened a month later on an individual scale in Ginny Mansoor's family. In "Sabrina's Story" she recounts the totally unexpected death of her sister-in-law, a young mother of two, and her enormous gratitude and certainty that Sabrina is with Jesus. We stand in faith with Ginny that the life God promises out of death will be manifested and we will see abundant fruit from this young woman's powerful testimony. Revival had begun in Sabrina, and was spreading.
We close with a quote from Norman:
God grant that we may be of this company of the abundant life, with a gaiety that is irrepressible, an attraction that is irresistible (through ourselves to Him), an adventurousness, an optimism and a courage that strike the deep chords of human nature; yet withal with a purity, intensity, meekness and altruism which are not of this world, but are a sweet savour of Christ, both of life unto life and death unto death. These are they who in every generation "turn the world upside down" and make preparation for the glorious day of Christ's personal appearing. Even so come, Lord Jesus.