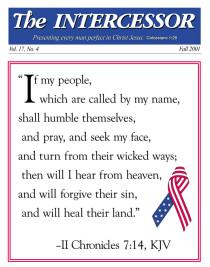 Following the Strand

Each issue of The Intercessor includes a Bible Study written by Brett Burrowes. As the byline of each study illustrates, Brett is a true scholar of the Bible. God has blessed Brett with a brilliant mind, and he has used this gift to pursue his study of the Bible at the highest level attainable in an academic setting. Though Brett enrolled in seminary in search of a fuller understanding of God's truth and an answer to life, it was the strand of truth he found in the writings of Norman Grubb that led Brett, over the course of years, to the answer he now knows as the mystery hidden for ages: Christ in you, the hope of glory (Eph 3:9, Col 1:27). Originally introduced to Norman Grubb's books as a teenager by a caring Irish neighbor, Brett eventually found his spiritual home here in the very ministry and magazine born out of Norman's last work of faith. Now, as Brett nears the completion of his doctorate in biblical studies, he will carry this same strand of truth back to a seminary setting where he will have the opportunity to lead other searching students to a fuller understanding of God's truth and an answer to life.
Brett, did you grow up going to church?
No, my family and I didn't go to church. My father grew up Baptist, and had turned away from it in college. When I was seven or eight years old, however, I heard the gospel. A minister who was working part time near my house gave both my brother and me a New Testament, and I believed it. Then, when I was fifteen, I decided I would become Catholic because I thought it was the oldest church. At that time, my mother contacted an Irish neighbor, whom she thought was Catholic, so that I could talk with her. This neighbor was actually going to an Assembly of God church, and I ended up going to that church with my neighbor. As much as I could understand at that age, the church taught good moral standards and pretty straight doctrine: Jesus died for our sins, He rose from the dead, and He dwells within us. My parents made some critical comments about my going to church, asking me sarcastically if I thought my grandmother was in hell, but I wasn't told not to go. To this day, I don't know whether my mother regrets calling that neighbor I ended up going to church with.
After your high school days, how did you decide where to attend college?
I wanted to apply to some Christian colleges, but my parents made it very clear that they didn't want me to attend a Christian college. I applied to Wheaton College anyway, but my parents didn't think it was a good enough school. My father had studied under some major names in a PhD program in physics, and my grandfathers had gone to Harvard and Yale—my parents expected me to follow that tradition. They did not dictate where I was to go, but I knew what was expected. I ended up deciding to go to Vassar College in Poughkeepsie, New York where my mother had gone.
What did you study at Vassar?
I had been interested in math and science in high school, but I wanted eventually to do something that had an impact on the lives of others. For me, math and science didn't fit that picture, and so I didn't take a math or science course my entire time at college. I took classes in Classical Greek to learn to read the Bible in Greek, and I considered a major in Classical Greek but ended up settling on a psychology major. My mother and father had started seeing a psychologist for marital problems, and I had talked with a psychologist as well. I thought that was interesting, and so I chose to major in psychology. I think God used my studies in psychology in preparing me for the future, but I don't think it would have been good for me to become a counselor or psychologist— that's not my strength. I ended up publishing research in psychology while at Vassar and considered pursuing a PhD in psychology, but ultimately it didn't hold my interest.
When you were away at school did you find any Christians to fellowship with?
I was part of an Intervarsity Fellowship at Vassar. We had about fifteen to twenty students, but we were sometimes down to five. Christianity was looked down upon at Vassar, and there was a strong anti- Christian presence. We were not allowed to present the Gospel unless we were approached. We could hand out Bibles, but we had to stand behind a sort of display table. I don't think these restrictions would be tolerated down South or in the Midwest where there is a stronger Christian presence. We probably could have legally challenged them, but financially we didn't have any means of doing that.
At that time, I also started going to an independent Pentecostal fellowship about an hour away, and that's how I met Joe Laffin and Colette Varanouskas (Colette Burger at the time). One of the pastors there was teaching from Norman Grubb's books. Back in Massachusetts, my Irish neighbor had given me two books (The Spontaneous You and God Unlimited) by Norman, and I had read them as a teenager. I knew that Norman had something that I didn't have. I knew that it was very important, but I didn't understand what he was talking about. So when I heard the pastor talking about some of the things Norman was saying, I was very interested.
Ultimately, there was a split in the Church over Norman. I was very shaken up by it, and I wanted to find for myself what the Bible really taught. The problem was that I didn't have the means for doing that. I began looking in the Vassar library for books about Paul's letters and John's letters, trying to find out what all these verses we had flung back and forth at each other really meant. That's how I ended up deciding to go to seminary and learn how to interpret the Bible. I was driven by a desire to resolve for myself what I believed and what right doctrine was. My parents were willing to pay for my master's degree, so I wasn't under pressure to go get a job.
Did you go to seminary?
Yes, I ended up going to Gordon- Conwell Theological Seminary on the north shore of Boston. I chose Gordon-Conwell because my youth pastor in high school had gone there, and it wasn't too from my parents' house. The students and faculty there come from a variety of traditions— Methodist, Baptist, Presbyterian, non-denominational, Assembly of God, Pentecostal—but the doctrine is essentially Calvinistic reformed. There is a strong emphasis on God's sovereignty and control over the universe and a lot less emphasis on human free will and choice. The school is basically evangelical, with a focus on preaching the gospel and being born again. It was founded as a missionary training school, and so there is also a strong missionary emphasis.
I earned two degrees while I was at Gordon-Conwell. The first was a Master of the Arts in New Testament, which I completed in about three years. Then I took a year off and worked so that I could afford the second degree. By that time my parents were saying that I would have to pay for any more school. The second degree was in Biblical Theology, which covered both Old and New Testament. I finished that degree in 1994 after three years.
At first, I didn't know where I would end up after seminary. The majority of students there were going into the pastorate, and some were becoming missionaries. My professors were suggesting that I earn my PhD and teach, though only a few students there were going on to do that. Looking back, I see how God was steering me all along in this direction. I've always had intellectual interests and a curiosity about the past, and then I think God used my professors to make it clear to me that pursuing my PhD would be a good direction to go.
What sort of fellowship did you find while you were at Gordon- Conwell?
I started going to a small fellowship in Boston that was loosely connected to the folks in Poughkeepsie whom I had been with, but I had some doctrinal problems with them and ended up leaving the fellowship for about two years. I was at seminary trying to resolve these doctrinal issues, but I didn't end up resolving anything. Despite everything I knew, I still couldn't get my life to work. Not that all the knowledge was worthless, but it was worthless to me in getting my life to work. I couldn't transfer the knowledge to my life; I couldn't quite bridge that gap. My life really wasn't working. I was dissatisfied with my life and I was angry about my circumstances— about the way my father had been growing up, about other events in my life. I didn't know about trusting God in the circumstances or about every circumstance being God's perfect circumstance for me. To me they were just horrible circumstances, and I hated them. I was also terribly shy and fearful. I hated that about myself as well but didn't know how to change.
During that time, in 1991, a member of the fellowship in Boston invited me to a conference at Singing Hills, and I decided to go up for a day. While I was there, I got honest with myself and others about the fact that my life wasn't working. I was very distressed about it. The person there who helped me the most was Page Prewitt. She was very gentle with me and very kind. That was a turning point for me, since I turned from trusting in my own intellect to trusting in Jesus Christ to live His life through me.
How did you go about choosing a PhD program?
My advisor at Gordon-Conwell suggested I consider Southern Baptist Seminary in Louisville, Kentucky, and I attended there for a year back in 1994 and 1995. By the end of that year, however, there was a big split between the faculty and the administration, and fifty-three professors left—one of whom was my advisor. I could have stayed at Southern Baptist with another professor whose approach I didn't agree with, but since I had wanted to study in England in the first place, I decided to pursue that direction. I was interested in the University of Durham, which has a thousand-year-old theological tradition, but I was actually more interested in a particular professor there and his research on Paul than I was in the university itself.
Applying to Durham included a formal evaluation process of sorts. I sent the professor a couple papers I had written and described the dissertation I wanted to work on. In the states, the PhD program includes classes and a dissertation, but in England, the whole PhD is the dissertation. You basically have to know what you're going to write on before you apply. And that's the basis on which I was accepted—not simply on grades but my ideas for the dissertation.
I wrote the professor by email asking if there any way I could work it out financially to attend Durham, and He suggested a part-time arrangement where I would do most of my research in the states and then go over to Durham periodically. After a fall conference in Britain in October of 1996, I went to Durham and met with my professor, and then my program began the following January.
My first year, I was at Durham for only two weeks, but it was very difficult to maintain focus and interest outside the academic environment. The first two years of my dissertation, I didn't get a lot of writing done. I got a lot of reading and research done, but I didn't start writing it until March of 1999. So, since 1999, I have gone over for three or four months a year.
When I'm over there, I get to see other members of our fellowship— Christina Duncan in Scotland, the Langley's down in the south of England—and meet with them when I can. I usually go down to the Langley's at least once a visit for the monthly fellowship meeting.
When you started the program in Durham how did you plan on paying for that?
The part time tuition is only about $1,200 dollars a year. Full time would be about $10,000 dollars a year. I got in on the last semester at that part time price. It was going up to about $3,000 or $4,000 a year the very next semester. So God was very gracious. I'll end up paying $6,000 dollars tuition for the whole time as opposed to three years full time, which would have been about $30,000—so I'm paying one-fifth the price in tuition.
I took out a loan, and I planned to continue working at my older brother's business while I was in school— that was part of the part-time arrangement. Then, in January 1998, I moved down to Poughkeepsie and stayed with the Laffins for about two years. During that time I was working for a temp agency and also for the post office at a big center where we had to encode mail in the machines. It was only six months until my hands just couldn't take the typing all the time. A lot of the temp jobs were data entry.
What is the hardest part of writing the dissertation?
Research is easy. Reading books and going to the library—that's the easy part. Having to write is the grind. Even revising is easy in comparison to writing. To produce it is not easy.
For the most part, I have lots of ideas; the difficulty is organizing the ideas into something comprehensible that someone else will understand. I face the same challenge writing an article for the Intercessor. It's difficult, and I just don't whip it off.
Do you ever just want to quit?
At times I've thought I don't really want to do this; I just want this to end. It feels too hard. Those are just feelings though. I always have to get back to Christ's desire within me that motivated me to become a scholar in the first place.
When you're in the heart of the grind, and it's so much an academic pursuit do you ever lose sight of the spiritual purpose, the glory of it?
I think it's the opposite. Doing research in the scriptures and discovering things is fascinating. It is a kind of worship of God—I'm admiring the depth of His word and how God has worked everything out. I find that amazing. Maybe other people find it sterile. I more feel frustrated when I've got all these ideas that I can't get out onto paper. The writing process is frustrating. I just have to keep reminding myself that it's Jesus Christ doing the writing and Jesus Christ doing the research.
Does your career, or the need of one, help keep your focus on the task at hand?
Actually, I think the idea of having to go out and start my career makes it more difficult at times. I find the job process somewhat intimidating—I haven't been through it at this level before. I'm just beginning to apply for jobs this fall for next September.
Your credentials are strong, why the anxiety?
There is a glut of PhDs in biblical studies, so there's a lot of job competition. There are several Durham PhDs who don't have jobs yet— another one on the market isn't going to help. I just have to keep coming back to the fact that God is in control and that He has the perfect job for me. I'm just walking out what God already has planned. I'm looking at the circumstances from the fourth dimension rather than getting into anxiety about appearances. Looking at it from a purely third dimensional viewpoint, it could also hurt me in the job process that I haven't had any teaching experience because of my part time program. But knowing of course that God is in control of that, I just have to trust that it's not going to make a difference in the job He wants me to get. I just keep reminding myself that it's Jesus Christ in me going through the job process. My Father in Heaven already has the job planned out, and so He's going to be the one teaching even though I feel fearful of leading in the classroom.
So you are close to finishing your dissertation?
I have about 85% percent written. I'm going to finish a complete draft by November or December and then I will probably go to Durham for two to three months to do my final revisions. Then, in March I'll submit it. Three months later, I have an oral examination where two professors grill me about the thesis for about 2 to 6 hours. Hopefully I'll pass and then get my degree next June. At that point, I'll either be searching for a job, or I will already have gotten a position.
Where would you like to teach?
I would prefer to teach at an evangelical seminary and to be training pastors and missionaries who will be going out and working with people rather than teaching at a university where the students are not going out into Christian service, for the most part. I'd rather not end up at a university or a liberal arts college, but if God has me there, then that's fine. I think it would be very hard emotionally, psychologically, and spiritually to be in a place that's hostile to Christianity.
I also feel that a conservative seminary like Alliance or Asbury would be more open to what I have to say than a more liberal seminary. My experience at Vassar is that liberals talk a great deal about tolerance and openness, but what they mean is tolerance and openness of those who agree with them. Beyond that, it seems to me to be tolerance and openness toward ungodliness. But maybe God will have me go to a more liberal seminary and be a light there to others. That's fine. Or maybe He'd have me go to learn some basic teaching skills and then move on. I do also have some concern about whether evangelical seminaries are going to be open to what I believe doctrinally, but I'd rather be with people I was convinced were believers than with people who I didn't know about.
Thanks Brett.