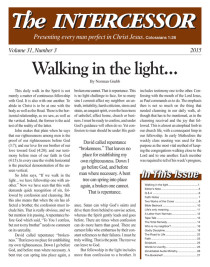 Tape Talk

TAPE REVIEW:
Powerless Over Life
By Page Prewitt
"The more I realized what those 12 steps were saying, I began to see that what he was saying about what kept the alcoholic or the drug addicted person drug and alcohol free, or sober, was exactly the very same thing that I believed keeps us sober, keeps us well, keeps us operating full tilt as who we are."
I must tell you how arresting and meaningful it is for me to hear Page Prewitt's voice speaking these words. You see, she is my mother-in-law and has been my spiritual Mother for 30 years now. I am so grateful to have been given this tape to review because she has spoken this truth to me as long as I have known her as she has persevered and fought against Satan's strongholds in me for a very long time.
So, as I listened to Page's voice coming from the tape player and speaking about her experience accompanying a young friend of ours who went through a drug and alcohol rehabilitation program years ago at a hospital in our home town, I felt so grateful, sobered and humbled as I thought back to her suffering through with me as I fought against the help she and others poured out to me before finally agreeing with God in them that I was choosing to be an instrument that Satan was so freely using to live his sin by.
Because you see, I am an addict. I met Page when I began dating, and then marrying her son, Steven, 30 years ago. I was deep in the throes of anorexia and bulimia and was spiritually and physically killing myself. I was barely living as I chose a black existence of lying and hiding that I was powerless over escaping. I had semi-willingly gone to two 12 Step programs myself, but only half-heartedly wanted a sober life, and only that by the illusion that I could do it by some sort of self-effort. God rescued me by putting me in Steven's family and their extended spiritual family that I came to know as He mercifully taught me the truth of Galatians 2:20, Colossians 1:27-28, John 15:5 and many other verses that I had never before lived from but that thankfully have now changed my life. And the most sobering (and glorious) truth of all is that I have always been and always will be powerless over everything in my life and only by accepting this and believing that, as a born-again Christian, I am joined to the Holy Spirit and by Jesus Christ's life being lived out through the vessel that I am created to be, will Satan not be free today to live out the sin life that he so freely lived out by me in the past.
Needless to say, the truths and messages in this tape are especially meaningful to me, but the excitement that Page was so thrilled to relate to everyone in her audience (and to you too if you choose to listen to this fantastic tape) is that she realized, as she listened to the 12 step program counselors, that the tools they were giving to the addicts to become and stay sober are exactly what she had come to believe and then teach to others as the tools to live in the truth of who we really are–Christ in our forms living out His life through us. Page knew that God had already shown her these tools before she ever heard of the 12 Step program, and that if she could give them to the whole world, the world would get well! I am so grateful that Page shared God's tools/truths with me. Only by trusting Jesus Christ to live out His life through me am I kept sane and sober today.
So if you have ever admitted (or even considered) that you are powerless over life, please take the time to listen to this talk by Page. She will take you through her first-hand experience with Alcoholics Anonymous 12 step program, her knowledge of some of the tools that program gives to addicts to become and remain sober, the crucial first 3 steps of the program and how they directly parallel with the truth of Christ living His life out through us, some personal and very painful experiences of her own as she tirelessly sought out God's answer to her desire to live the Christian life. She also talks about interesting things she learned such as the truth about what a "dry drunk" is not only in a chemically dependent person, but also in a spiritual sense in a Christian's life. Page tells you how she learned that God's people can break through the wall of denial in someone who is blinded by Satan with something called "intervention." I am very grateful to have been the recipient of many interventions by my spiritual family as God delivered me from Satan's stronghold not only in the form of addiction, but also in every area of my life that I have chosen not to believe God's truth that my Savior and Redeemer is also the Lord and Master who lives His Spirit life out through my vessel. You will hear lessons on body, soul and spirit, warnings about Satan's lie of the "Independent I," and Page's personal struggles and victories as she began to dare to believe and live from the truth of the fact that her life was really Jesus Christ in her as her lived out. Praise God that she has been his faithful servant to search out His truth for herself and to share it with us!!
More Articles from The Intercessor, Vol 31 No 3