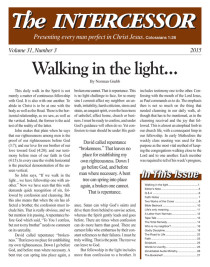 Bible Bedrock: The Swaying Battle of Faith

"Therefore it is of faith, that it might be by grace; to the end the promise might be sure to all the seed; not to that only which is of the law, but to that also which is of the faith of Abraham; who is the father of us all, (As it is written, I have made thee a father of many nations,) before him whom he believed, even God, who quickeneth the dead, and calleth those things which be not as though they were. Who against hope believed in hope, that he might become the father of many nations, according to that which was spoken, So shall thy seed be. And being not weak in faith, he considered not his own body now dead, when he was about an hundred years old, neither yet the deadness of Sarah's womb: He staggered not at the promise of God through unbelief; but was strong in faith, giving glory to God; And being fully persuaded that, what he had promised, he was able also to perform. And therefore it was imputed to him for righteousness."
–
–Romans 4:16-22
(King James Version)
The best analysis of laboring and resting faith in the Bible is the description given in Romans 4:16-22 of Abraham's pioneer act of faith. We there see the process exhaustively outlined. We see faith's beginning and foundation in a discovery of the will of God; in this case it was a word from God: "So shall thy seed be"; for faith always comes by hearing, and hearing by the word of God.
The second stage is the counter-attack of the visible–in this case his and Sarah's age and physical condition. This he countered by turning his back on the visible; a deliberately considered act, for "he considered not his own body now dead, neither yet the deadness of Sarah's womb." This is described as being "not weak in faith"; in other words, he did not just lie down under existing circumstances, as we so often do. He rose up and began to take action, negative action at first.
In the third stage, he passes from occupation with things earthly to things heavenly; from the downward to the upward look. "He staggered not at the promise of God through unbelief." Now the muscles of his faith are rapidly gaining strength: he who had refused to be weakened in faith by natural appearances is mightily strengthened in faith by contemplation of the promises, strengthened to the point that a sheer impossibility does not stagger him.
At the fourth stage, a radical change takes place: the burden and struggle is replaced by a burst of praise "giving glory to God." Now faith is shining out in noontide strength, and is called "strong." God alone, the God of the impossible, fills the vision; worship and praise take the place of strife and travail, for the soul that is occupied with glorifying God cannot at the same time be obsessed with doubts concerning Him.
At last, at the fifth stage, the topmost rung of the ladder of faith is reached: full assurance; "being fully persuaded that what He had promised, He was able also to perform." Now he knows, now he has; perfect faith has come. The fulfilment is already his in the invisible, and, as day follows night, will be seen in the visible. And the mighty results of a battle of faith fought and won is seen in its fourfold fruit: it pleases God, it moves God to give public honor to the believer; it has its visible answer in the birth of Isaac; and it is an inspiration to the world.
Some have to toil up the ladder of faith, with varying degrees of labor; but we say again, it is not wrong to feel the conflict with doubt, so long as we are honest about it. Indeed, it is only living faith that doubts, for "faith is not the banishing of all difficulties, but their subordination to greater certainties." One of the most candid remarks in this respect was made by the father who brought his demon-possessed child to Jesus. It will be remembered that he said: "If thou canst do anything, have compassion on us"; and Jesus' answer was: "If thou canst believe, all things are possible to him that believeth." Now notice his reply. "Lord, I believe; help thou mine unbelief." In other words, he recognized frankly two counter-currents in him: one believing, one disbelieving. With one half of him, as it were, he said: "Lord, I do believe." But the other half of him was calling out "Impossible"; and, instead of hiding it, he exposed it and cried for deliverance. That is the way through.
More Articles from The Intercessor, Vol 31 No 3