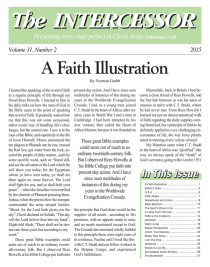 Letter from Norman

March 16, 1982
Dear Rose,
How glad I am to get your letter. It is good to now hear how evidently the Lord is walking in you in some stormy waters, rather than you hopelessly sinking in them. I'm so glad you have this new job, because I know you are bright and able to hold down even a pressure job when you know how to walk inwardly released from pressure. So the pressures according to James 1:1-4 are the one "healthy" way in the Lord's way for you to have constant practice! "Let patience"–enduring as seeing Him who is invisible–"have her perfect work"! We will never get beyond disturbances affecting us on our soul-level of feelings and reason, which give us this constant practice in replacing our temporary believing in an evil situation by transferring that same believing to HIM in you as you in His perfectness, and thus you expressing HIS love, peace, faith in place of negative reactions. That is the whole way of living for us all who are "walking Christs," not only of giving us practice (as in Hebrews 5:8), but also that the light of Him as us may then open other eyes to who we really are, and who they also are if they only knew and acknowledged it!!
So bless you darling, as you are blessed. DON'T believe in the false power of temptation, as over your eating, about which you have had such battles. Don't look or fear in that direction, because what you fear you get! No, boldly keep counting yourself as kept by Him in you, the only true Power. Then if at any time you do slip, DON'T TAKE CONDEMNATION. Just reaffirm who you are as Christ as you, and tell Him again and again that you believe in Him as the only power, and not in the sudden assault of an eating temptation! 
So just this dear, and just so glad we continue in those bonds which began years ago. 
Lovingly,  
Norman
July 1, 1982
Dear Rose, 
Thank you for your lovely loving note. I can only hope, dear, that you will keep in touch. You are a "stormy petrol" and take wings every now and then. God loves passionate ones like you when so much of Him can pour out of you as you, as He establishes you in who you are. I know you have your rebel raging times. Wouldn't matter if you pulled right back without condemnation to your sinful spirit-self joined eternally in union with His Spirit-self, and the rages only invasions through your pulsating outer soul-body clothing. Only it doesn't seem as if the fixation of your spirit-union reality remains fixed as it is, when you swing back from an outer soul-emersion; and you don't boldly say who you are despite the soul-invasions. But you ARE, and there I see my precious Rose, fixed, fixed, until by your own inner knowing you are always saying, like the Psalmist, "O God, my heart is fixed, my heart is fixed, I will sing and give praise." So let's keep at it dear. 
Loving and believing with you, 
Norman