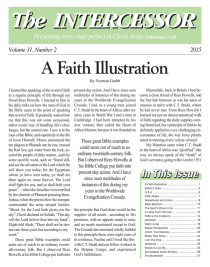 Editor's Note

Well, the time has come again for me to write this issue's editor's note for The Intercessor. I need to get going on it because the publication date is fast approaching. All of the articles are read, but now how to begin? No interesting anecdotes or catchphrases are coming to mind to grab the reader's attention. So now what to do? Rack my brain–to probably only be frustrated? Pleadingly pray to God to place an interesting thought into my mind to begin upon? No… After reading all of these articles by Norman Grubb in this issue of The Intercessor, I know what to do. As he says, "Need is the evidence of supply"! All I am to do is state my need and know that God already has the need filled. Is it really that easy? I state my need: to have an editor's note for The Intercessor. I believe He has the need already delivered.  Do I wait around for days waiting for him to share it with me? Or do I, out of obedience, put my faith into action by sitting down with my pen and paper ready to write what He already has prepared? Here I sit and write!
I'm sharing this process of what I went through as an example of what so many Christians face on how to ask God for things needed. But as we see in this issue of The Intercessor, "need is the evidence of supply."
Many of the articles in this issue will challenge the way many mainstream Christians view prayer. For most, prayer is defined as "a solemn request or petition for help from God."  However, Norman Grubb, in the main featured article, "A Faith Illustration," shows us a new, clear way to approach deliverance from our needs and problems. He not only shares what to do, but also what not to do. He makes it very clear that the first step is "not calling on God and asking Him for deliverance"! For many of you this must seem a very puzzling statement! Many have been taught that this is exactly what we should do! But, trust me, reading the rest of this article will enlighten you to what Norman means. He shares personal, as well as Biblical, examples of deliverance through speaking "the word of faith."
Please find an even better understanding of speaking the word of faith in this issue's "Q & A," as well as in "Faith Notes."  Also find, towards the back of the magazine, "Words to Live By," which includes a quote for you to cut out and have handy for those times you need a helpful reminder!
This issue's "Bible Bedrock" furthers the point made earlier, with an excerpt from Psalm 23 and from The Deep Things of God. Get your highlighter out for this one!  "It is not that our need initiates the demand for its supply and somehow must call the attention of the Father to it and persuade Him to supply"… "the need is the proof that the supply is there (Grubb)." Fabulous!
Speaking of proof (or evidence), the next article by Sanda Cooper, is titled " Faith Is the Evidence." In it, Sanda shares the insights she gleaned from a book, The Tryst, by Grace Livingston Hill, which impacted her greatly.  She identifies with the main character, who she says, took reason and logic to replace his once child-like faith in Christ. He finally finds deliverance when he realizes that believing in God/Christ (or really anything), with no proof or assurance, is a "voluntary act of the will." As the Scripture says "…faith is the evidence of things unseen (Heb. 11:1)."
Having just had our old view of prayer challenged, the article " The Spirit's Drive in Us",  now addresses a whole other type of prayer–Intercessory prayer. Intercession is defined in the dictionary as "an act of intervening on someone else's behalf." This excerpt from Norman's booklet, "To All Believers…It's as Simple as This," describes the drive in us to reach others in the world, after we have been "freed from our own self-problems." He then takes us through the first two steps of Intercession: commission and cost.  And for more nuggets of information on intercession, see "Faith Notes."
Also in this issue is an article about the faith journey of our "Father of many nations," Abraham. It takes us through Abraham's life process of weeding out his view of having an independent self. Through many dealings, Abraham is brought to a point of experiencing his union with God, culminating in his total trust and faith act of ascending the mount in Moriah. Instead of acting for himself and his son, Isaac, he denied "self" and acted in obedience to God.
Norman further fleshes out how a union life with Christ works out in our daily lives, in an article appropriately titled, "Daily Living." Since Jesus Christ is for others and is now joined to our spirit, our view changes from selfishly asking "Why did this happen to me?" or "How does this affect me?" to saying "This has happened to me as some way by which I am to meet the need of others."
We are also excited to introduce the new regular addition to the magazine: our "Cross" Word puzzle! You are sure to be tested and gain scriptural knowledge of our union truth in a fun way! So, grab your pencil and your Bible (and try not to use any "cross (as in angry)" words if you don't do well!… just soul-feelings, right?!) And, in case you get really stumped, answers are at the back of the magazine.
Next, in "Easter Perspective," Kari Mace moves us away from thinking of Easter as a "seasonal story" by asking ourselves "Why did Jesus have to die?"  Bold-print, off-set scripture references guide us through the answer in an easy-to-follow way.
Finally, we highlight another reprint from ZNews, the Zerubbabel Press youth magazine. "Union: Two Natures" is a visually stimulating article, explaining our spirit make-up–who we really are. It will definitely benefit readers of all ages.
Thank you for reading The Intercessor. We trust it is God's way to speak to you–wherever you are, and encourage all of you "walking Christs" to speak your words of faith!  And as our Norman Grubb also says, to "boldly keep counting yourself as kept by Him in you!"