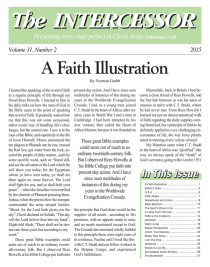 Easter Perspective: Why Did Jesus Have to Die?

When I was younger, I associated the Easter bunny and coloring eggs with Easter. Although I grew up in a Christian home, the true meaning of Easter was not my family's focus. It was not until I was older that I really understood why Easter is so important. I did know the basic story of Easter–Christ died for our sins, went to hell, and then rose from the dead on Easter Sunday–but that's as far as I understood it. As I grew in my personal faith, the Easter story began to make more sense to me, because I understood Easter as God's plan to save humanity instead of a seasonal story to celebrate once a year. To move away from thinking of Easter as a seasonal story, we can begin by asking, "Why did Jesus have to die?"
"Christ died for our sins…He was buried…
He was raised on the third day,
according to the Scriptures…"
(1 Corinthians 15:3-4)
Our problem began when Adam and Eve sinned in the Garden of Eden. They were tempted by Satan to eat fruit of the Tree of the Knowledge of Good and Evil. By giving in to the temptation and eating the fruit, they sinned. However, they didn't just choose the sin of eating the fruit, they also received the spirit of sin (Satan). As a result of their sin, every person born after them is born with Satan's spirit (John 8:44). The problem is that sin is a person, Satan, and he dwells in us. In this condition, we can only express sin, and the Bible says that "the wages of sin is death" (Romans 6:23). This death is not only physical but also spiritual, meaning eternal separation from God–eternity in hell.
"You belong to your father, the devil, and you want to carry out your father's desire." (John 8:44)
"For all have sinned and fall short of the glory of God." (Romans 3:23)
God laid out only one solution to our problem. His name is Jesus Christ. He died to pay for the sin of all men so that all men's sins are forgiven. Christ made permanent atonement for our sins. If we choose to believe that, "God so loved the world that He gave His only begotten son, that whoever believes in Him shall not perish, but have eternal life" (John 3:16), then Christ's spirit will replace Satan's spirit. God's solution, which was planned from the beginning of time, was to send Jesus, His Son, to earth to die for our sins. "God made him who had no sin to be sin for us, so that in him we might become the righteousness of God" (2 Corinthians 5:21).
"For God so loved the world that He gave His only begotten son, that whoever believes in Him shall not perish, but have eternal life." (John 3:16)
We now see why Jesus had to come to earth to die for our sins, but what was the significance of His resurrection? Why did he have to rise from the dead? Jesus' dying, going to hell, and then rising from the dead shows that Jesus had victory over physical death as well as victory over Satan. Galatians 2:20 tells us that not only was Christ crucified, but that we were crucified with Him. "I have been crucified with Christ and I no longer live, but Christ lives in me. The life I live in the body, I live by faith in the Son of God, who loved me and gave himself for me." In other words, when we accept Christ as our Savior, it is He who lives His life through us.
"Jesus said to him, 'I am the way, and the truth, and the life; no one comes to the Father, but through Me.'" (John 14:6)
And now we see the true significance of Easter–not as a holiday, but as God's solution to replace Satan's spirit with Christ's spirit for all men who believe. If Christ had not died on the cross for our sins, we would have no way to have a relationship with God, and we would suffer eternal death. Instead, we all have the opportunity to have eternal life through Jesus Christ.