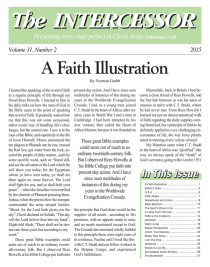 Faith is the Evidence

I want to tell you about a book that has meant a lot to me. It is called The Tryst, by Grace Livingston Hill, and was first published in 1921 . A friend had found and read it on her Kindle, and recommended it to me. Most of my life I have demanded the proof of something first, then would believe it; "Let me see the evidence, then I'll say it's true. Does it make logical sense and is it intellectually credible?" Pretty prideful to set up my own standards for determining what reality is, but I did. Well, this book is a story about how several very different people find the ultimate Reality, and the only means of getting there–faith, not reason. 
One of the characters is a young man whose devout mother realizes that he has lost his childhood faith in Christ after enrolling in a liberal seminary. What his sophisticated intellectual professors have taught has begun to cast doubt on what he believed as a child, and reason and logic have replaced faith. She has many times reminded him that, "This is His commandment, that we believe on His name,"(1 John 3:23) and that God guarantees that "You will seek Me and find Me when you search for Me with all your heart" (Jer. 29:13). Before she dies he promises to bring all his doubts and questions to God at a "tryst"–a special appointed meeting. The day arrives, and he fulfills his promise: 
"Well, how did one search? He would begin. He would put the full strength of his purpose into it, and dispose of this question one way or the other, now and forever. It was queer though, this searching for a thing in which one did not believe. He read the verse over again, "Ye shall find me when ye shall search." It suddenly came over him that this believing after all was a voluntary act of the will. He could decide to act on a certain hypothesis and go ahead, whether he was really assured of it or not. It was the first time that the idea had presented itself to him in that way. When his mother had asked him to 'only believe' he had responded, 'I would gladly, if I could.' He had always supposed that he must wait for assurance or until the power to believe was given him. Now he suddenly saw that if he willed to believe he could act upon that with as much success as if he knew that the hypothesis were true. It was like getting into a car, or a boat; one might not believe that it was seaworthy, or able to travel, but one could put one's self in its seat and wait for the car to give the assurance. 
Every longing that had ever been unsatisfied, every doubt that had clouded his faith, every rebellion that had hindered his growth, these were poured forth from the very depth of his being and laid before the God whom he had come to find. Then like troops of bright angels for everything he had to say, came the promises of God, both from the Old and New Testaments, especially promises concerning Jesus Christ…and they seemed not so much to fall into his mind, but into his heart to be put within the voluntary powers of his mind. All the old doubts, the old fallacies, the old impossibilities, were as if shut behind locked doors, rubbish that had nothing to do with the case.  What were they after all but the product of men's minds?… How trivial they seemed to him now. How easily he had been fooled into unbelief by them. 
That was why the ignorant and unlearned often found the Light when the wise and great were left in darkness. It needed the humility of the little child to find. It took the whole heart searching to discover the secret. The fine bulwark of words and reason wherewith he had sought to establish his unbelief stood behind him like a toy wall built of blocks before the strong light of knowledge that filled his whole being. It was all perfectly simple and understandable when one went about it in God's way."  
I have italicized the words that hit me between the eyes and convicted me. Belief is a choice, an act of the will. You may be asking "Of course. That's what faith is," and you would be right. But belief and intellectual assent are two different things. Thinking about something, even entertaining the idea that it might be true, is totally different from choosing to believe it. Listen to what Norman Grubb says: "Nothing in the universe can be proved by reason and observation to be reliable. Reason can take us up to the edge. It can make things appear the nearest thing to a certainty; but it cannot prove things as a certainty….We have to gather together all the certainty we can about a thing, but in the end we have to move out from uncertainty….But those leaps, and they alone, give birth to personal experience" (The Spontaneous You pp. 58 & 59).
And if you are familiar with Norman's analogies about faith, those passages from The Tryst should ring a bell. For example, he writes:
"So faith starts by conscious choice, conscious involvement, but goes on as spontaneous being in that choice. I sit on a chair by choice. It is a "leap of faith," just as much in such a mundane detail, as in the great choices of life. A chair is available to me, it is desirable, and it looks reliable. That is as far as sight or human reasoning can take me. I have to commit myself, before I can prove it is a reliable chair for me. But then, having sat, the chair is now holding me, not I it, and I forget about it and just remain sitting. Faith has become spontaneous being, I just am in a faith-relationship with that chair.
So we have been in a spontaneous faith-relationship with the spirit of error all our unredeemed years….We would move from the wrong to the right, if there is a right….Who can deliver and save us, when we can't save ourselves? There is no concrete answer in our human history except the One who came and did it for us.
But we can't prove a thing….It is only when desperation drives of beyond reason that we will make such a leap as this—into the invisible. But we do. From our inner spirit-center we make our faith-choice. We will take the risk and take Him at His proffered word—that God did send His Son, that He did die for us, did rise, is alive, and does fulfill the promises He gives.
And now what happens? The law of faith operates—that what we take takes us. And in this case it is a supreme event, because for the first time we have transferred our believing from matter to spirit. We have believed on Him who is invisible; and back comes the inner witness. "The Spirit bears witness with our spirit that we are the children of God!" We know." (Who Am I?—pp 49-51)
Oh the pride in thinking that "I" can have my standards of proof, that I can cherry-pick what I am comfortable believing because it "makes sense"! James says that this human "wisdom is not that which comes from above, but is earthly, natural, demonic" (James 3:16). Why? Because the foundation for such arrogance is that I'm a self-operating, independent ME: I'll be the captain of my ship, the arbiter of what I take on board." Satanic pride. 
Having the humility of a little child is knowing our place: we are vessels, containers. For what purpose? For Him to live His life through. How? By the obedience of faith. God commands that we believe; we choose to obey–to receive the truth by faith, by an act of the will, the same way we received salvation. This is the only method God has ordained. This simple obedience produces peace, and pushes away intellectual meanderings, doubts and "what if's." We have chosen, and we simply stick to our choice.
Thank you, Norman, and thank you Grace Livingston Hill, for pin-pointing the pride and intellectual garbage that can keep us from the sweet truths of the Bible, and the conviction that it can bring.