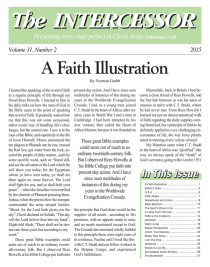 Bible Bedrock: I Shall Lack Nothing…

I Shall Lack Nothing…
"The Lord is my shepherd, I lack nothing. He makes me lie down in green pastures, he leads me beside quiet waters, he refreshes my soul. He guides me along the right paths for his name's sake. Even though I walk through the darkest valley, I will fear no evil, for you are with me; your rod and your staff, they comfort me. You prepare a table before me in the presence of my enemies. You anoint my head with oil; my cup overflows. Surely your goodness and love will follow me all the days of my life, and I will dwell in the house of the Lord forever."
  (New International Version)
Judgments are pointers to grace–signposts–and not to a grace which has to be sought somewhere or manufactured, but which was there long before the judgments; and the judgments are only the necessary way of getting the grace through to us, conditioning us to accept it. 
Long before there was a condition of need God had completed His work of perfect creation. The Fall and its consequences have been an apparently tragic interlude, but that was foreseen and provided for in "the Lamb without blemish and without spot; who verily was foreordained before the foundation of the world." Therefore, as we have already said, God has always had His fullness in readiness to replace our emptiness, His perfection our imperfections, His light our darkness, His life our death. He has always intended, planned and provided total supply for every human need, and the supply has always been there. It is not that our need initiates the demand for its supply and somehow must call the attention of the Father to it and persuade Him to supply. No indeed. HE initiated the need so that we might find all our supply already there in His and our Christ! The need is the proof that the supply is there, and is merely God's means of conditioning us to be agents of faith. It is God who confronts us with every kind of problem, inability, difficulty, that, in our weakness, He may flash the spark of faith in to our hearts, His faith, that His supply for exactly that situation was there long before.