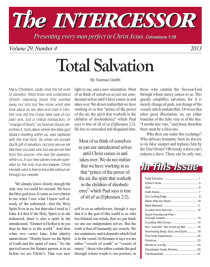 Our Cutting Edge – Part Two

Here is the second and concluding part to "Our Cutting Edge"–an amazing and prophetic letter to the "well battered group who go under the name of intercessors (with our Intercessor Mag) or as Zerubbabel…." To read it is to hear the echo of God's calling to us today.  
What has been "given" to us in our Zerubbabel fellowship and out Intercessor magazine to know and maintain with absolute clarity is there never was a human self operating self. So the victorious life teachers are deceived when they speak of death to self. What a joke and what a travesty! Because there never has been this self-operating self (Satan's vast deceit of us at the fall–Rev. 12:9). They speak of "death to self" as if there is such a thing as a human self we need to die to. This is the biggest danger with most victorious life teachers whom you will always find have to go back to some elements of law-keeping ("keep abiding etc.") as the only final security of claiming that abiding life. A big, big lie. There never has been this human self operating self which has to keep itself–that's the lie. When we ate at the forbidden tree by absorbing a fruit, Satan in his deceived negative self operating nature took us over and operates as us and has made all the world, including very much the top line of evangelical teachers, live in this lie of being operating selves. But the truth has been that what we always thought was "just ourselves" and to which we needed to "die," was never actually in existence! Wow! So being "dead" is an illusion, and I partook of that myself until more clarity came in my Yes, I Am book, and "It's As Simple As This" booklet. 
And that is the great hidden release to which we are totally called to give ourselves ruthlessly, no compromise, even though we remain just a few (for the time being. The disciples at Pentecost were not so many! But now!). And you understand that the vital cutting edge is not just the fact we have a self which can by grace express His Self, but the negative is the key which is missing to almost the whole teaching evangelical church of Christ–that there never had been this chimera of an operating self to die to! Wow! Wow! For that appearance-self through the Fall was nothing but the false deity expressor of Satan's own deceived self (that consuming fire of God). So we never "die to self" but just recognize, when we fully know the double work of the Cross, our total cut off from the sin-spirit, which of course we have often outlined in other writings. It is this glorious great secret which we are called and commissioned to preserve and constantly give by myriad repetition in our Intercessor magazine and booklets. 
And we surely know that we only came to this certainty by, as Paul said, "much tribulation." Our main tribulation was the rejection by normal evangelical Bible teachers. But alas, alas, also right among us as is always the final test on God's true spirit people, how far would we go in such an inner knowing of each other as co-knowers in Christ in our forms? It has been through Page Prewitt's sharpening of the spirit that so many of us, including myself, have come in to total clarity of the tremendous, tremendous central fact to us–that the human self only exists to express a deity self and never did express itself, so there is no such thing as an "independent self," but only, only replacement of the wrong self-operator (deity) by the right one. And nothing else. 
I need not go any further into that because that is now the whole of our burning conviction of total truth for which our Intercessor magazine exists and those others of us, now greatly increasing, who burn in the clarity and totality of our calling to, as Paul said in Eph. 3, "Make all men see the mystery of the unsearchable riches of Christ." Our one commission is to retain in total cutting edge this totality about the self being only expressor of one or other of the deity selves and nothing else. God preserve us there! And understand it is the missing note in really all, so far as I know, of the best victorious life teachers, so we indeed are obviously either grossly deceived and propagate a lie, or gloriously on target, which we are sure we are. 
That is our one convicted affirmation of our calling. Victorious life teachers do know self as expressing Christ (John 15), but don't know that self never was just a self-operator now expressing Christ, but was false Satan-operator expressing his false self. That, please, again and again, is really our one sole raison d'être! The rest others have had, God bless them, but the secret they do not have, and will surely–except in the rare exception–fight us to our "death" for sticking to. Like Admiral Nelson, "Nail your flag to the mast!" No pulling down! This is our precious secret for our generation. 
Bless you all and we are blessed. 
Norman Grubb
More Articles from The Intercessor, Vol 29 No 4