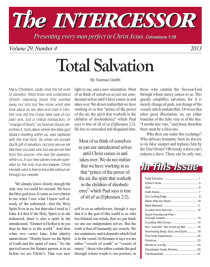 Bible Bedrock: The Great Deception

Do you not know that when you present yourselves to someone as slaves for obedience, you are slaves of the one whom you obey, either of sin resulting in death, or of obedience resulting in righteousness?–Romans 6:16
The main consequence of our yielding to Satan at the Fall was that he deceived us all (Rev. 12:9) into thinking that we have a human self which can operate and mange itself, even as he lyingly thinks he manages himself. In fact, we are only operated and managed by a deity self–the Spirit of Truth or the spirit of error (1 John 4:6)–who own us. This was symbolized in the Garden by receiving the fruit of one or the other of the two trees. So when the Law, which is meant to expose Satan's lie, comes to us in our deluded condition, Satan has the laugh on us. We obey his self-for-self sin laws, being his salves, and cannot obey God's laws. 
We who are saved admitted our sins in their outer forms and received forgiveness and justification through our Lord Jesus Christ and the new birth of the Spirit. But we were still too blind to recognize the depth of Satan's deceit in us. We thought that as saved and new creations in Christ we could still take a share in managing ourselves. 
Paul explains the full meaning of redemption through our dying in Jesus' death to Sin-Satan's indwelling and becoming alive in His resurrection to God's Spirit now indwelling us. But it is meaningless to reckon and say that we are now dead to sin and alive to God while that root deception is not yet out of us and we think we are more than a people managed only by the deity spirit in us as vessels, branches, temples, slaves or wives. 
More Articles from The Intercessor, Vol 29 No 4