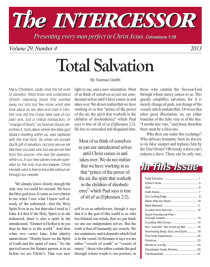 A Letter From Norman

Jan. 29.70
Janice you precious one,
Like old times to have letters popping in and out between us! Thank you, dear. Of course I am thrilled that you and Bob have come up against a "battle" in the church. This is the one way, by death and resurrection, repeated all through our lives (2 Cor. 4:7-12) by which resurrection and ascension life comes through. There has to be a manifested negative for The Positive to manifest Himself. The whole natural world is the negative which has got totally out of proportion through the Fall, and seeks to make itself out a "positive" negative on its own. 
We are part of that negative human through which He who is The Positive and The All manifests Himself (as north must have a south to make a pole); Jesus on earth was so also. But He (Jesus) and now we with Him, know how to "die" to opposing negative situations, by accepting them as facts and feeling our human hurts, but then by transferring our "recognition" (faith) to Him The Perfect One who "sends" us into these situations, so that He may be seen in resurrection life in us, and thus come through us to others, so that they may learn this true secret of the meaning of human living. And here it has happened to you, darling friend, in these agonies Bob and you have gone through, and the glorious resurrection in Bob's living preaching. His is a great stride forward for you both. It is quite incidental whether this means God taking you elsewhere, or staying where you are. What does matter is what is happening, the new "resurrection life" surge of Him in you both, and thus life to others. Jesus' secret was to see through the evil of the Cross to God engineering all and thus believing the resurrection and experiencing it. 
Shall love to hear more, dearest, as you have moments to share. I love you both. 
Ever lovingly, 
Norman
More Articles from The Intercessor, Vol 29 No 4