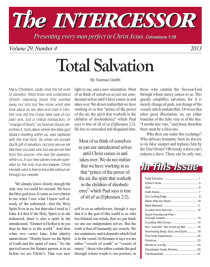 Crucified With Christ…

When I first grabbed by faith together with my Pauline in the Congo about 1924, that Galatians 2:20 statement, "I am crucified with Christ, nevertheless I live, yet not I but Christ lives in me," I had not then got clear who is the "I" who was crucified, as if the "I" itself contains a sinful nature; and then what about old "self" stuff re-appearing in negative reactions, fears, lusts etc? But at last I got my "I" clear, largely through Paul in Rom. 6 and 8, that my soul-body (called "flesh," in which even God Himself is "manifest in the flesh,") is merely the vessel, branch, temple, slave, wife, body-member. But it started through the Fall containing the Satan-sin spirit of error as in 1 John 4:6 etc.: but it was not me, but "sin in the flesh" deceiving me by making me think it is "just me."  That was what Paul says in Rom. 7:17–"it is no more I that do it, but sin (Satan's nature) dwelling in me." And then he gloriously "saw" that Christ on Calvary by his body-death "made sin as me" for my sake, died and out went that spirit of error, and in the resurrection in came for keeps His own Spirit of truth, and that becomes a fact in me as I receive and confess by Gal. 2:20 faith. Then I can accept myself, and I go free with no condemnation (8:1), my vessel-self now containing and expressing Him the Spirit of truth, I boldly go forward like Jacob "A prince with God-power," and with Caleb say, "Let us go up and possess it, for we are well able to overcome it. " We, we, we–which is HE as we! All glory. So this glorious exchanged life has taken place in my "Me," with Christ replacing Satan as my indweller! Now "all things are possible to him that believes!"
This we daringly call "Total"–as formerly Satan/I, now through Calvary and faith Christ/I, and never was the delusion of just I-I. And our calling is to take our Christ/I truth to the whole church in the whole world!
More Articles from The Intercessor, Vol 29 No 4