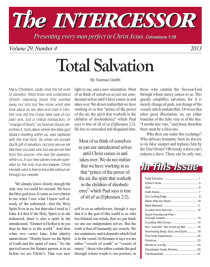 Faith Notes

"We have only one enemy to fight in this warfare of faith: not things, not people outside us, but only the attempts of fear and doubt, those emissaries from Satan, to get lodgment within."
"Only one requirement  is essential: faith must endure to the end and not be 
  bluffed into surrender."
"We have one great enemy of faith–within us, and not in our circumstances– fear of the invisible." 
-–Touching The Invisible
"It is only when desperation drives us beyond reason that we will make such a leap as this–into the invisible."  
"Faith is built on doubt. Doubt is it's lifeblood. Faith is doubt absorbed, doubt conquered. Unbelief (unfaith) is doubt accepted. Unbelief is an act of will as much as faith. Doubt is not an act of will, but is the only attitude we humans can have toward anything external to us until we decide whether to accept it or reject it.  The uncertainty, the doubt, is the very element which gives stimulus and passion to the decision."
"How He manifests Himself is entirely His business, and His way is perfect. Maybe I shall find one day that the trial of my faith (not my faith, but it's trial–having to walk with God in the dark maybe) has been more precious than gold that perisheth, and will be found peculiarly "unto praise and honor and glory at the appearing of Jesus Christ." 
"Abraham–an example for all time of what faith really means. He believed God–that was all. If God told him to sacrifice Isaac, yet God also said that the promises would be fulfilled in Isaac, then God will raise him from the dead. And Abraham went and acted in that faith. Abraham's faith was not in the way God does things, but just in God the Doer."
More Articles from The Intercessor, Vol 29 No 4