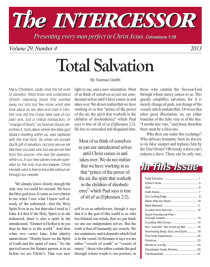 Editor's Note

In this issue of The Intercessor we continue to investigate the foundational truth of the Christian's union with Christ–and the seemingly little known truth that prior to salvation Satan indwells us. Our lead article, "Total Salvation," focuses on the radical exchange that takes place at conversion. Norman Grubb points out that "Most of us think of ourselves as just our unredeemed selves until Christ comes in and takes over. We do not realize that we have working in us that 'prince of the power of the air, the spirit that worketh in the children of disobedience."' And in part two of "Our Cutting Edge," Norman stresses that the negative side of the gospel is truly "good news," and bluntly denies the possibility, so widely taught, that we can "die to self."
In "The Crisis Experience" Norman uses the lives of our biblical ancestors to emphasize that our "gap consciousness" inherited from the Fall must be replaced by a fixed inner consciousness of our permanent union, from which "we move out into a spontaneous life of liberty, authority and fruitfulness." Page Prewitt answers a question from one of our readers in "Q & A" which further clarifies how "by faith we eliminate this 'gap consciousness' where we are here and God is there." 
We continue with Page's insight in "Satan Was Our Boss," an excerpt from her booklet "Life: The What, The Who, The Why," as she delves into the foundation of Satan's sin–his "calculated choice to act as though he was independent"–and the consequences that followed for the human race. Don't miss "Bible Bedrock," which picks up on this point of Satan's deception of mankind. 
Two articles are reprints from past issues of our youth magazine, "Z-News," which we thought deserved a wider audience. "Illuminating Body, Soul and Spirit" is a transcription of a teaching session given by Scott Prewitt. Scott's question and answer format makes for easy reading and sheds needed light on the make-up of a human. Don't be fooled by Dacia Trethewey's whimsical and childlike drawings–her interpretation of Galatians 2:20 will bless all ages. 
Faith–the key to appropriating the great truths of the Bible–is a unifying thread throughout all our articles. Jon Langley's "God's Providential Plan–Through Joseph," exemplifies the difference between soul and spirit in the life of Joseph. Using Andrew Lloyd Weber's musical, Joseph and the Technicolor Dream Coat as a starting point, Jon gives us a refreshing take on this familiar and beloved biblical character who epitomizes a life of faith. "How Acquire Faith" from
God Unlimited
is one of the greatest chapters that Norman has written on this crucial topic, and we present an excerpt here.  And check out a new feature–"Faith Notes": short but precious nuggets from his writings which we hope will bless you as they have us.
Enjoy this issue of The Intercessor!
More Articles from The Intercessor, Vol 29 No 4