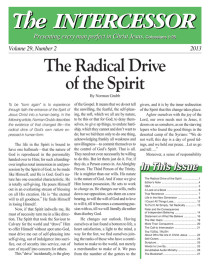 The Total Truth About Who We Are in Christ Jesus

Last issue, we presented the biblical foundation of what we refer to as the Total Truth with the first principle: that man does not have a nature of his own. With equal thoroughness, this issue continues our study with the second and third principle of God's total revelation of who we are in Jesus Christ. 
Part Two
AS A NON-BELIEVER, MAN 
EXPRESSES SATAN'S NATURE:
God's free gift to us is the unmerited forgiveness of sins through the shed blood of Jesus Christ, which He gave as payment for the just penalty of sin. Gloriously too, the sin indweller who controlled us before conversion has been cast out and Christ has come into us. For we formerly expressed Satan's nature in us, since he was the (false) deity who lived in us. We were born in sin and "Mr. Sin" (Satan) lived out his selfish life through us.
A. Ephesians 2:2-3
Wherein in time past yet walked according to the course of this world according to the prince of the power of the air; the spirit that now worketh in the children of disobedience: Among whom also we all had our conversation in times past in the lusts of our flesh, fulfilling the desires of the flesh and mind; and were by nature the children of wrath, even as others.
The Apostle clearly recognizes that before we know Christ as Savior, we are "by nature the children of wrath." Be sure to see that our unredeemed nature is that of a child of wrath or Satan.
B. John 8:41-44
Ye do the deeds of your father. Then said they unto him, we be not born of fornication; we have one Father, even God. Jesus said unto them, If God were your Father, ye would love me: for I proceeded forth and came from God; neither came I of myself, but he sent me. Why do ye not understand my speech? Even because ye cannot hear my word. Ye are of your father the devil, and the lusts of your father ye will do. He was a murderer from the beginning; and abode not in the truth, because there is no truth in him. When he speaketh a lie he speaketh of his own: for he is a liar, and the father of it. 
Jesus knew that a child does the "lusts" of his father. The father whose lusts we did was the devil–"and the lusts of your father ye will do." Contrast this with Romans 8:16, where the Holy Spirit bears witness that as Christians we are "children of God." Many other verses teach that we, as believers, are children of God. (Galatians 3:26; Luke 20:36)
Part Three
THE CROSS CHANGES THINGS
When you accepted Jesus Christ as your personal Savior, dramatic permanent changes took place. 
A. Romans 3:25
Whom God hath set forth to be a propitiation though faith in his blood to declare his righteousness for the remission of sins that are past, through the forbearance of God. 
The sins that Satan has done through you (with which you agreed and were thereby justly judged guilty) are forgiven.
B. Romans 6:3
Know ye not, that so many of us as were baptized into JEsus Christ were baptized into his death?
There is no equivocation. We are "dead to sin" and no longer need to "live any longer therein."
C. Romans 6:6-7
Knowing this, that our old man is crucified with him, that the body of sin might be destroyed that hence forth we should not serve sin. For he that is dead is freed from sin. 
When we accept, in faith, our crucifixion with Christ, we no longer serve sin or see ourselves with a nature of or predisposition to sin.
D. Romans 6:17-18
But God be thanked that ye were the servants of sin, but ye have obeyed from the heart that form of doctrine which was delivered you. Being them made free from sin, ye became the servants of righteousness.
This scripture teaches that we were once servants of sin, but now we are servants of righteousness. We are not both at the same time! It is just as clear that we are always servants of one or the other.
E. Romans 7:4
Wherefore, my brethren, ye also become dead to the law by the body of Christ; that ye should be married to another, even to him who is raised from the dead that we should bring forth fruit unto God. 
Not only have we become dead to sin, we are "dead to the law." This means, we are no longer required (by any "nature") to respond to the demands of the law, as if we alone can keep it. Satan formerly deceived us through the law into believing we were independent selves, who could keep it. The result for us was death (Romans 7:11). Now the law is perfectly kept in us through our spirit union with Christ.
F. 1 John 1:7
But if we walk in the light, as He is in the light, we have fellowship one with another; and the blood of Jesus Christ his Son cleanseth us from all sin.
Our feeling of being "dirty" and "spotted" is just a feeling, and since the "just shall live by faith," we can believe that Jesus' blood has, in fact, cleansed us from sin, and His Spirit has set us free.
More Articles from The Intercessor, Vol 29 No 2