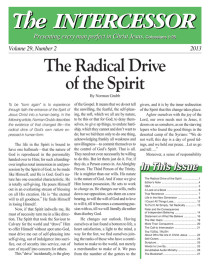 Bible Bedrock: I Count All Things Loss…

"But whatever things were gain to me, those things I have counted as loss for the sake of Christ. More than that, I count all things to be loss in view of the surpassing value of knowing Christ Jesus my Lord, for whom I have suffered the loss of all things, and count them but rubbish so that I may gain Christ, and may be found in Him, not having a righteousness of my own derived from the Law, but that which is through faith in Christ, the righteousness which comes from God on the basis of faith, that I may know Him and the power of His resurrection and the fellowship of His sufferings, being conformed to His death."
–Philippians 3:7-10
(New American Standard)
The most revealing of all analyses of these three grades of experience is by Paul himself in his Philippian letter. In 3:3-14 he pours out to us some of the Lord's dealings with him. He starts by mentioning the many qualifications he had "in the flesh," but plainly states that he no longer has confidence in such things. We can sense his thankfulness for his awareness of the false pride he had in his own righteousness and his disgust as he sees it as the rotten rags of Satanic self-love. He declares: "What things were gain to me, those I counted loss for Christ" (vs. 7). Here he is alluding to his "Damascus road" conversion experience. There the truth had first pierced his honest heart like an ox goad. There the contrast between his own hate and rage and the glory and rapture on the face of Stephen, the battered but forgiving martyr, had been clearly revealed. There, on the Damascus road, in a blinding flash Paul had seen that same supernatural love in the face of the ascended Jesus, who spoke to him not in wrath or retaliation but in loving appeal: "Saul, Saul, why persecutest thou Me? Don't you know I love you?" There he had exchanged the rags of his self-loving self for the eternal gain of Christ's own garment of self-giving self.
But then Paul made a startling and costly discovery: The ascended Jesus, now a marvelous Savior to him, was much more to him. Christ made it plain that He had come to take over Paul's whole life and express His own love-selfhood through Paul. "Yea doubtless," continues Paul (vs. 8), "I count all things but loss for the excellency of the knowledge of Christ Jesus my Lord…" This was something altogether more revolutionary and advanced than merely Jesus as his Savior and Justifier, marvelous though that was. Now this One is to manage his whole life–take him over–so that Paul becomes an embodiment of Jesus Christ formed in him as well as revealed to him. And this Paul "jumped into"! Everything earthly must go to the winds for that, whatever the cost. There was pain in it: "…for whom I have suffered the loss of all things." There had been the painful cutting-off from all his ambitions as a leading young Jew of his day, with a great future among his own people. This was the paying of the "disciple price," where we hate father, mother, wife, children, houses, lands, physical well-being, and in fact, "all that we have," to be a disciple. Paul paid that, and at that time it was a sacrifice. And this conditioned Paul for his great Galatians 2:20 revelation, which was his unique contribution to the body of Christ through all the coming centuries. This was Paul as a "young man" (1 John 2:13), in the second stage where he now found himself–which meant finding Christ as the exchanged self in him.
Now comes the most revolutionary change of attitude. He suddenly says that the things it "cost" him to surrender would now be a stench in his nostrils to retain! What was once precious is now disgusting to him. What he had called "suffering the loss of all things" he now says he counts as "stinking dung"! "I count them but dung, that I may win Christ…." A total reversal. And why? Because he was no longer concerned with getting his own inner need settled. This was now completed in Christ–not only Christ for him, but now Christ in him, as him. 
More Articles from The Intercessor, Vol 29 No 2