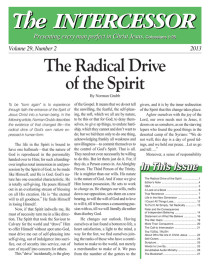 Editor's Note

This issue provides an exciting and insightful look into the dramatic change brought about by the Holy Spirit in a life fully handed over to God–the hallmarks of God's nature reproduced in man. These hallmarks, explored in this issue's collection of articles and features, are expressed as: radical, driven, revolutionary, consuming passion, soldier, totally involved–body, soul, and spirit. 
In our lead article, "The Radical Drive of the Spirit," Norman Grubb explores how God through His indwelling Spirit "took the Savior to Calvary for the world and 'drove' Him to offer Himself without spot unto God." If my life is totally yielded to Him, the Spirit "must drive me out of self-pleasing into self-giving, out of indulgence into sacrifice, out of security into service, out of care of myself into concern for others." 
Several other features by Norman Grubb maintain the focus on the revolutionary Christian life. "To Put It All Simply, Yet Radically" delves into God's ultimate purpose in mankind's creation, fall, and redemption–to live in us His revolutionary life of total outpoured love. This is the life available now to those who understand and have experienced the fullness of their salvation in Christ.  From the permanent inner knowing that Christ is our life, the "Spirit of Love thrusts us out to bring Him to our fellow humans who are redeemed and don't know it or are not yet wiling to receive Him." 
In "Life in the New Dimension," Norman shows how the Spirit impels us into intercession for others–using (as He did with Jesus) the specific painful circumstances of our lives. This article is not to be missed for its inspired description of the principle of the cross in the lives of God's vessels: Christ in us as us–in passionate action today. Expressed in a fiery letter to a fellow missionary, Norman in "The Sell-Outers" illustrates with the lives of Jesus, Paul, Moses, Caleb, Joshua and in more recent times, pioneer missionary C.T. Studd, the Total Truth revelation as our foundation and the "key to our onward marching."
In "Peter and the Consequences of Independent Believing," Elliot Coatney offers a careful examination of the root cause of Peter's denial of Jesus ("Peter and the Consequences of Independent Living") and Peter's transforming recognition that "apart from [Jesus], you can do nothing." Especially keen is the insight into the consequences of Satan's deception that we are independently operated as evidenced in the lives of many Christians today–and the powerful transformation available to those who apprehend and live from the truth that Peter came to see.
Not to be missed are several short features with applications of the Total Truth in individual lives. "Called to Intercession" is Norman Grubb's portrait of the how God called a handful at the home office of C.T. Studd's mission to sold-out, sacrificial faith that resulted in the re-birth of the Worldwide Evangelization Crusade. "True Reverence" is C.T. Studd's own description of the contrast between his former "religion" marked by proper behavior and no obedience, and the "real thing"–"trust that God as really my father" and that His commands are "battle cries to be obeyed." 
Several of our regular features continue this theme. "Q & A" shares Page Prewitt's encouraging and insightful response to a friend worried that fears and doubts contradict her claim that God is at work in the midst of her trials. Page points to spirit-truth, the bedrock on which to base our trust. This month's review of C.T. Studd, Cricketer and Pioneer  in "A Look at a Book," begins with a challenge to those who are comfortable with their "uncontested, easygoing Christianity" not to read the book if they want to remain that way. What follows is a personal glimpse into the aspects of the book that offered the reviewer new perspectives–and a challenge for others to "dare" to read it. "Bible Bedrock–I Count All things Loss…" explores Phil. 3:7-10 with an excerpt from Yes, I Am! in which Norman shares Paul's "startling and costly discovery" of the Total Truth. 
Finally, this issue includes two excellent studies examining the biblical basis of The Total Truth. We continue last issue's first installment of "The Total Truth About Who We Are in Christ" exploring the second and third tenets. In addition, we are pleased to offer the first part of "A Statement on What We Believe." Written to clarify misunderstandings expressed by Christian colleagues, this article is both the author's personal account of the life-changing impact of the Total Truth and a well-organized presentation of this doctrine with ample biblical references and clear examples. Part 2, to be published in our upcoming issue, will answer some specific objections and misconceptions that arose as the author shared this precious truth.
It is our privilege to live from and share with others the hallmark of a mature Christian. To quote Norman: "By this way or that, the self-giving nature of God takes up its abode in our nature and produces these radical changes. They become our very nature…"
More Articles from The Intercessor, Vol 29 No 2