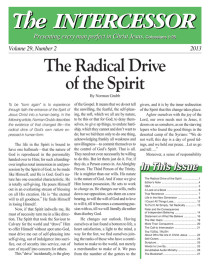 The Call to Intercession

When the moment came, linked to a great crisis in the mission, God (although unknown to myself) had me prepared. This is always His way, so that no glory can come to man. In this crisis in 1931, there were severe losses and thinning down of our numbers. Pauline and I were back in England to represent C.T. and the remaining 35 workers with him in the Congo. Then the news came that our beloved C.T. had been "glorified," with his last words a three-times "Hallelujah."
The available funds were just $7 for each of the 35 missionaries for a month! It was the bottom of the barrel. We were, of course, living by our fixed practice from our beginnings of letting none know our needs but God. Here was ripe soil, indeed, for either a quick collapse or a mighty work of God. I don't believe we could have faced it but for those lessons on the principles of intercession and faith in action which had seeped into me by my Rees Howells contact. 
The intercession reality, with its "death" experience of the "first fruits to the altar," came straight to us in simple form. It had always been the custom that any of us at home should have a first share, and a bigger one, of the month's supplies, as it was more expensive to live in the homeland than in the heart of Africa. Could we take that share, though, with only $7 per head for the field workers for a whole month?
The answer was obvious, and back came a simple solution. Why not trust the Lord alone for our personal daily needs of food, clothing, etc., according to Matthew 6:33: "Seek ye first the kingdom of God…and all these things shall be added unto you." That had looked real enough when we had been used to an allowance!
So we took the step of no longer taking any funds from the mission's supplies but depending on God alone for all needs. We would leave what came in to be for its real purpose: the field workers. And we have not receded from that position these 60 years, though Pauline has had her sufficiency directly in God's presence since 1981. 
Actually, so low was our faith-concept at the time, that we said to each other, "Surely we shall never have any home workers with us, for who will join us on these same faith standards?" But WEC has well over 100 such home workers, behind the 1200 on the 50 fields, on all our widespread home bases of today. All are living by that same direct dependence on God and His promises. 
That trusting God for our daily needs was our "death," again not premeditated, but just what the Spirit confronted us with at the crisis moment. And by grace we went His way. Were there tests in coming months and years? Certainly, there were many. 
Once about ten of us lived for eight days with no food in the house and no money. But each day, as we gathered in our prayer room upstairs to thank God for the bread of life, the bell rang from the basement where the kitchen and dining room were. 
Mrs. Edward Studd, C.T.'s mother, had had a devoted lady's maid, then retired, who had come to live with us in a basement room. She didn't profess any faith but did love what she called her "Hallelujah Boys"–the young men candidates for the fields. 
All we knew was that three times a day for those eight days that bell rang. And as we trooped down, there was bread, cheese and tea on the table. We surely praised God for the extra in the cheese, on top of the "daily bread!"
More Articles from The Intercessor, Vol 29 No 2