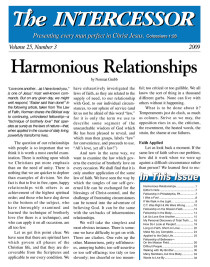 Walking with My Brother

Righteousness Among Men
John says that our righteousness among men is the proof of our righteousness before God (3:7); and our love for our brother of our love toward God (4:20); and our testimony before men of our faith in God (4:15). In every case the visible horizontal is the practical demonstration of the unseen vertical.
Honesty Before God and Man
Only true openness brings heart into true unison with heart. When barriers are really down, and fellowship has gone below the surface to where we are living our daily lives and meeting our daily temptations, there is a sense of brother-hood and understanding nothing else can give. Such fellowship in the light, costly though it is, gives us all a new under-standing of one easily missed truth– that He fashioned our hearts alike, and that we are all men of like passions.
One of the devil's commonest lies to us is that I am the only person who would do or think such a thing. If my brethren knew, wouldn't they be horrified! And I am shut up in a prison of secret shame, and maybe struggle against some temptation which I imagine assaults no one as it does me.
But when we walk in the light, how d i fferent we find it to be! We are all alike. There is level ground at the foot of the cross. Like temptations come to all of us, and we all need the same cleansing blood. Here we find unity indeed. Not in some artificial attempt to claim some special standard of spirituality, but as fellow sinners all rejoicing daily in the same Saviour.
Disunity in the Body
One of the weakest links in the believer's witness is disunity. Christ foresaw that when He made it one of His last two commands that we should love one another, and when it was the chief petition of His last prayer. In families, between husband and wife, parents and children, in congregations between individual believers, and between sections of the assembly, we all know our constant failures. Walking in the light is the solution for this. Disunity manifests itself in me by a hardness in my heart towards a brother. I may feel I am justified, and I may really be so: I may have strong and rightful differences of opinion: I may have dislikes founded on mannerisms, on personality quirks, or on more serious manifestations of the flesh. But my hardness is sin, when I am told to have perfect love, to love as He loved me. The only primary solution to such constantly arising fellowship problems is for me to walk in the light. When I learn to face my hardness as sin and, if so led, to admit it to my brother, I am paving the way to a meeting place at Calvary.
Righteous Judgment
Then let me renew my faith in the One within him who is busy conforming Him to His perfect image. That is perfect love. It is not blindness concerning those motes, but it is clear-sighted faith and love. It surrounds the brother with love, and contributes a living faith to the fact of a transforming work of the Spirit going on in him. That is the difference between criticism and discernment. Criticism sees the flesh or devil in a brother. It tears down and condemns. It has self-superiority at its roots. Discernment sees Christ in a brother. It edifies. It combines loving appreciation of the present with hope for the future. If I do that, I am fulfilling the love commandment, so far as in me lies, and demonstrating the unity of the Spirit.
A Ready Heart
Such are some reasons for the horizontal walk in the light, as well as the vertical. We are not under the law. We are not bound or commanded at set occasions to bear testimony one to another, or in our gatherings. We are led by the Spirit, and He will show the right occasions and right things to say. There may be times for restraint or silence: times when such a testimony might merely be misunderstood or hurt the hearers: some things that might be unseemly or embarrassing. But if there is a ready heart, understanding and accepting both our privilege and duty to walk in the light with our brethren, God will guide aright.
A Duty to Exhort
One other aspect of fellowship in the light is mutual exhortation. Twice over in the letter to the Hebrews we are told to "exhort one another," with particular reference to the danger of unrecognized backsliding. "Take heed, brethren, lest there be in any of you an evil heart of unbelief in departing from the living God. But exhort one another daily…lest any of you be hardened through the deceitfulness of sin." And when we are told not to forsake the assembling of ourselves together, it is again "to exhort one another; and so much the more as ye see the day approaching." We are to help each other to the highest. But we at once recognize the dangers and difficulties of such reciprocal challenging. On the one hand we could do it in a wrong spirit, as a form of retaliation, to put a person right, to give them what we think they deserve. We can be certain that no one is in a position to challenge another on something in their lives or attitudes, who is not equally ready to receive a challenge themselves. Only those who readily and continually "break" and admit their own sins, are in a place to point out those of others.
On the other hand, it is truly costly to be faithful to a brother. It is much more comfortable to pass things by, say nothing, and thus not risk disturbing the peace. A challenge may not always be accepted in the spirit in which it is intended. It is costly to give, costly to receive.
More Articles from The Intercessor, Vol 25 No 3