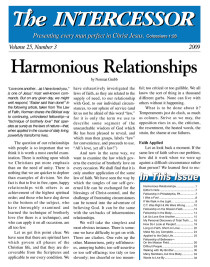 "Make my joy complete…"

Make my joy complete by being like-minded, having the same love, being one in spirit and purpose"–Philippians 2:2
 
The team of Christian Literature Crusade workers in each home base is really God's day-to-day miracle more than any material supply; hours of work given daily to the Lord without remuneration, extending to months, years, and a lifetime, is a daily miracle in a self-loving, self-seeking world. Just as big a miracle is when we humans, each different from anyone else, each with our obvious weaknesses as well as strengths, can live in the closeness of a communal life and love one another. That is no static automatic relationship–once achieved and never again disturbed. No indeed. Brotherly love is a daily walk, a daily adventure. Personalities are meant to differ. That makes the wheels of life and progress go round. Each has different gifts, different characteristics, different out-looks.
The interflow and interaction of a team in fellowship is the manifestation of Christ in His body. It is the outgoing of Christ to the world, drawing all men by the attractiveness of people loving one another. Such an interlove is neither gained nor maintained easily. The appeals of the Apostle Paul to "be of the same mind" demonstrate that. There never will be a fellowship in perfect love on earth without a weak link in the chain; but a standard of spontaneous fellowship can be a fact. This is of another dimension than what the world can know, for we can see and reckon on Christ in each other.
–From Summit Living
More Articles from The Intercessor, Vol 25 No 3