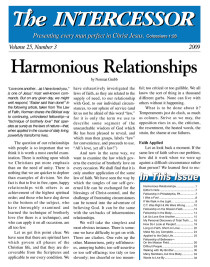 Fellowship in the Body

Excerpts from The Liberating Secret by Norman Grubb
Many Members, One Body
The Bible speaks much of the relationship of the individual to God, of the personal experience of abundant life…. But it is only the foothills of truth. The summit reaches far up into a corporate experience of which we only have glimpses at present. "Till we all come. ..unto a perfect man," Paul wrote, "unto the measure of the stature of the fulness of Christ." Not unto perfect men, but one perfect man. All of us together, Head and body, one perfect man. "For as the body is one, and hath many members, and all the members of that one body, being many, are one body: so also is Christ" he wrote again. Not "so also is the body of Christ," but "so also is Christ." Can we conceive of this?
The Vine-Branch Relationship
God's eye is not on the individual, so much as on the church, nor are His mighty works done through the single member, but through the body. Why then, we may ask, do we spend so much time searching into our individual relationship to Him? Because, as was said of Soren Kierkegaard, "When he spoke to the individual, calling him to seek purity of heart and integrity of will, he was doing the thing he believed best calculated to fit men to act as a responsible community. If he spoke more of the individual than of the community, it was because the first thing necessary was to restore the true individuality without which true community is not possible. Individuality, not individualism, was his primary aim."
It is only that inner integration, that holiness which is wholeness, which so liberates us from self-centredness that the Head of the body within us can share with us His body-mindedness. It is very possible to talk the language of an external unity, but with foundations of sand. The truth of the Vine-branch relationship must be my individual experience before I can truly participate in its wider collective implications.
The Head and the Body
When Paul takes us to Colossians to where "Christ sitteth at the right hand of God," where our lives are hid with Him in God, he exhorts us to holiness of life as those who have "put on the new man which is renewed in knowledge after the image of Him that created him" (Col. 3:1-11). What knowledge is that? Our union with Him? No. "Ye have put on the new man, where there is neither Greek nor Jew?…bond nor free: but Christ is all and in all." The throne knowledge is Christ Head and body, and we each learning how to take our place in the body in the humility, forgivingness, and charity which forges the bond of perfection between us.
A Vast Brotherhood Of Believers
Individualism, then, is not God's pattern. Team work is. We are to be body-minded. Christ in me is an individual relationship. I in Christ makes me a member of a vast brotherhood. Indeed, we are one person, growing up into the "perfect man." We have one heart, one mind, one outlook, and our differences are on the external. If we help a brother, we help ourselves; if we damage a brother, we damage ourselves….But the prosperity of God's people, above all in their shining "as lights in the world, holding forth the word of life" is the chief burden of our prayer and centre of our interests.
Dwelling Together
As throne-life Christians, therefore, we must hew our way through the tangled undergrowth of fellowship problems, till we make straight paths for our feet in the unity question. In nothing, I suppose, do we evangelicals fall more short than in dwelling together in unity. We all give lip-service to it. We cannot be followers of Christ and do otherwise. But when it comes to practising what we preach! Part of the difficulty is the intensity of conviction that we are required to be faithful as well as charitable, or rather that faithfulness is an essential component of charity. This sets strict limits to the public expressions of our fellowship, limits which we can never overstep. In this we are on sure Scripture ground, for such letters as 2 Timothy, all three of John's epistles, 2 Peter and Jude, put the strongest possible line of demarcation between those whose faith does not move an inch from that "which was once delivered unto the saints," and those who "concerning faith have made ship-wreck," and are "moved away from the hope of the gospel" and "abide not in the doctrine of Christ." That entails a difference being made between those who accept the Bible as the inspired Word of God with no mental reservations, and those who do not.
For our part we accept it as infallible, all Scripture being given by inspiration of God, written by holy men of God who "spake as they were moved by the Holy Ghost," our testimony to Christ being always, as was Paul's, "according to the Scriptures." When there are difficulties, we frankly recognize them, but still adhere to the Word of the Lord which endures for ever. Whether considered charitable or uncharitable, that is the sole basis of our co-operation in the gospel. We do not deny that others may be children of God by faith in Christ, who hold the essentials of "the truth as it is in Jesus," yet whose views on inspiration fall short of the plain Bible standard. We recognize such as brethren in Christ, and have fellowship in any way, public or private, which does not compromise our testimony to our unchangeable foundations. But true and permanent co-operation can only be with those who have like convictions. Unity does not come first. Faithfulness comes first.
Like-minded Convictions
Unity, therefore, is possible when we all have the same foundations to our faith. Unity is an obligation, a responsibility, a necessity in my own local community of believers. Whoever else is not at one with my brother, I must be. And when there is unity, there is team work, and when there is team work, there "the Lord commands the blessing."
 
More Articles from The Intercessor, Vol 25 No 3