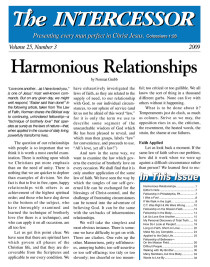 The Standard is Perfection

It is the walk with Jesus, the walk in Him. He Himself first spoke of it to His disciples in His last intimate talk with them (John 15). He there takes the union with Himself for granted: "I am the vine, ye are the branches." That He does not discuss further. All His emphasis here is on the necessity of abiding. Nine times over in the first ten verses He speaks of abiding. Abiding in Him and walking in Him are really the same thing, for we walk abiding.
Therefore, the single concern of our daily life is this: keep abiding, keep walking–in Him. The single question that matters is, Do I know how to abide? The answer is what we have just been seeing. Jesus is our life. By faith we abide in Him, and He in us. We see Him by the inner eye always, everywhere. But we are busy people, and our minds are occupied with many things which do not allow us to be in actual conscious communion with Him all the day. So normally we have a subconscious sense of His presence like the glowing of a permanent light within, or like an encircling atmosphere. That we might call the condition of normal abiding.
The problem is the times when we feel a barrier between Him and us. The cups are not running over in our hearts. Yet the solution is so simple. Nothing can hinder fellowship except sin. An immediate recognition of sin, and an immediate dealing with it is all that is needed. "Agree with thine adversary quickly…lest…thou be cast into prison."
Seeing sin to be sin, and calling it so, is the first essential. We are so con-genitally blind that we are sinning with-out it dawning on us that it is sin. That is our commonest trouble and the chief cause of spiritual confusion. A new sight of sin and a quick recognition of it will lead to a new place of abiding and a new stability in the walk.
But to do this means measuring up to standards that are absolute. The Bible calls us to nothing short of perfection. "Be ye therefore perfect, even as your Father which is in heaven is perfect," said Jesus. "Perfecting holiness in the fear of God," wrote Paul. "Let patience have her perfect work, that ye may be perfect and entire," wrote James. "As He which hath called you is holy, so be ye holy," was Peter's word; and from John's letter we have already quoted, "Herein is our love made perfect…because as He is, so are we in the world."
In other words, anything a shade less than God's perfection is sin. We shall begin to recognize sin more clearly when, from the heart, we accept that lofty standard. Look at the insights the Saviour gives us into the sinfulness of sin in that tremendous Sermon on the Mount. Perfect faith, He says, is to have the single eye, the eye that sees Him alone in all our circumstances; then our whole body is full of light. "But if thine eye be evil, thy whole body shall be full of darkness" (Matt. 6:23). Why evil, and not double, for the opposite to single is double? Because not to have a single eye which always sees Jesus only is evil, and not just double.
"Whatsoever is not of faith is sin." Now apply that to our daily living. We have fear, that is not faith. We are condemned with a sense of failure, that is not faith in the cleansing blood and indwelling Presence. We worry, and are under a sense of strain or pressure, we are fussed or hasty, that is not faith. In all such cases we have left the single eye which sees Him only, and have the evil eye of unbelief. It happens to all of us–many times.
The point is that we so seldom pull ourselves together at once and say to ourselves, "This is not faith, therefore it is sin. No wonder I feel out of touch with Him. I will not delay a moment. I will confess it and get it cleansed, and then walk on again abiding." Keeping short accounts with God, that is the remedy.
Perfect love, again He said in Matt. 5:21-24 and 38-47, is to have no shade of anger with my brother in my heart (the words "without a cause" are not in the newer versions), and no hot word on the tongue. It is to approach him for reconciliation, and not wait for him to approach me, if there is something between us. It is so to love him and seek his good and to show forth Christ to him, that if he insults me, I am not bothered about the insult, but only eager to make it up, even at the risk of another insult–on the other cheek! If he feels he has some case against me and demands some compensation, such as going to law and claiming my coat, I am not concerned about keeping my coat, but rather will let him have even more, if by that means I can show him that my love for Christ and for him is more important than a few personal possessions. If he takes advantage of me in my job and puts upon me tasks which are not really mine, I will even do more than he unfairly puts on me, and go the second mile, that he may see the love of the One who died, the Just for the unjust, to bring us to God. And where there are those who do not just wrong me in a passing way, but are set to damage me, who really hate me and work against me, who are my enemies, towards these in a particular way I take my opportunity of walking in my Saviour's steps, and of loving, praying for, doing good to them.
Do we not all come short of such standards again and again, or at least are severely tempted to do so? Yet whenever we do so in the least degree, we are out of touch with Him who is love. How often we remain in the dreadful bondage of hate, resentment, or inner hurt, because we do not agree quickly with our adversary, face him, recognize the inroads he is making into our hearts, call sin sin and get the deliverance!
More Articles from The Intercessor, Vol 25 No 3