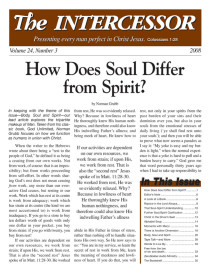 Tape Talk–and More, Body, Soul & Spirit

I find it really weird and wonderful to be reviewing the audio tape Body, Soul & Spirit, which was recorded in 1986–one year before I learned the concept of body, soul and spirit for the first time myself.  Little did I know then what this truth would come to mean to me–and It remains so to this day.
I went to my first Zerubbabel conference in 1987, and it was really a miracle that my family and I got there in the first place. A friend invited us to go and, more than that, offered to pay for our children! If not, we could never have afforded to go. At that point in my life I was attending an Assemblies of God Pentacostal church and was very disillusioned with my Christian life. The goods did not match up to the advertisement. I remember saying to God, "Look, it says here in the Bible that you are blessed if you hunger and thirst after righteousness and you will be satisisfied." Well, I wasn't satisfied and I told God so. I also told himI wanted His best and would not settle for anything less. I had tried so hard to be a good Christian: getting up early to havbe my quiet time before the rest of the house stirred, going to Bibly study meetings, prayer groups, noights of prayer, tithing, and longing to be baptised in the Spirit and speak in tongues like my church friends were (and wasn't). I thought it was because I did not live right in my own home, behind closed doors. I so wanted to be a better wife and mother, and I hated that I was not being submissive to my husband. But then, he drove me mad, too! My children will tel you to this day how I threw a wooden spoon at them (it missed), jumping up and down as I lost my temper! I certainly did not match up to the virtuous wife in Proverbs 31!
      
I had been receiving The Intercessor for a short while and in it a lady named Page Prewitt had written an article entitled "Alphabet Soup." She wrote about life not working and how she found the answers in her life. I was gripped by her story and devoured every sentence and diagram. At that point it began to make only a little sense, but I just knew I was on to something that could help me out of my spiritual anguish.
I had also stumbled across one or two scriptures that had really jumped out at me:  Romans 7:17, "… but it is no longer I who do it, but sin that dwells in me," and 1 Cor 6:17, "He that is joined to the Lord is one spirit with Him."  And what about 2 Cor 4:7 which says, "But we have this treasure in earthen vessels, that the excellence of the power may be of God and not of us."  No-one can argue with that, to say nothing of Jesus' great prayer in John 17.
So in 1987 I went to the Zerubbabel conference held in Nantwich in the north of England.  I remember thinking, "If only Page Prewitt would be there." Can you imagine my shock and delight when that very Page Prewitt walked into that conference room in Nantwich! I need to say that immediately I recognised in her a presence (I now know that to be the presence of Jesus Christ) and feeling very timid, I was not sure I had the courage to speak to her.
Page taught on body, soul and spirit, and again, I hung on her every word.  I remember her speaking about love and how so many people think that when they meet someone and get married, it's like they are each one half of an orange, and they think that the other half will complete them.That was exactly what I believed, only my husband didn't complete me and neither did having children!
When Page finished her talk, she sat right in front of me; I couldn't help asking if I could have a word with her. I told her all about how my husband would not repair our back door, and how upset I got with him, and how guilty I felt because of it, and why couldn't he be more like I wanted him to be? I told her how much her article had meant to me and how I was beginning to see there was no independent "me" to live up to Proverbs 31. We chatted a while, and at the end of that conference, I thought I would never see Page again.
A week or so later, I received a letter from America. Who on earth could it be from? It was from Page. I was absolutely amazed. Why on earth would she write to me? Not only that, on her next trip to the UK, she visited me in our home. That began a series of visits which I looked forward to more than I can describe. Each time Page taught on body, soul and spirit, she would add new dimensions, and I was just thrilled to listen to her. I always remember being at Cobham in Surrey, England one year and thinking as she spoke, "So, no matter what or how devastating my feelings might be from whatever circumstance I find myself in, I am whole and complete because of Who I am at my spirit centre." This was the most amazing, wonderful news to me since at times Satan lived out in my members such a negative, melancholy and depressed life.  
So, here began my journey to where I am today. As I look back on that first conference, I can see just how independent my thinking was. I thought there was some independent Meryl Langley who had to behave a certain Christian way and put myself through hoops to do the right thing. As the revelation of Christ in me as me enlarged I began to tell my Christian friends and Pastor about it. He publicly argued with me that the old Meryl Langley was very much alive. In fact, on the next Sunday morning he preached his sermon on that very subject, saying once we are saved, we have two natures warring against each other and that it is our responsibility to make sure the new nature wins. What torment that belief had caused in my life. Afterwards my friends all came to me thinking I would be really discouraged and upset. I certainly felt hurt, but I knew (spirit) that the old Meryl Langley (my spirit joined to Satan) was OUT and that my human spirit was now joined to the Holy Spirit: Christ was in! I could not be discouraged and upset. My (His) life was proving the fact in that very situation. Christ through me was living in victory. I will never forget that occasion.
Even now as I am faced with writing this tape review, I feel totally inadequate and think other people would make a much better job of it than me. but, I make the switch to spirit and know that since I have been asked to write, then Christ by me will get the job done. How it turns out is His business. So, on to the tape review:
Page begins with the foundation of the two experiences of the Cross: The first is the washing away of our sins by the shedding of the blood of Jesus Christ (and she makes the very important point that sins are by-products of a deeper problem). Relating her own experience, she recalls that as wonderful as it was for her to be saved and know her sins were forgiven, after a while it was not enough.  She thought she should be grateful for the forgiveness and stop sinning, but she kept sinning and subsequently suffered guilt and condemnation as a result.
The second experience of the cross is the body death of Jesus Christ. This was never taught in the churches I attended. Page quotes 2 Cor 5:21: "He who knew no sin, became sin for us that we might become the righteousness of God in Him." Here the real problem is looked at and, praise God, dealt with: sin is not deeds, but a person (Satan)–Rom. 7:17. The Bible says that when Jesus died on that Cross, we died in Him (Col 3:3), and it was His death that made new life a reality for us. How is this? Page answers, "What is death? Nothing more than spirit leaving body." So when Christ died on the cross having taken on our sin nature, we died in Him also and our old sin nature (Satan) left. Hallelujah!
But like Jesus now buried in the tomb for three days, how then do we operate? The human spirit cannot operate on its own without a supernatural spirit-operator: Satan or Jesus Christ. As with Christ, we needed to be resurrected–and once more the Bible tells us in Colossians 2:11-12 that in Him we were raised to newness of life. As Page explains it becomes clear that when we are born again, the old Satan spirit is OUT and the new Spirit, Jesus Christ in IN. She uses a wonderful illustration about mixing paint to make clear to the us that in our spirit-union with Christ, we never become God.
In the second part of the tape, Page discusses how this truth becomes workable in our lives. First she talks about how a person is made up (body, soul and spirit–1 Thess. 5:23), and you can hear her drawing the relevant illustrations. The source of all the problems of life is that we think we are our thoughts and feelings! Wrong, wrong, wrong! Spirit is where we desire, will and know (Spirit knowing, not to be confused with knowing facts). Soul is the seat of the emotions and reason; where we feel and think. But the soul makes no decisions and choices. When a choice is made, we have moved into Spirit (reality).
Page gives examples of feelings such as fear, insecurity, hate, depression, loneliness, rejection and explains from personal experience how recognising hurt and hate in her own feelings led her to the point of discovering for herself that she was not those feelings. Who she really is in her spirit centre is Jesus Christ, Who does not hate. When we think WE are our feelings, Satan says, "Yes, yes, you are insecure; you do hate!" But the truth is that Christ/I feels insecure, but we need to move over to the Spirit truth: Jesus Christ is not insecure and that is who I am.
Several points stood out as I listened to this tape: First, God does not feel, for if He did and didn't feel like loving us today, what a state we would be in! Thank God, His choice is to be for others, and since He is the same, yesterday, today and forever (Heb 13:8), His choice is fixed. This is very reassuring.
Also, Page emphasizes that our feelings are neutral–soul is merely an impulse receiver–and that feelings don't always change. The way out of hard, scary, painful feelings, Page testifies, is to admit the feelings then move over by an act of will into Spirit-truth. She has done this and so can we!
Another tremendously enlightening statement: Humans have no nature of their own. Page clarifies what is meant by nature. Nature means the operator, not what you're like and what I'm like.
More "big stuff": Page goes into detail to explain about our root sin–independent seeing–how we became infected with it and how we get out of it when we recognise that we have fallen for Satan's lie.
So dear reader, from this review of Page's talk on Body, Soul and Spirit, you no doubt see how what she taught related to me all those years ago! As Page said to me this summer, "We have a history; Meryl and I go back a long way." We certainly do, and I can only thank God for coming to me through her vessel; and not just me, but many others too. Without knowing and living from this today, I do not know where I would be.
If you have read this far, are earnestly seeking truth, and are desperate in your life–just listen for yourself. I pray that you, like me, will come to know Jesus Christ living His life through you.
 For details of this tape please see page 34. This tape will also be available on CD in the near future.
More Articles from The Intercessor, Vol 24 No 3