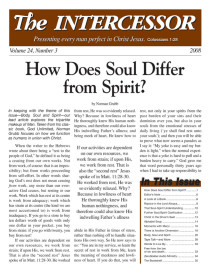 Moments With Meryl

The following reprints of Moments with Meryl illustrate the battles of faith that come up in everyday life and how to move from looking at outward appearances and soul-responses to the stand of faith–"the evidence of things unseen."
 
Against Appearances
Being convinced that God wanted me to stay put in the Nutrition and Dietetic Department, I returned from my one-day Personal Assistant course with renewed enthusiasm and new ideas to benefit our whole department, not least, a recommendation which, if acted upon, might successfully address a longstanding problem: short staffing. My boss asked me to give a brief presentation of the course content at a staff meeting, and then we discussed long-term plans. Small changes were implemented gradually over the following four weeks, which improved morale considerably. Then the time came to submit a document (prepared by us all) to our manager's boss (Mr. X). It was well received, and a meeting between our boss and her manager was arranged. The day before the meeting, however, Mr. X was made redundant (job eliminated) with immediate effect, leaving us all "high and dry." Against appearances, I believed this to be God's plan and confidently announced this to two or three colleagues.
For several weeks, we were plagued by uncertainty, rumours, absences, staff sickness, equipment failing when deadlines needed to be met, etc., etc. Morale was again very low. Because of the administrative demands necessary for the day-to-day running of our service, my "new" P.A. role was in name only–no new challenging responsibilities and certainly no sign of any salary increase (which was promised). I had the normal soul, negative reactions to all these externals, and at one point felt really mad at God. "You kept me in this place for a purpose (to be Christ), bring about change and raise hopes–only to dash them in a second. This has been going on and on and on for so long, and I really believed: 1) You determined (not permitted) it; 2) You meant it all for my highest and best and for the good of everyone in the department; 3) I've seen every "obstacle" as an opportunity (God coming to be in disguise) and moved to spirit truth, daily (sometimes hourly) affirming Jesus Christ is living as me–now it's back to square one. There you are, and I am so tired and weary of it all; I've had enough!"
OK, so now what? I thought of Job, Joseph in prison, Hudson Taylor, C. T. Studd, Norman Grubb and, of course, Jesus Christ (Since when did I ever sweat drops of blood?). I've never had it as hard as them. "Meryl, you don't know how easy you have it. Do you still believe God determines, not permits, that God means these circumstances for good and it is still God coming to you in disguise? What if it NEVER changes? Are you still prepared to believe Jesus Christ is living His life in you, as you?" I imagined standing before God if I said "No." I considered the alternatives which somehow held no appeal to me; I thought of others who would be affected by my choice. And then I said "Yes Sir, I (Christ/I) still believe all those things."
I have no earth-shattering news to report, no "results" to amaze you with. Everything remains unchanged (on the appearance level) but I KNOW in the eternal realm, God is working. My feelings concerning work are still negative, but my focus is on spirit reality and I am living one day at a time with a good attitude.
Lacking Nothing
I had been waiting since February for the showing of the film, "One Fine Day," starring George Clooney. For some reason its release had been delayed, so I was delighted to see the movie was coming to our local cinema. Since Jon and Jo were out on Saturday evening, Jim and I decided to eat out first and then go and see "the film."
I thoroughly enjoyed it–a real romantic comedy, and of course George Clooney stole the show. On the way home, I was thinking, "Isn't it sad that so many people think that having the 'perfect' partner will make everything okay and life will be wonderful?" I admit those type of relationships do feel wonderful for a short while, but then what? Like Scott Peck, the eminent psychologist, says, those feelings only last for about two years–five years, maximum. I remember when I got married thinking that somehow I would now be complete and fulfilled. It didn't take long to become disillusioned!
Since becoming a Christian and especially since knowing I am Christ in Meryl form, I have now come to see that I am complete and entire, lacking nothing (fulfilled) because I contain Jesus Christ, even though at times I may feel incomplete and lacking everything. It is Satan's lie that I need the comfort of someone to make me feel better; I am free to live spontaneously from Who I really am (Jesus Christ in Meryl form), and am not dependent on any human relationship. I am learning that real love (God's agape love) is a selfless concern for the welfare of others. It is not called forth by any quality of loveableness in the person loved, but is the product of a will to love in obedience to God's command. Isn't that the highest ideal? And, of course, that can only be lived out by Jesus Christ through my vessel as I make right choices. This is how my needs are met: by meeting the needs of others. Amazing!
These were my thoughts as we traveled home, and I was so grateful that I no longer need to look to my husband to meet my needs. Indeed, I can see that our aim is to see how we can best serve God together, knowing that we are both vessels through whom Jesus Christ is living out His Life.
 
Receiving the Reward
Of late I've been realizing how shame-based I am. I feel ashamed of my background, my financial situation, my education. I think it's the education one that's been causing me the most problems. Well, I've been glad to be aware of the fact that I was shame-based, because that then gave me a platform to faith. What I've been saying over the last three or four weeks is, "Well, I feel shame-based, but I know that Christ is not shame-based" and therefore I made my faith statement that neither am I.
Now the feelings of shame-based have persisted, but I've continued to make these faith statements. And last weekend, when one of the women said that she was jealous of my clarity, she said "Look at this. I'm a trained psychologist, and with all my education, you know, I'm jealous of this that Meryl has." Well, can you just imagine how I felt? It was as if God had spoken to me directly and said, "There you are. You've made your faith statements and now you can see which is more important–to have your eyes and your ears open to God's truth or to be rich in education. Somewhere in the New Testament Jesus said to the disciples, "Blessed are your ears, for they hear, and your eyes, for they see." And that was how it felt to me. I have received the reward of faith, and I tell you, I was blessed.
More Articles from The Intercessor, Vol 24 No 3