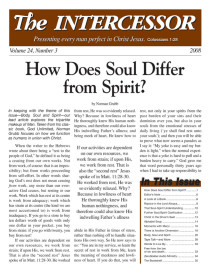 Book Review: Alphabet Soup

"Is there such a thing as a life which is a clear, straight line? Don't all lives appear to be a mix up? Is there really a possibility of a straight line?" These questions posed by Norman Grubb, in the foreword to Alphabet Soup, brought to my mind the verses, "a double-minded man is unstable in all his ways" and, "for he that doubts is like a wave of the sea, blown and tossed by the wind" (James 1:6-8). Until we see with the "single eye"–see through to the spirit dimension, we will continue to be pulled in different directions. When I was first saved, a verse that meant a lot to me was "be transformed by the renewing of your mind" (Rom. 12:2). We are born again–born of the spirit of God and so now should live according to that spirit. But how do we do this?
Alphabet Soup, a booklet by Page Prewitt, addresses these issues step by step and builds a clear picture as one would piece together a jigsaw puzzle. We need to know who we were before we were born again–and understand the change that was wrought in us through our new birth. We need to know the truth about the spirit reality because that's all the reality there is. Page explains this through sharing her personal life experiences and how she found answers. She also uses diagrams backed up by scripture to illustrate the spirit change through which we become a new creation indwelt by a new deity–Jesus Christ. Whereas before we were children of disobedience and "walked according to the prince of the power of the air" (Eph. 2:2), after our new birth, "…what? Know ye not that your body is the temple of the Holy Ghost which is in you" (1 Cor. 6:19).
Page discusses the confusion between soul and spirit. People have difficulty discerning between the soul (thoughts and feelings) and spirit. Feelings of fear, jealousy, etc., lead us to believe that we are those feelings, and Satan would have us stay forever trying to figure these out and change them. However, Page makes it clear that feelings are neutral and go on naturally because of our humanity. We need to acknowledge them and make the distinction between feelings and reality so as not to live from them but from the truth of the word of God.
Who we are does not depend on our feelings but on which spirit lives in us. There is no independent "I." We are either "of our father the devil" or, Christ in our form, "I no longer live, but Christ lives in me" (Gal. 2:20). Satan would have us believe that there is an independent self, but God calls us to believe who He says we are. Page's excellent use of diagrams and practical examples from her own life take us through the confusion of an alphabet soup to clarity and a renewed mind. As Norman says, we should be see "through-ers" and not see "at-ers." Since I first took hold of the teaching shared by Page in this booklet, my life has been truly transformed. I now know that reality is the spirit reality and I believe that what God says about me is true.
So if you are looking down into a mess of gcbedbdefdae soup, take a moment–even right now–to pick up this little book and open your mind to the revelation of "Christ in you, the hope of glory."
More Articles from The Intercessor, Vol 24 No 3