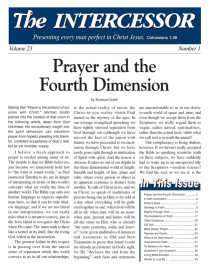 Unproductive Faith

One problem of importance remains. What about the baffling occasions when the stand of faith is taken and nothing hap-pens? All people of faith have such experi-ences when either no answer comes, or only a partial one.
A common explanation is to say that God's answer has been "No." This is unsatisfactory. It is not much more than a neat side-step. It is correct on only one condition: that God has actually said "No" to the petitioner, and he knows it. The famous case of this was when Paul asked three times for deliverance from the thorn in his flesh, and God's answer was a refusal. But not a bare negative, far from it, for "all the promises of God are yea." The "refusal" consisted of a revela-tion to Paul that it is in a man's weakness that God's strength is made perfect; and, seeing this, so far from showing mystifi-cation or disappointment, Paul thanked God for the answer and "took pleasure" in his infirmities. An answer indeed, the blessing from which has echoed down through the ages. If God really does say "No," we may always be sure it will be that kind of "No" which is in reality a much greater "Yes."
It is along this line that the solution must be sought for on every occasion of unanswered prayer. First of all, we must hold it as an unassailable corner-stone of our faith that "all the promises of God are yea." We must never let go of that. If baffled, we must just first say with Paul: "Let God be true, though every man be false"; and, with Job: "Though He slay me, yet will I trust in Him." We must stand to it that, even if we should not see the answer till the Day declare it, yet God has answered. The one thing which never must fail is our faith which declares His faithfulness.
We must also be on the alert to recog-nize the answer when it does come. The ways of God are as fresh and varied in grace as in nature. He is always original. He plainly warns us that His ways are not our ways, and it is possible to miss seeing the answer or even to refuse it, because it does not come through the agency or in the manner we expected. God's answers usually come so quietly and naturally that only those who are looking for them can recognize them for what they are. To any-one else they seem ordinary occurrences. This was how Naaman almost missed the healing. Surely the prophet would do something dramatic. But to go and bathe like any common villager in Jordan! And for the message to come through the prophet's servant! Not in wind, earth
quake or fire did God speak to Elijah, but by a still small voice. And all those who live in a relationship with God in which answers to prayer are a constant occur-rence become accustomed to seeing things just "turn up." Indeed, God will always use the natural, if He can, for He is the God of nature and order. That is why He will not answer a prayer for us which we can answer for ourselves. We must do what lies in our power first, and then we can look to Him to do what we cannot. In numberless instances, men begin to ask God for things, and before long the inner Voice tells them that they are the answer to their own prayers.
It is easy to get into bondage over unanswered prayer. Something must be wrong with the one who is praying. Sin is there, or presumption, or unbelief, or, more commonly still, it is not the will of God. It is a favourite method of the enemy to dishearten, so that we shall give up praying with faith for anything. The answer to all this is: Keep believing. "Fear not, only believe." " 'Tis looking downward that makes one dizzy," as the poet writes. Such is the abounding grace of God that He always has the perfect, positive answer to every prayer, even the wrong prayer, even the mistaken prayer; and to the soul who will wait steadily on Him He will make that answer so plain that he can thank Him fully and be satis-fied, even as we have seen Paul do. Only wait long enough. Only ask in faith, noth-ing wavering, for to such he gives His wisdom liberally and upbraideth not.
Some things, we must remember, are much harder to obtain than others. Material things are the easiest. Jesus said that the daily necessaries of life come to those who trust, without asking for them at all. They are just "added" to those who seek His kingdom first, by the Father who feeds the birds and arrays the flowers, and who all the more certainly knows the needs of His own children before they ask. The provision of material needs, indeed, is, according to Jesus, the fulfill-ment of a spiritual law. If we give, it is given to us, and so superabundant is the heavenly measure that for our mere mod-erate giving we receive a return "pressed down and running over." Paul said the same when he reminded the Corinthians that "he that soweth bountifully shall reap also bountifully."
To liberate souls by prayer, however, or to move a company to repentance or revival, is a far more difficult task than get-ting material things. There is an enemy to overcome. The one who spoke to Daniel in a vision after his three weeks' fast said he was prevented from coming for twenty-one days by satanic opposition. There is man's will to be moved. How a free will can be compelled by prayer to make a cer-tain choice, and yet remain free, is a point more of philosophical than practical inter-est. We know no adequate explanation; but we know that the Bible presents us with the unsolved paradox of God's almighti-ness and man's free will, and tells us to believe both and act on either as the need arises, and both prove true!
Both these citadels need storming, and the history of the Church is crammed with evidence that only by travail of soul, by prayer and fasting, by a faith that wres-tles on towards heaven 'gainst storm and wind and tide, are brands plucked from the burning; by the mother who agonizes through nights and days for her boy, and, when he comes back at last to God, tells him that she always held him fast in her faith and love; by the minister or praying group who seek God's face till they find Him for an outpouring of the Spirit which will melt and fuse and revitalize the Christians, and start a saving work amongst the unconverted. And each such persistent pray-er is but a mirror of that One whose "strong feet," in the classic The Hound of Heaven, "followed, fol-lowed after with unhurrying chase and unperturbed pace, deliberate speed, majestic instancy," until at last "the Voice above their beat" was heard by the piteous fleeing soul:
That Voice is round me like a bursting sea;
And is thy earth so marred,
Shattered in shard on shard?
Lo, all things fly thee, for thou fliest Me!
Strange, piteous, futile thing,
Wherefore should any set thee love apart? .. .
Alack, thou knowest not
How little worthy of any love thou art!
Whom wilt thou find to love ignoble thee
Save Me, Save only Me?
All which I took from thee I did but take,
Not for thy harms,
But just that thou might'st seek it in My Arms.
All which thy child's mistake
Fancies as lost, I have stored for thee at home:
Rise, clasp My hand, and come!'
Halts by me that footfall:
Is my gloom, after all,
Shade of His Hand, outstretched caressingly?
Ah fondest, blindest, weakest,
I am He Whom thou seekest!
Thou dravest love from thee, who dravest Me!'
More Articles from The Intercessor, Vol 23 No 1