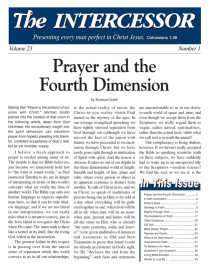 Questions & Answers!

Q: When I started to believe that I was Christ in my form, my view of prayer changed. I used to think that my job was to ask God, and God's job was to somehow do what I was asking for. Now I no longer understand its purpose.
A: Yes, when we dare to believe and operate from the truth of Galatians 2:20, prayer becomes an active adventure-no longer begging God for something as if He is unwilling or unable to change things, but seeing God already in the situation and saying so. Norman Grubb deals with this subject in depth in his chapter called "The Word of Faith" from Who Am I?: He points out the radical change that takes place as we grasp the implications of our spirit-union with Christ: "We say, not ask or hope. We 'say unto this mountain (which is our present problem) be thou removed and be thou cast into the sea.' We speak our word of faith, 'God you are doing so and so. Thank you.' What a difference!
Later on in that chapter Norman sheds light on the idea of persistence in prayer. God is not looking for persistence in asking but the boldness of standing firm on our word of faith for what God is doing in the invisible to meet an obvious need: "what-soever ye desire, when ye pray, believe…." Norman adds, "So what is needed by us is to take those plunges, simply on the basis of our desires in a situation, and say the word. That word releases the Spirit through us as sons, each handling our own local affairs, to bring in to substantial form the thing we have spoken for.
"Once we have said that word, that's it. It is no longer our affair. It was God all the way through but He operates through His sons exercising their prerogatives of free decision. Now God has taken on. It is not for us to make a mockery of our word of faith by repeating it, or still less by slipping back into asking. Now, we can thank many times that He has done something: we practice the habit of seeing the thing as done with the eye of faith. But that's all."
More Articles from The Intercessor, Vol 23 No 1