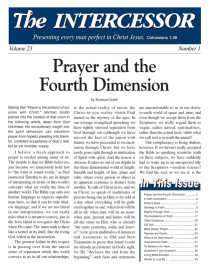 Editor's Note

When we dare to believe and oper-ate from the truth of Galatians 2:20, prayer becomes an active adventure–NPG. And this issue of The Intercessor explores the implications of the Total Truth on prayer. In the lead article, "Prayer and the Fourth Dimension," Norman Grubb lays the foundation by examining the operating principles of the fourth, or spiritual, dimension. Not a physical place located "out there," the "Kingdom of Heaven" is another dimension co-existing with our material world and, as Jesus taught, "within you." In our spirit union with God, prayer issues from God in our hearts-It is He praying in us.
In "Pigmies are Giants," Norman continues to unfold the purpose and principles of faith and prayer. God, who has the supply already, brings us into a place of need as His human channel. "Prayer and faith are not our seeking to get God interested in something, but God getting us into action." For a clear biblical example of effective prayer, "Strategy in Faith" describes how King Jehoshaphat, faced with an impending attack by overwhelming forces, went into "staff consultations" with God. As a result, he gained such a foothold of faith that he sent not an army but a choir into battle! For a more recent glimpse into "staff consultations," "A Faith Illustration" describes how at the lowest ebb in CT Studd's mission, Norman learned this first step in taking faith- action-the secret of catching on to God's will.
Brett Burrowes' Bible study, "Christ Praying As Us," begins by exposing the misunderstanding of prayer that has come from the illusion that we are sepa-rate from God. This unique approach examines prayer from the perspective of our vesselhood union with deity. "If the Spirit of Christ is the one operating with-in us, then our desire [prayer] is trans-ported to another level"-Him express-ing His desires through and as us.
"Clear Guidance" stresses that what God wants from us is boldness and per-sistence-not in continually asking, but in recognizing that our needs are His will and boldly claiming His supply. And what better example of boldness in faith than the story ("To Believe is to Have") of how Norman applied these newly-learned principles of faith to claim missionaries for worldwide evan-gelization-15 in one year called forth by a word of faith alone. Part 2 of the biography of missionary Edith Moules demonstrates God's faithful answer to her persistent prayer for revival-through a chain of unforeseen circum-stances that led her hundreds of miles from her home base and into a revival that had worldwide impact.
But what about those situations when the stand of faith is taken and noth-ing happens? "God always has the per-fect, positive answer to every prayer," states Norman in "Unproductive Faith"-"even the wrong prayer, even the mistaken prayer." This excerpt from The Law of Faith provides unique bibli-cally sound insights into this troubling, age-old question.
This issue also provides examples of the impact of the Total Truth in lives today. In "Substance of Faith," David and Carol Hoffmann tell how the cor-rection and guidance of their fellowship enabled them to face the stronghold of sin in their lives, appropriate the truth of Galatians 2:20, and experience Christ's life "flowing like a river through us to others." The down-to-earth examples of the transformation in their lives and their children's provide a modern exam-ple of the battles and the victory of the faith-life.
Finally, for those who enjoy hearing Norman teach, the Tape Talk review of "Esther/Mordecai" (available on CD) provides a glimpse of this excellent study in faith and how God's Spirit through one man and woman saved an entire nation.
More Articles from The Intercessor, Vol 23 No 1