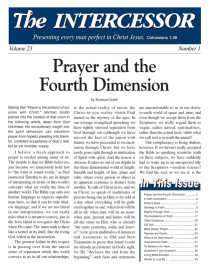 To Believe is to Have

When first we were led to pray for the ten, we already had in mind, as a more distant goal, a memorial in flesh and blood to C.T. Studd-twenty-five new workers. In our weakened situ-ation, and realizing that twenty-five represented an increase of almost three-quarters in our numbers, we had regarded it merely as an aspiration for the future; but after the vision and realization of the ten, to ask for the remaining fifteen as our next annual objective-by July 16, 1933, the second anniver-sary-became obvious.
We went about it by the same methods, although we were growing in the use of them. We kept continually before ourselves the fact that, by the eye of faith, we already had the fifteen, and we busied ourselves in daily thanksgiving. How hardly we learn that the invisible is verily the real. If hard facts appear to deny it, down crashes that flimsy, foolish palisade of faith, which calls things that are not as though they were!
Four months of this second year had passed. We had reached the beginning of December, and had naturally thought that by now we should have a flow of candidates and some money, but not one was ready to go out, nor had any money come in. According to the principle before revealed to us, we had made the simple statement in our magazine that God would be sending this number by that given date. The storm troops of unbelief, armed as always by the so-called hard facts, those "appearances" by which Jesus told us not to judge, those waves which were more real to Peter than the Master's assuring "Come," penetrated our defenses and wiped out both spoken word and written declaration. We had no business to waver. We had yet to learn that we have only one enemy to fight in this warfare of faith: not things, not people outside us, but only the attempts of fear and doubt, those emissaries of Satan, to get a lodgment within. Our failure on this occasion was a lesson to us, and certainly God's mercy came half-way to meet us,
just as Jesus upheld the sinking Peter.
I was preparing the January issue of the magazine and said to the Lord that I could not again publish the statement that fifteen would be with us by July unless I had a seal from Him. The final proof had to go to the printer the next day, so I said, "If You will only send me £100 before 11 a.m. tomorrow, I will take that as the seal. But if You do not, I will not put in the article." 11 a.m. came. I had the proof on the desk in front of me, but no £100. So I said to the Lord that I was very sorry, but in these circumstances I must drop the fifteen and publish nothing further about it. As I said that, I saw Colonel Munro coming across from the office. He entered the room waving something in his hand. It was a cheque from Scotland for £100.The article went in. The fallacy and weakness of my action, and the mercy of God, are obvious. If the exercise of faith means that first we find the will of God, then we receive our request when we pray (Mark 11:24), how can we be fool-ish enough to go about asking for seals
on a thing which we have said that we already have?
Things then began to move. The first three came for the "Heart of Africa." Some money arrived in February. By March £250 was still needed, but we were led to publish in the March magazine that they would sail by the next boat with-out mentioning the financial situation, which meant that the money must be in by March 13.0n March 5 came a gift of £100, and on March 11, two days before the time limit, came £150 from the other side of the world.
This was followed by a pregnant revelation. The ten had been only for the "Heart of Africa," and we had taken it for granted that the fifteen would be the same. The remark of a friend opened our eyes to the fact that, as God's commission to Mr. Studd was world-wide, the perfect memorial to him would be a world-wide twenty-five. We had already received several applications for other unoccupied fields, but until this moment had not regarded them as within the scope of the memorial twenty-five. Now we saw the full sweep of God's plan, that the first ten should go to the land of Mr. Studd's special labours, and the last fifteen be scattered through many lands and begin to carry out his world-wide vision of occupying every unoccupied region. Two came forward for Colombia, two for Arabia, two for Spanish Guinea, one more for the Congo, three for Lesser Tibet-a total of thirteen.
The weeks passed. The Lord sent money for some of these. The gift for Pat Symes, our first representative to Colombia, was especially remarkable. He was to open a new field in this part of South America. He had left his home in Australia for a different destination, so that none who might normally have helped knew of his need of funds. We suggest-ed a few meetings in England, but he received definite guid-ance from the Lord that he was not to take meetings with a view to obtaining financial help, and was to remain at Headquarters and prove that God was calling him to this new work by receiving a first £100 direct from Him. He had a strug-gle to come and tell me. He felt that he ought to say so at the next meeting, but feared and kept silence. Rebuked in spirit for not speaking, he came back after the meeting to find me talking to a woman in the drawing-room. I introduced him to her, and during a short conversation he stated what God had told him, and went out.
I had asked him to go and collect some further informa-tion on Colombia from a friend living ten miles away on the other side of London. He never told me that he only had six-pence in the world, but went on his errand. Four pence was spent on getting there, partly by bus and partly on foot. On the return journey he walked to the Thames Embankment, intending to get a two-penny tram ride from there. A "down and out" accosted him and asked the price of a cup of coffee. Pat refused, saying that he had only two-pence in the world, and passed on. The Spirit told him to go back and speak to the man about his soul. Pat went back, but found that he could not speak about his soul and do nothing for his body, so the two-pence changed hands and Pat walked the eight miles home.
Meanwhile I continued my interview with the woman, who was a visitor from the Midlands. She told me that she had £100 which she wanted to go towards the opening of a new field. "Why," I said," that man who has just spoken to us is the first pioneer to a new field and has asked the Lord for this exact sum."
Pat arrived back weary and perspiring. I opened the door to him with the cheque of £100 in my hand just at the same time that the Devil had been hard at work telling him that the life of faith was a poor business!
Only six weeks now remained. There were still two more vacancies in the fifteen, and about £500 needed to send them. On June 15 we went to our annual Worldwide Evangelization Crusade conference. On arrival at the station we were met with the news that two more fully-trained young men had received the call for Colombia. The next day, at a preparatory meeting for the conference, the verse was brought to us, "If ye abide in Me, and My words abide in you, ye shall ask what ye will, and it shall be done unto you. "The point was pressed home that the person who is consciously abiding is given the privilege of claiming this promise. It was suggested that the audience claim what they specially need-ed in the way of spiritual blessing in the coming few days. The blessing I needed was £500! I went alone with God, examined whether I was abiding in Him so far as I knew, and received the £500 by faith.
The Lord always tests faith and the test came the follow-ing day. For some years I had attended annually some days of prayer in Ireland early in July; but this year I had the convic-tion that I was not to go away from our watch tower of faith in London before July 16 unless the fifteen were complete. Therefore the only way I could attend would be if the £500 came in at the conference or just after. My hostess in Ireland was at the conference and asked me if I was coming. What was I to say? I said I hoped so. The Lord said, "That is not faith. Hoping is not believing." On a later inquiry I tried again and said, "I will, if the Lord has sent a certain deliverance." The Lord said, "There are no 'if's' about faith. The Scripture says faith is substance (Heb 11:1), and the man of faith acts on faith just as if he had the current coin in his pocket." Finally, when she asked a third time, the Lord helped me through and I said, "Yes, I will attend the prayer days, because the deliverance is coming at the conference."
The last day of the conference came, and not a penny. Next morning we were all dispersing to return home. Farewells were said and people began to leave for the London train. It was found that there were more for this train than was calculated and not enough conveyances. At the last moment several were waiting to go. A large taxi was called. We went in with the party and were driven off at top speed. Half-way along the three-mile journey a tire went with a bang. We all jumped into a tram, but it was too late. We arrived at the sta-tion to find the train had just gone. Ten minutes were taken making fresh arrangements, and then one of those who had lost the train took me aside and said words to this effect, "It is remarkable that I missed this train, for the Lord told me yes-terday that if there was money still needed for the fifteen I was to give £400. I intended to say nothing and catch the train, but now I have lost it and must speak." We were like they who dream. We felt we must tell someone of this wonderfu
l last minute deliverance, forgetting in the excitement of the moment that it was only a gift of £400, whereas £500 had been asked of God. A Christian friend was manager of a shop near the station, so we went over and out of the fullness of our heart told him the story. We had no sooner finished than he said, "While you have been speaking, the Lord has told me to give £100." The £500 was complete.
The fifteen finally consisted of ten men and five women. We much wanted the last of the memorial twenty-five to be a home staff member, and Miss Hand coming in at that time filled the place.
-From After C.T. Studd
More Articles from The Intercessor, Vol 23 No 1